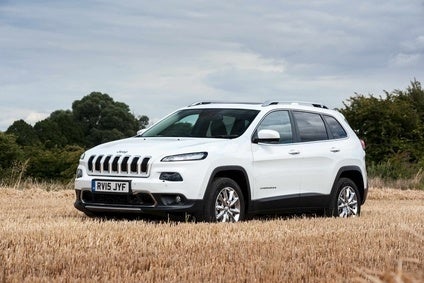 Is there a better example of the integration of FCA's R&D and manufacturing operations than the Jeep Cherokee? A front- and all-wheel drive Fiat CUSW platform, production in the US but soon to be expanded to China, and plans to develop additional models based on shared platforms – Jeep might have an all-American image but this is now a global brand.
The Cherokee had a troubled start to life in its home market but those gremlins were eventually ironed out. The current model was first seen at the New York auto show in March 2013. Limited production started the following month but the ramp up was delayed several times as a software glitch concerning the then-new ZF nine-speed transmission was sorted out. Chrysler began to ramp up again from October 2013. RHD cars for the UK eventually arrived here in the third quarter of 2014.
The model name, which had been Liberty in North America, switched to Cherokee for all markets, with the exception of China, where the car is sold as the Jeep Zi You Guang. Production in that country is due to commence in a few months' time and that will be in Guangzhou as part of a JV with GAC. Until that happens, the only plant building the Cherokee is Toledo North in Ohio. The Guangdong province factory joins an existing FCA-GAC production alliance but that's for the Fiat Ottimo and Viaggio and is located in Changsha.
Getting back to the nine-speed transmission, you can also find this in the Range Rover Evoque and in fact Land Rover and Jeep appeared to be racing to be first to have the 948TE gearbox in a production model. FCA is a major customer for ZF's eight- and nine-speed transmissions and in the case of the Cherokee, supply comes from the German Tier 1's Gray Court plant in South Carolina.
The standard US market engine for the Cherokee is Chrysler's Tiger Shark 2.4-litre MultiAir four-cylinder unit (184hp), with a 3.2-litre version of the Pentastar V6 (271hp) optional. The towing ability of the V6 engine is said to be 4,500 pounds.
There are three 4×4 systems: – Active Drive I with one-speed power transfer unit (PTU) – Active Drive II with two-speed PTU and low range – Active Drive Lock with two-speed PTU, low range and locking rear differential. More about this in a moment.
The diesel variants had their world premieres at last year's Geneva motor show. These were 140hp and 170hp versions of a 1,956cc engine. Then, last month, the more powerful of the two was replaced by 185hp and 200hp 2.2-litre MultiJet units which is obviously Euro 6 compliant. FCA claims these new engines offer a significantly wider spread of torque from low rpm, greater power, improved performance and better fuel economy than the outgoing 170hp 2.0-litre when paired with automatic transmission.
The UK importer has taken the opportunity to revise the Cherokee range to coincide with the addition of the new diesel. Every variant now has an electric tailgate, rain sensing for the windscreen wipers, a dusk sensor, an eight-position electrically adjustable driver's seat, four-position lumbar adjustment and an automatic anti-dazzle rear-view mirror with a built-in microphone.
Unusually, both versions of the new 2.2 MultiJet II engine has 440Nm of peak torque. The 200hp variant is available in Limited specification while the 185hp is fitted to Longitude and Longitude+ variants only. The 140hp 2.0-litre continues and this produces 320Nm of torque.
The new 2.2 is matched to Jeep's so-called 'Active Drive I' system, but can be specified with Active Drive II on the Limited 200hp variant. Active Drive I means a rear-axle disconnect system with the advantage being improved fuel economy and fewer emissions, while Active Drive II adds a two-speed power transfer unit, for 2:92:1 low range capability and hill-descent control. Both versions have the same 2.5 tonnes of towing capacity.
The 2,184cc diesel, which is manufactured in Italy at the Pratola Serra plant near Avellino, has a close couple DPF (diesel particulate filter) with NSC (NOx storage catalyst) positioned in the engine compartment, operating together with the EGR (exhaust gas recirculation) control system. FCA says this unit's aluminium head was specifically designed to withstand the increased working pressure of the common rail with Injection Rate Shaping. This operates at 2,000 bar. The design of the pistons, connecting rods and crankshaft are claimed to have been optimised to limit weight.
The turbocharger is a variable geometry design, and it is integrated in the exhaust manifold. This means reduced weight and an improvement in the exhaust gas treatment system. Other factors contributing to an emphasis on efficiency are a smart alternator, a variable displacement oil pump and the Start&Stop system.
When combined with the nine-speed transmission and 4×4 Active Drive I, the Cherokee 2.2 MultiJet II 200hp has a top speed of 127mph, accelerates from zero to 62 mph in 8.5 seconds, and returns average combined fuel consumption of 49.6mpg. CO2 emissions are 150g/km. Equivalent numbers for cars with the same engine and Active Drive II are 126 mph, 8.7 seconds, 46.3 mpg and 160g/km.
Limited 2.2 200hp versions also offer the option of a Technology Group option pack. This includes Advanced Brake Assist, Lane Departure Warning Plus, Smartbeam automatic main beam dip, Full Speed Forward Collision Warning Plus, Adaptive Cruise Control, Start&Stop, mirror with Blind-Spot Monitoring function, and a rear parallel parking assist system.
Despite its car-based platform, the Cherokee feels like an old school 4×4. That's a compliment if you're a fan of larger body-on-frame vehicles such as the Mitsubishi Shogun and Toyota Land Cruiser/Prado or ones more in the same size class as the Jeep, such as its more rugged Wrangler sister. On all of these vehicles, the steering is slow, body roll is pronounced and grip is excellent. But you can't hurry this vehicle and anyway, that's not the way it seems to prefer to roll. You might want to compare it to a Discovery Sport, but they feel quite different to drive.
The interior is a huge improvement on Jeeps of even two to three years ago but let's face it, that isn't a massive statement. Suffice to say, the days of average fit and finish are gone and even the shiny-glossy wood trim is no more, replaced by attractively dark painted bits of deceased tree on the doors. These were so subtle on the test vehicle that I didn't notice them at first.
Next up for this model will be a mid-life facelift and that should probably appear in 2016. The current car will likely remain in production until 2018 or 2019, at which point US build will switch over to an alternate plant. The reason is that FCA needs more capacity to make Wranglers and to do that, it intends to move Cherokee production to Belvidere in Illinois. At the moment, that plant makes the Dodge Dart but this car will reportedly shift to Toluca in Mexico.
Once the Cherokee line is taken out, Toledo North will be converted to body-on-frame vehicle production. At that point both Toledo plants will be making the (next generation) Wrangler, instead of just the South plant as is the case today. The addition of a pick-up body style should see sales of the Wrangler family soaring to even higher heights than they have been.
Other future Jeep models include the seven-seat Grand Wagoneer, which is now expected in 2018 and the even larger Grand Commander in 2019 which FCA sees as a rival for the Range Rover, Lexus LX, Cadillac Escalade, Mercedes-Benz GLS, Lincoln Navigator and BMW X7. The two big Jeeps should be built on a unibody architecture at Warren Truck in Michigan. This architecture would be shared with the next Grand Cherokee though that model will, like the current one, be built in Detroit at Jefferson North.
At the opposite end of the size scale, Renegade production is still ramping up and build at several additional plants will be added in the coming years ahead of a mid-life facelift in 2017 or 2018.
The next Wrangler, Unlimited and new pick-up are expected to appear from 2017 but a year before that begins to happen, the much overdue successor for the Patriot and Compass will be revealed. That is set to happen at next year's Geneva's motor show, it is claimed. Production should commence towards the end of 2016 and this model should also be made or assembled in India, Brazil and China as well as in the US or possibly Italy too. What will its name be? The latest thinking is that the Patriot name will be dumped and Compass retained.
All of these new or additional models can only add to what has become FCA's star brand of recent times, and that applies not just in the US but across Europe and specifically in Britain. Here, sales are up by 204% for the year to date to 6,323 and at a European level, Jeep registrations have risen by 176% to 54,627 in the same period. Much of that is of course due to the addition of the Renegade but the C-SUV and D-SUV segments are hot too, as strong Cherokee sales prove.
One final fact: the Jeep brand sold 4,594 vehicles in Europe last month (ACEA data) thanks to a 124% YoY rise. Just 95 more units would have been enough to overtake Land Rover. Fascinating stuff and something to watch out for when the September numbers are released.