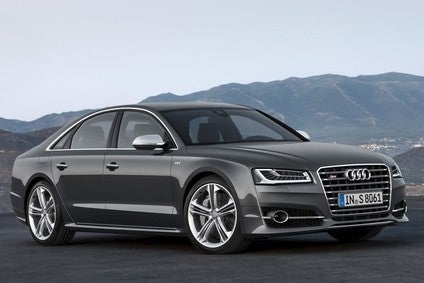 Suddenly, the full-sized luxury sedan segment is roaring back to life. Forget the economic stalling in some parts of the world and instead see what's happening in the US, in Europe, in India, in Japan – luxury limousines are big business again, and Audi is ready to take on the S-Class and the new BMW 7er with a revised A8 and S8 range, including the new S8 plus.
It might seem like a stupid question but would you say the Mercedes S-Class or the Fiat 500 was the bigger seller in the US? In September, 1,956 units of the big Benz were registered, versus 1,926 Cinquecentos. See what I mean about large luxury sedans being very much back in favour?
Things are somewhat different here in Britain. The SMMT doesn't supply registrations by model but in any case, big saloons, while not as popular as they once were, are doing well. As are the premium manufacturers which make them. Audi might have been beaten by BMW last month but it's still the UK's second most popular German brand. As at the end of the first three quarters of CY2015, Ford has sold 268,328 passenger cars, Vauxhall is in second with 212,100, Volkswagen follows on 182,441 and then it's Audi with 133,300.
Not only is Audi outperforming Nissan (fifth place with 124,967 units) but it commanding leads both the BMW (124,309 registrations and sixth position overall) and Mercedes-Benz (116,509, seventh position) brands. And if you look at overall sales rises, the trend continues to see the pricey German OEMs becoming ever more popular with British buyers, while Ford and Vauxhall are in a steady decline.
All of this must surely be good news for Audi, as the number one nameplate of desirable mass-premium makers, in its continued attempt to eventually outsell its rivals' big saloons. The S-Class is a tough nut to crack, mainly due to its long worldwide history of being the segment's most desirable model. This is especially so in the US, as well as in China and more recently, India. Unlike Daimler and BMW, Audi doesn't do any SKD or CKD build of its largest saloon, cars for all markets being manufactured in Germany.
The current A8, which entered production at the Neckarsulm plant in early 2010, uses the Volkswagen Group's MLB architecture, an aluminium spaceframe. It's a huge car, even in standard wheelbase form: 5,137mm long, 1,949mm wide and 1,460mm tall, compared to 5,062/1,894/1,444mm for the previous model. Though lower than the 7 Series and S-Class, it's longer and wider than both.
The A8 launch range consisted of two engines: the 4.2 FSI quattro (273kW/372hp 4,163cc V8) and the 4.2 TDI quattro (258kW/350hp 4,134cc V8), followed shortly afterwards by the 3.0 TDI quattro (184kW/250hp 2,967cc V6). A less powerful (150kW/204hp) version of this engine in combination with front-wheel drive was added later in the car's first year of production; so too was a supercharged V6 (3.0 TFSI quattro). Each continues to be paired to an eight-speed automatic gearbox. A four-cylinder gasoline-electric hybrid and other front-wheel drive variants were the next additional derivatives, as Audi filled out the A8 range, and then came the long-wheelbase (368kW/500hp) 6,299cc W12-engined car.
Buyers had to wait a while for the third generation S8, which didn't appear until the Frankfurt motor show in September 2011, sales commencing from June 2012. As was the case with the second generation S8, the current model is available in the standard wheelbase form only.
The engine of this most powerful of all Audi A8 derivatives is a 4.0-litre V8 which, thanks to two turbochargers, produces 382kW or 520hp. An eight-speed automatic is the standard transmission and drive naturally goes to all four wheels.
Like other vehicles on the MLB platform, the S8's front differential is located ahead of the clutch. This allows the axle to sit far forwards and is the main reason for the car's lengthy 2,992mm wheelbase. There is also more rearward weight distribution for better driving dynamics.
A facelifted S8 premiered at the Frankfurt motor show in September 2013. It went on sale in Germany and other markets soon after and despite the styling changes, Audi felt no need to give it a power boost. This seemed curious at the time, but last month, we saw the reason why: the new S8 plus had its world premiere at the Frankfurt IAA. Due to go on sale globally from November, it has a 445kW(605hp) version of the S8's biturbo petrol V8 which produces up to 750Nm of torque. The transmission remains an eight-speed tiptronic (torque converter automatic). Will there ever be an RS 8? Audi isn't saying but even though there's no BMW M7, the Mercedes-AMG S 65 has more power than the S8 plus – 463kW/680hp from its 6.0-litre biturbo V12 – so you never know.
Enough of the back story, what's the S8 like to spend a week with? Well, to quote a friend who demanded a ride in it, it's "immense". He's right. The acceleration is more than you'll probably ever need, the 3,993cc V8 and its two turbochargers providing enough shove to get you to 62mph in 4.1 seconds. That's half a second faster than a Porsche 911 GTS. Top speed is limited to 155mph. And CO2? Well, at an average of 225g/km it's not as bad as you'd suspect thanks to technology such as direct injection and cylinder deactivation. The official Combined fuel consumption average is 25.0mpg and for once that proved accurate in the real world: during my time with the car I saw close to 24mpg.
It isn't just the way the S8 surges forward that impresses: for what is basically a front-wheel drive biased chassis, weight and drive distribution are fairly well balanced. You'll never think this is a rear-wheel drive vehicle, but that's not relevant, in an era when rivals such as the S-Class, '7, ls and XJ all have software expressly designed to filter out any traces of oversteering tendencies. If you want a true tail sliding hotrod, go for the Maserati Quattroporte.
Like the Maserati, the S8's engine can be made to emit the most beautiful baritone timbre if you're in the mood to rev it. Despite the relatively modest capacity, what you'll hear is a convincing impression of a big-block V8.
Love gadgets? You'll be in heaven in this car. This was the first A8 derivative to offer 360° views on its central screen. Four small cameras record images of the car's immediate surroundings and a computer splices them together. You can call up a variety of views on the MMI monitor, including a virtual top-down view. It isn't just cool, it's a boon for safety as it makes for easy maneouvering in tricky situations – narrow driveways being one I experienced. Moreover, you can also select a cross-traffic function, which might be a potential life saver.
You have to pay extra for them, but Audi's Matrix-branded, Hella-supplied LED headlights are another of the S8's fabulous techy treats. With these, the high-beam comprises 25 individual light-emitting diodes per unit. These can be switched on and off or dimmed individually depending on the situation, with the main benefit being extremely bright road illumination but with no risk of blinding other drivers.
The Matrix LED system is linked to the SatNav, the idea being to automatically activate high beam when the car leaves an area where there are street lights and starts travelling down a country road. The headlights will be 'peering' into a corner just before the steering wheel is turned: amazing. Another automatic feature is the specific illumination of any moving object by the side of the road. That way, an animal or pedestrian will be highlighted to the driver.
So what to make of the S8? This is a serious rival for the Mercedes-AMG S 63 and if you really must have even more performance – and the existence of the S 65 proves there's a demand – then Audi will soon be able to sell you an S8 plus.
The replacements for the AU641 A8 and S8 are still a couple of years away but already some details are known. They are expected to use a new aluminium platform, known internally as PL65. Rupert Stadler, Audi's chairman, told the media at April 2014's Beijing motor show that an A8 e-tron would be launched "in the years to come", which was taken to mean as part of the next generation model range.