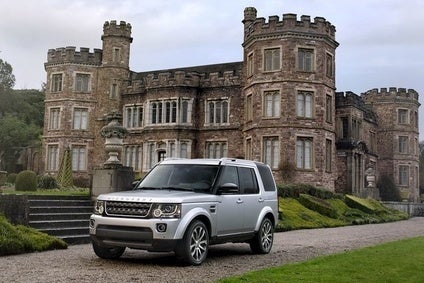 It might be more than a decade old but the Discovery is still one of the best four by fours that money can buy – constant development, including the latest Euro 6 compliant diesel engine, has ensured that.
The first time you flip open the MY2016 Discovery's fuel door you notice it – a filler neck for AdBlue sitting beside the one for diesel. That wasn't there before, so for the geeks, it's how you tell a Euro 6 Discovery from a Euro 5 one.
Power and torque for the 2,993cc V6 have not changed, these being 188kW (256PS) and 600Nm, with a CO2 average of 203g/km, a 10g/km improvement. This is the only engine available in the UK, and all variants come as standard with ZF's 8HP70 eight-speed automatic gearbox.
In North America, the Middle East and some other regions or countries, a 340hp supercharged petrol V6 is either the standard engine or offered alongside the diesel. While gasoline prices keep falling, Land Rover seems right in deciding not to offer North America's 2016 LR4 with the federalised diesel which is new in that region for the latest Range Rover and Range Rover Sport. This Td6 is a modified version of the existing PSA-Ford 3.0-litre unit and it produces 254hp.
To some, the Discovery might be too big, too long, too heavy and perhaps such people are correct. Yet, it's always such a source of amazement at how this vehicle feels a lot smaller from behind the wheel than it is. That's not to do with interior space – there's an abundance of it – but how relatively agile the thing is. Hit the suspension control's descend button when you switch off, and next time you unblip, the Discovery will be resting on its bump-stops, awaiting your arrival. It will reach normal ride height quickly too. Should you forget to press the button for this setting, as speed rises, a message will appear between the speedo and tacho announcing that the body is about to ascend.
Air suspension gives this vehicle such as advantage you wonder why not all would-be rivals have it as standard. The first time I had to enter a carpark with a low roof it proved its worth. Similarly, for steep driveways or even to see the cause of a jam when you're stuck in stationary traffic it's such a boon.
Don't think that pneumatic springing makes this tall and heavy (2,500kg+) 4×4 a handful around corners. Remembering the car's age and size and weight it's quite something what Land Rover has done to keep it so competitive. This is one of those delightful vehicles which it's so satisfying to drive at around six tenths of its abilities. Tell your passengers to hang on – the five in outboard seats have overhead grab handles – should you want to push the big Disco through a long bend at high speed. There might be some nervousness from the lean but seen from a following car the huge tyres remain firmly attached to the tarmac without even a hint of squeal or slip.
This is all relative, of course. Point A is that few owners will ever drive their SUVs in this style, and Point B is that top speed is just 180km/h and 0-62mph takes a fairly relaxed 8.8 seconds. Strangely, it feels fast enough. I did a Brighton to Bath dash at first light on a Sunday with four exhausted buddies as passengers following a 100km-in-24 hours charity walk. As hard as I pushed the Discovery, everyone stayed snoozing. It's odd how some cars can be serendipitous: this was one of my favourite drives of 2015 – empty roads, favourite music on low volume, faultlessly clear and silent SatNav directions, and when I needed a rest, the paddle shifts and lightest of braking were enough to bring 3+ tonnes of we seven and a boot full of gear smoothly into a services slip road without waking anyone. Full marks as a long-distance family chariot then.
If you're more of a hard core off-roader then you'll already know just how good the Discovery is for that role. Land Rover is obviously well aware of what such customers want as there is a choice of the newer single-speed transfer box or the long-serving twin-speed system. The latter offers high and low range for the most demanding off-road conditions.
How about some faults with this otherwise imperious model? Hmmm. Let me think. The start-stop system is a bit old-tech in that if you apply the parking brake the engine fires up. So, just hold your foot on the brake instead. And, it's hard to avoid the issue of lardiness but let's blame Ford shall we? No, that's not fair: the American firm's T5 platform is ancient and was adapted by Land Rover from its role as the basis for the long discontinued separate chassis U251 series Ford Explorer. Given that background, it's incredible how capable the L319 Discovery remains. Expect the L462 replacement model to lose a lot of weight due to it being based upon a version of the JLR aluminium architecture used for the Range Rover and Sport.
Some believe that L462 might be revealed in 2016, but Job 1 production is said to be on schedule for June 2017 at Solihull. The third generation Discovery is expected to use D7u, a lower cost version of JLR's Premium Lightweight Architecture (PLA).
A preview of L462 was revealed at the New York auto show in April 2014. This was the Discovery Vision Concept, a large seven-seater SUV which was also a high-tech showcase. Some of the advanced tech which JLR has been drip-feeding to the media over the last year or so should show up in this new model. Features such as the illusion of a transparent bonnet. This employs cameras and a head-up display to show the driver the area just in front of and underneath the vehicle's nose.
The big weight loss should also mean smaller engines. JLR's 2.0-litre petrol and diesel Ingenium units are almost guaranteed to be available, and expect a hybrid and possibly a PHEV too. With the same name used globally for the Discovery Sport, the Discovery model name should return to all markets as Land Rover builds a family of such models. The thinking is Defender replacements, Discovery Sport, Discovery and other derivatives and then Range Rover models as the JLR division's three vehicle groups.
Given how competitive it remains, the end of Land Cruiser V8 imports to the UK (we won't get the just-announced facelifted model), the age of the Shogun and pretty much no other direct rivals offered in these islands, the Discovery looks set to remain in demand here. Despite having driven all of its often pricier and smaller premium brand rivals including the Touareg, Cayenne, XC90, X5, new Q7 and M-Class – and every one is an excellent vehicle – there's just something about the big Land Rover which makes it my favourite car in this class. In the price class above it, then the X5 M50d is hard to beat, especially with Porsche having now killed off the diesel V8-engined Cayenne in European markets.
Prices for the MY2016 Discovery range from GBP41,600-59,970.