PRODUCT EYE: Cayenne S - the first V8 diesel Porsche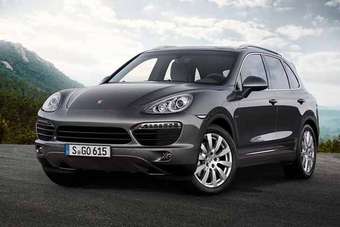 According to Porsche, this is the world's only SUV to be powered by a diesel V8 with automatic start/stop
Since the arrival of the latest Range Rover Sport, the Porsche Cayenne has had a battle on its hands for the status of best in class. With Land Rover about to launch a V8 diesel variant, Glenn Brooks decided it was time to assess the Cayenne S Diesel.
Comparing a Porsche with a Land Rover? That is but one example of how the car market keeps on changing. The first generation Cayenne had styling that was to many eyes, contrived, but there was no doubting either its on- or off-road abilities. The current model has vied with the X5 for class honours and the third generation of the big BMW 4x4 will soon be in British showrooms. That one I'll be trying out next month but for now, I'm more interested in knowing just how good the Cayenne V8 diesel is.
The main packaging difference between the Porsche and the RRS is the Cayenne's strictly five-seater format. Maybe one day it will be possible to buy any kind of 5+2 Porsche but for now, it's not. Instead of a third row of seats, those in the rear have masses of leg room, and there is a generously proportioned boot. For once this doesn't mean you must go without a spare tyre as there is a deep well for it beneath a lift-up panel.
The driver and front passenger in the Cayenne have perfectly positioned seats with all manner of electric adjustment possibilities, and up to three different settings can be saved for each occupant. Ahead, there is the traditional large tachometer with crystal clear numbering and integrated LED speed reading in MPH. To its left is a smaller speedo with numbers marked in 25mph increments, then left again for temperatures/pressures readouts. To the right of the tachometer it's a further two circular displays which show four functions (including a handy second showing of the Nav map) and the fuel remaining read-out.
Seeing a redline of 4,400rpm looks really odd in a Porsche but the moment you fire up this engine, you hear that all is going to be well. Incidentally, you will look in vain for a push-button starter (hurrah), nor are there what have become cliched spinning needles when you twist the Cayenne-shaped key. One of my favourite cars of 2013 was a Boxster and you instantly feel that you are in a vehicle that was designed by the same people. That's quite an achievement considering how much more room there is, how much higher you sit and the fact that behind everything you see there are lots of components that are shared with Volkswagen and Audi: the Cayenne has an albeit more modern variation of the architecture that is also used by the Touareg and Q7.
The eight-speed automatic gearbox has a conventional selector lever situated in the middle of a wide centre console. You can flick it left for manual mode but it's so much easier to use the beautiful-to-the-touch aluminium paddles which sit behind, and rotate with, a metal-spoked steering wheel. Just as in the Cayman and Boxster, the wheel is free of any switches, which is novel. Instead, there are two further levers below those for wipers and indicators. The one on the left sets the cruise control, while the right one scrolls through the multi-display gauge's readouts: phone, Nav, trip computer, audio system and so on. I'm not sure why neither of these little levers is illuminated but I guess owners quickly memorise which way to push and pull for their various functions.
While I'm on the topic of oversights, the spec does not extend to heating for the seats or steering wheel, nor is there electric assistance for the tailgate. Sure, you can live without these things but when our roads are covered in grit for many months of the year, getting a dirty hand every time you open the boot irritates. There are obvious places where the optional heated seat switches would be on the centre console too - these are covered by shiny black plastic empty slots. Guess what would be the first additional cost item I'd be ticking on the configurator?
Happily, the above observations are minor irritations. Let me name another positive thing about the inside of this car: there is great pleasure to be had from the feel of the solid metal door handles, and few manufacturers specify these from their suppliers. Other subtle touches that mark this out as worthy of the not insubstantial GBP58,000 price tag include the specific variant being spelled out in the multi-function display dial. So you won't just see the word Cayenne light up, but Cayenne S, in a special cursive font. You might get more standard gear in, say, a top-spec 40 grand Kia Sorento but you don't get those kinds of delights.
Something else that is absent from any and all big Korean 4x4s is the Cayenne's 4,134cc engine. This is one of the most melodious I've yet experienced and if you're reading this in the USA, I'm sad for you that you're denied it - of the non-petrol engines, only the V6-engined Cayenne Diesel is sold there. The good news is that the EC's, Japan's and the EPA's and California's emissions norms will soon be more or less interchangeable so buyers the world over should in theory be able to sample the melodious delights of this sensational engine.
I hadn't driven any car for five days before the Porsche arrived, the previous vehicle being the 6.0-litre Holden I had in Sydney for a fortnight. Maybe all the gear in that one made me overly critical of some of the things I would have wanted in the Cayenne and I have to confess I did also wish for the heads-up speed and speed limit display that will save your licence time and again. So the Volkswagen Group's powertrain engineers must take this as a major compliment - the 4.1-litre V8 struck me as a more than worthy engine for a Porsche SUV. I didn't expect to be saying that about a diesel, even one with two turbochargers, before I tried the Cayenne. The 850Nm of torque has to be experienced to be appreciated. It's like having a rugby prop clearing the way wherever you want to go - muscles are flexed, progress is effortless, and the background sound is always quietly present via the slightest press of the right pedal. Floor the throttle up even the steepest of hills and you see the truth in the spec sheet's claim of 3.5 tonnes of towing potential.
It's not just the addicted-to-bass sound of the V8, though it was almost impossible not to hit the transmission's SPORT setting every time I drove it, just so that it would hang on to each gear that little bit longer. This is an SUV that you will take out on a Sunday morning for the thrill of driving it. It's big, but not too big; at fewer than two tonnes, it doesn't weigh too much; and the roadholding is that of a proper Porsche. It is also Range Rover-good if you take it off road. I didn't, but a Land Rover engineer confided in me on the RRS launch earlier this year that he hoped he and his colleagues had created something as able as they had found the Cayenne to be. Drive goes to all wheels, whatever surface you're on. There are various 4x4 settings which can be dialed up via centre console switches, while both driver and passenger have grab handles which are mounted off the central tunnel.
The test car came with GBP1,052's worth of PASM, shorthand for Porsche Active Suspension Management. You can cruise around in the default Normal suspension setting, or else try Comfort (it leans ever so slightly into sharp bends and makes pot-holed city streets more bearable). Sport was my favourite choice, especially in combination with the transmission setting of the same name, as I mentioned above.
The S Diesel is one of the most recently added Cayenne variants, having gone on sale in Britain just this year following its debut at the 2012 Paris motor show. The car itself was first revealed at March 2010's Geneva motor show and by January 2012, Porsche saw the need to add a third production shift at its Leipzig plant. The firm built the 100,000th unit of the current model the same month and the Cayenne remains Porsche's best seller worldwide.
There have been no exterior updates in the three years during which the Cayenne has been on sale so expect a range facelift some time in 2014, most likely at October's Paris show. Like the first-shape model, as well as the V6 diesel and V8 diesel, there are V6, V8 and V8 turbo petrol engines, as well as a plug-in hybrid. The last of these should be replaced by the Cayenne S E-Hybrid, a version that has not been announced but which seems likely to be launched around this time next year. It would logically use the same supercharged 3.0-litre petrol engine and electric motor as the Panamera S E-Hybrid. Provided Land Rover hasn't by then announced a PHEV Range Rover Sport, Porsche should have a new trump card for the Cayenne in its battle against the RRS.
In trying to compare the Cayenne S Diesel to any rival, the question really comes down to badge. Those seven capital letters on the tailgate will be all that is needed to convince many buyers which car in the class has the most premium image. That's why the words RANGE ROVER appear large on both the posterior and bonnet's edge of the RRS, with the Land Rover logo there but far smaller.
You can easily spend over seventy thousand pounds on either a Cayenne S Diesel or an even newer Range Rover Sport TDV8 by adding multiple options (park assist with camera is GBP1,044 on the Porsche, for example) so what people choose to buy in this class doesn't really come down to cost. Nor will the official CO2 average of 218g/km or a Combined 34.0mpg matter too much to them. Porsche or Land Rover then? Until I drive the RRS TDV8, the Cayenne S' torque and the sound of its engine make me want it just slightly more than any Range Rover Sport.
Most popular news
---
Most popular insights
---
Oops! This article is copy protected.
Why can't I copy the text on this page?
The ability to copy articles is specially reserved for people who are part of a group membership.
How do I become a group member?
To find out how you and your team can copy and share articles and save money as part of a group membership call Shivani Hayer on
+44 (0)1527 573 732 or complete this form..