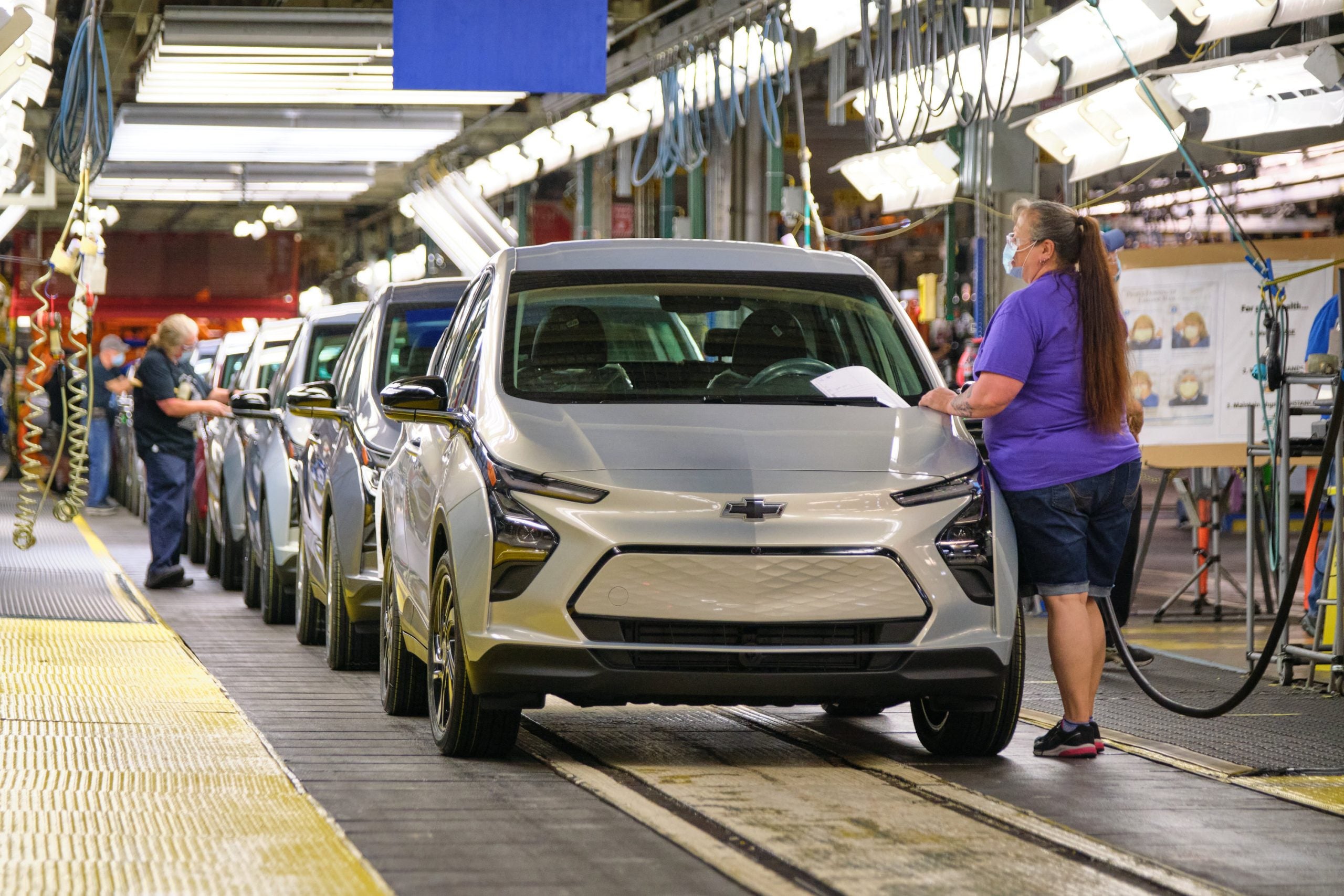 The US light vehicle market turned out at 13.7 million in 2022, down 7.9% on 2021's 14.9 million units. Sales were hampered by supply constraints and higher interest rates – a response to an uptick in price inflation. Transaction prices hit record levels and inventory stayed low, despite some improvement in the second half of the year.
The US is expected to experience a mild recession in 2023. The recession will be triggered by the Federal Reserve's aggressive tightening cycle and the drag from tighter financial market conditions. Higher borrowing costs will also weigh on corporate profits, hiring, and business investment. The consumer will also feel the effects of an increase in unemployment and a reduction in excess savings.
General Motors regained the market leadership position in the US after Toyota pipped it to the post in 2021. GM sold 2.27 million vehicles in 2022, a 3% gain on the previous year. GM performed especially strongly in the fleet market (sales up 44% in the year). Toyota, the previous US market top seller, sold 2.1 million units in 2022, 9.6% fewer than in 2021.
In 2023, US light vehicle sales are still expected to remain well below pre-pandemic levels at 14.9 million units, an increase of 9% from 2022. In pre-pandemic 2019, the US market was 17 million units, a level it is not expected to return to until 2025.
December results
According to LMC/GlobalData, US light vehicle sales grew by 7.2% YoY in December according to preliminary estimates, to 1.28 million units. Once again, the YoY comparison was flattered by the slump in sales a year ago during the height of the chip shortage. December rounded off a disappointing year in which a lack of inventory and eye-watering prices held back sales.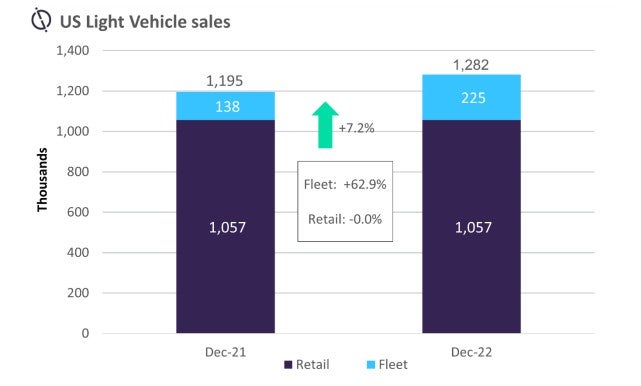 In recent months, General Motors has been extending its lead over Toyota Group, and this trend continued in December. GM sold around 41k units more than Toyota Group in December, compared to a 27k unit advantage in November. Whereas inventory shortages are largely in the rear-view mirror for GM, this is far from the case for Toyota. Furthermore, for the first time since April, Toyota was not the leading brand in the market. Instead, that title went to Ford in December, which outsold Toyota by almost 6k units. The Ford F150 was the bestselling model in December, leading the Chevrolet Silverado by a healthy 12k margin.
General Motors delivered the strongest YoY growth of the major OEMs, seeing sales jump by 33.8% from a low base. However, GM was closely followed in percentage growth terms by Hyundai Group, which enjoyed a 32.2% YoY increase. Although Toyota Group reported a 3.5% YoY gain, this was below the market average and saw the OEM 3.2 pp behind GM in market share terms, with GM leading the way on 17.3%.
Compact Non-Premium SUV was again the bestselling segment in December, with a 17.4% market share, up by 1.8 pp, YoY. As in November, Midsize Non-Premium SUV was the next most popular segment, on 16.8%, down by 1.1 pp, YoY. Perhaps the most significant change between November and December was a substantially improved performance for Large Pickups, which held a 15.9% share in December, up by 1.6 pp from the prior month and up from 14.5% in December 2021. As in November, Pickups once again outsold Cars in December, but the gap was extended from 7.1k units to 47k units.
David Oakley, Manager, Americas Sales Forecasts, LMC Automotive, a GlobalData Company, said: "December sales were mediocre, falling well short of the pre-chip crisis standard. Still, the month did at least record the highest volumes of 2022, and the overall performance was in line with our expectations.
"The pre-Christmas period was disrupted to some extent by severe winter weather across large swathes of the country, while the deals that may have tempted potential buyers into dealerships in previous years were fewer and further between in December 2022. The optimistic view is that the daily selling rate ticked up, despite these headwinds, and higher sales volumes were likely a factor behind rather modest gains in inventory during the month".
2023 outlook
Looking at 2023, while a recession is still the base case scenario, GDP growth is expected to be positive for the year, at 0.9% growth. However, given the pricing pressure and a remaining level of disruption, US light vehicle sales are still expected to remain well below pre-pandemic levels at 14.9 million units, an increase of 9% from 2022.
Vehicle inventory remains well below historical levels but has improved through the second half of 2022. However, strong pickup sales in December likely depleted some inventory. Disruption in North America production finished 2022 at 1.9 million units. Looking forward to 2023, that is expected to drop to 800,000 units.
Jeff Schuster, President, LMC Automotive, A GlobalData Company, said: "We start 2023 with many of the issues continuing from 2022, though disruption is at a lesser scale. Some improvements in the economic outlook could spill into the Auto sector, but any material improvement is not expected in the first half of the year, as record high pricing continues and incentives are not strong enough to overcome the level. There does remain some room for upward revision if net pricing begins to fall sooner than expected."