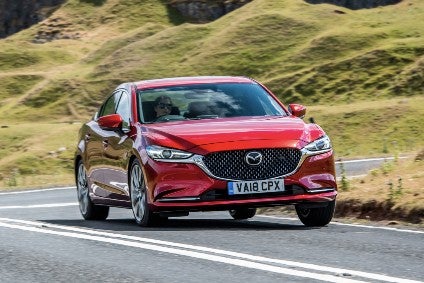 Is Mazda knocking on the door of that elite club called Premium Brands? The signs have been there for a while, as each new model released over the last couple of years looks and feels ever more upscale. The newly updated Mazda6 adds greatly to that impression.
The transformation of Mazda from ordinary mass maker to desirable and worthy of premium pricing has been close to remarkable. After the firm found itself cut adrift from former quasi-parent Ford Motor Company, what then happened was inspired. Rather than clip its own wings and pull back from spending on multiple extra models, Mazda made some inspired decisions. It took a punt on adding crossovers, invested in a new generation of petrol and diesel engines, defined and named a recognisable brand look and then stuck to this strategy.
Just as interesting as what the company did is what it didn't do: a decision was taken to stand back and let others pour money into hybrids, plug-in hybrids and electric vehicles. Mazda simply didn't have the financial clout to match the resources of far larger OEMs. Then Toyota came looking, liked what it saw and decided to invest. Now the company can tap its larger shareholder for technology it may need in the future, while TMC continues to examine how Mazda wrings much value from every yen spent on R&D.
Aside from the rear-wheel drive MX-5, almost every Mazda is based on a single architecture. This, the front- and all-wheel drive Skyactiv platform, is seven years old, having premiered with the previous CX-5. Soon the replacement, Skyactiv2, will appear. This is to be the basis of the next Axela, which is the Japanese market name for what will again be sold as the Mazda3 in most other countries.
The Mazda6 remains the brand's largest car and still has a year or more to go before it too switches to Skyactiv2. The latest model has had a second round of styling and powertrain revisions, the first facelift taking place in early 2015. That was just shy of two and a half years after production started.
The second refresh for cars sold in EU markets didn't happen until July, even though the second facelift for the sedan was first seen at the LA auto show in November 2017. The equivalent update for the Tourer premiered at the Geneva motor in March.
As part of the changes, Mazda's existing 194PS 2.5-litre four-cylinder petrol engine with cylinder deactivation replaces the former unit of the same cubic capacity, while the power of the 2.2-litre diesel rises to 184PS. Another choice is a 165PS 2.0-litre petrol engine, while in the USA, Canada and certain other counties, there is also now a turbocharged 2.5-litre petrol engine. This develops 227hp with regular gasoline or 250hp when imbibing premium.
The press test model came with the base petrol engine linked to a six-speed manual gearbox. Mazdas tend to be either the lightest models in their class or close to the best in that respect and for that reason, even 165PS offers good performance. Torque, at 213Nm doesn't sound like much, which is probably because we are all so used to most engines being turbocharged. The CO2 output is 146g/km and Combined consumption is 44.1mpg, which is 6mpg better than what I averaged. It takes an official 9.4 seconds to reach 62mph, with top speed being 134mph. The car's mass, including a 75kg driver, is 1,552kg.
For its class, the 6 sedan is a long vehicle, stretching to 4,870mm, which is not only lengthier than the estate but includes an additional 80mm in the wheelbase. The effect that has on lounging space is marked: few cars in the D segment have as much room for legs (984mm) as this one.
Mazda has kept the exterior changes minor, bringing the details into line with the look of newer models such as the CX-5. The emphasis is on soft, elegant lines and that's carried over to the inside of the car too. The test vehicle, which was to GBP25,995 Sport Nav+ specification, brimmed with pale, padded leather and plastic trim which could easily have been matte aluminium. A few taps gave it away yet that matters not as the first impression says luxury car in a way that not all Japanese premium make models from Lexus and Infiniti do. No annoying chimes, no too-colourful graphics or overloaded instrumentation or other controls. Clearly, a real effort has been made at creating an upscale ambience.
The interior and exterior alterations will probably be enough to keep the 6 looking contemporary in a class which continues to dwindle. Toyota Motor Europe will soon slot in the Camry Hybrid as a sort of substitute for the Avensis, there's a question mark over whether Hyundai will replace the i40 and Citroen has already withdrawn, albeit temporarily, PSA says. Facelifts for the Passat and Mondeo are coming and now that the Peugeot 508 is in showrooms, there are no new models in the non-premium part of this segment due anytime soon. Which means that unless the segment takes a further slide in overall volume, Mazda Motor Europe may see increased business.
Numbers for September and the first nine months haven't yet appeared, so August it has to be when looking at how the 6 has been doing at a Europe-wide sales level, as defined by JATO Dynamics. The CX-5 is the brand's best seller, dealers having delivered 46,506 since 1 January, followed by the CX-3 (36,885), then the 3 (31,288), 2 (21,173), 6 (12,875) and MX-5 (10,589).
Mazda's D segment entrant fared better than some, the Kia Optima (10,334), old-shape Peugeot 508 (8,366) Hyundai i40 (7,628) and Subaru Legacy & Outback (4,897) being the bottom four of the size class.
Of course, where the four-door 6 used to do big volume was in the USA. For the year to the end of September, sales have fallen by 11.2 percent there to 24,741 cars. This, combined with numbers from Europe, Japan, Canada and Australia, plus some decent volume from the Russian and Chinese markets – two countries where the car is also assembled and built respectively – means the business car for a 6 successor very much adds up.
Just how far away the fourth generation model is, Mazda isn't saying. It may be revealed in just over a year's time at the LA auto show, the company being in the habit of having used that event to debut each of the current car's facelifts. As to the general outline, this will probably have been previewed by the truly beautiful Vision Coupe, a concept which premiered at the 2017 Tokyo motor show.
Mazda has been smart in its approach to what's become of the global market for 4.6-4.9m long sedans. Even in the face of the ongoing contraction, the company can probably keep selling close to 100,000 units of the 6 annually. Should that fall into the 80 or 70-thousands, would that even be an issue? Not when the current car can command strong pricing in many countries.
In Europe, it must be a deeply satisfying observation for Mazda to see that sticking to its slow but consistent move towards becoming a premium brand is working. Minor shareholder Toyota likely still has much to learn about how smaller car companies can sometimes outfox the big boys. How many units of the 6 will MME sell in 2019 compared to Toyota Motor Europe's new Camry which will be constrained by a hybrid-only powertrain and no estate? That's going to be a fascinating comparison of strategies to watch unfolding.