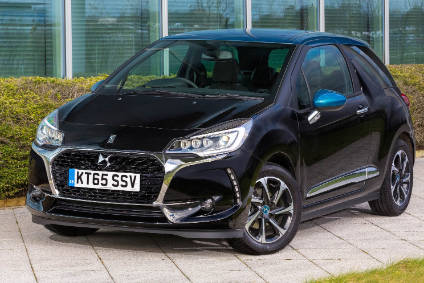 The newly revised DS 3 is more convincing as a premium model than the original but as the brand's volume product, it has a lot of pressure on it to perform.
Groupe PSA insists that DS is about profits not market share. Numbers for July are not yet available but in the first half of 2016, sales fell across Europe as a whole. ACEA's data reveal a 1.4% decline to 39,846 versus 40,394 in the prior year. To put that in perspective, that's better than Jaguar (32,265), Alfa Romeo (33,044) and Porsche (37,826) but behind Lancia (40,248). Room for improvement then. PSA's own figures differ slightly with the firm claiming brand registrations for the region rose by 0.7% to 40,900 units. The UK is one of DS' best markets, with 1,211 vehicles sold in July and 10,647 for the year to date.
The latest models to be updated were the DS 3 and DS 3 Cabrio, each having been released to dealers in March, only days after their public premieres at the Geneva show. The main difference is a major restyle at the front end but the interior has been tidied up too, and feels more luxurious. The double chevron badge has disappeared from the tailgate and as hard as I looked I couldn't find the word Citroen anywhere on the test car.
It's been six years since the Citroen DS3 went on sale across Europe, with the Cabrio added during the first quarter of 2013. Had PSA being making the strong profits that have reappeared in recent times throughout 2013 and 2014, we could have expected a new DS 3 by mid-2017 but instead the latest refresh must suffice.
How does the updated model compare against its main rival, the three-door Mini? Not as agile to drive but it isn't a long way behind it, which says a lot about PSA's chassis gurus.
The interior trim story is where you see and feel the biggest improvements. There seems to be more in the way of softer feeling materials and some high-end cars have DS' trademark watch strap pattern leather on the seats, which does make the 3 stand out from others in its segment. The changes are probably enough to keep this model selling for another couple of years.
Like the smaller (and cheaper) Fiat 500 which many customers will cross-shop, the DS 3 car isn't really aimed at enthusiast drivers and that can be seen by the UK's model range names. This starts with the GBP13,995-16,795 Chic, with Elegance (GBP16,395-17,895) above this, followed by Givenchy Le Makeup (GBP19,395-20,895), Prestige (GBP18,795-19,495), Ultra Prestige (GBP20,795-20,995), Performance (GBP20,495), Performance Black (GBP22,495) and ends with the GBP25,495 Performance BRM Chronograph.
The engine range is also extensive and begins with a PureTech three-cylinder turbo petrol in 82, 110 or 130PS forms, while there is also a larger capacity THP in 165 or 210PS forms, followed by the BlueHDi diesel with outputs of 100 or 120PS. Most cars have a six-speed manual gearbox but the EAT6 torque converter automatic is available for some engines. The self-shifter is supplied by Aisin AW.
We used to hear a lot from Citroen about how China was key to the future of its DS models but things have gone a bit quiet of late. Looking at deliveries of cars over the first half of the year, the news isn't great. A sales total of 8,715 at least puts it ahead of next placed Renault (8,193) but even Fiat, a serial under performer in the PRC, is outselling the French premium brand (9,069, down 47% YoY). All of these numbers, provided by CAAM, are for locally produced models only. In the case of DS, that means the 6 (5,543, -31%), 5LS (1,972, – 13%), 5 (780, +81% from a low base) and 4S (420, new entry). Let's hope things improve in the second half of 2016 but really, the big problem is a lack of SUVs, the same issue which bedevils the brand in other key markets such as France, the UK and Italy.
How far away is the replacement?
The C3 replacement had been expected to be the first car to use the "upgraded low CO2 small car platform for Europe and other regions" which GM and PSA announced they were developing in October 2012. The next Peugeot 208, Citroen C3 and Opel/Vauxhall Adam should also have used this architecture. However, in October 2013, PSA said the "B-common platform project is under review" but provided no other details.
The next DS 3, as well as the Peugeot 208 and Citroen C3 successors will now use PSA's own EMP1 architecture. This follows an October 2013 statement from the French firm, in which it said the "B-common platform project is under review" but provided no other details. K-T Neumann, the head of Opel-Vauxhall, stated in an interview in March 2014 that the division would not be collaborating with PSA on what had previously been termed a 'B-Common' architecture. This means PSA is going its own way and is evolving B-Common into EMP1. Opel/Vauxhall will use its own G2XX architecture for the second generation Adam and other future B segment models.
As well as replacements for the DS 3 and DS 3 Cabrio, expect a five-door hatchback. There should also be a plug-in/EV/electric variant. All production for Europe should again be at Poissy (France) but don't rule out additional build in China as part of CAPSA, the JV with Changan Auto. Series production in France should commence during 2018.
Future product program intelligence
Get more data on vehicle lifetime and future product plans with PLDB from QUBE.