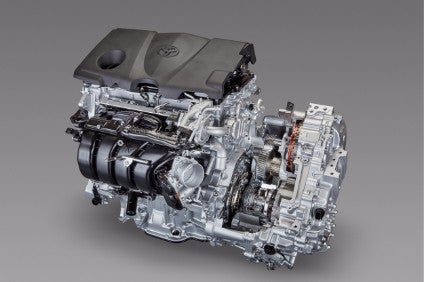 Toyota Motor Corporation, now rolling out new vehicles – the fourth generation Prius hybrid and C-HR compact crossover – on its Toyota New Global Architecture (TNGA), announced it has developed advanced engines and transmissions and further evolved its hybrid systems and plans to use these new powertrain units in a "rapidly broadening range of vehicle models", starting in 2017.
Using TNGA, Toyota said, it has been changing the automobile from its structure, lowering hood heights, lowering the centre of gravity and implementing other innovations to improve driving performance. To enhance fundamental vehicle performance in terms of running, turning and stopping, it initiated a comprehensive review centred on vehicle platforms and is now, since the release of the fourth-generation Prius in 2015, expanding the use of new platforms throughout its product range. It has also been developing new powertrain units that significantly improve both driving and environmental performance.
The newly developed powertrain units are light and compact and have a low centre of gravity. In-depth reconsideration of fundamental vehicle performance has resulted in engines with high-speed combustion and in highly efficient multi-geared transmissions. To standardise the basic structure of these new units, modular design (unified design) was used, building a foundation for the future making of 'well-built cars'.
While it was a given that the new powertrain units would be designed to have a high level of environmental performance, development focused on achieving driving performance that would "change how Toyota cars drive", under the theme 'Direct & Smooth'.
Toyota says the starting point of making cars is 'fun to drive', the "feeling of joy that comes when behind the wheel". It aims to make cars with driving performance that responds to the will of the driver and are, at the same time, highly fuel efficient, among having other environment-friendly attributes. The new powertrain units provide approximately 10% better power performance and approximately 20% better fuel economy. Combining the new powertrain units with the overall evolution of the vehicle body, including aerodynamics, weight reduction and others, can open the way to even greater power performance and fuel economy.
2.5-litre direct-injection, I4 petrol engine
Toyota has named its new line of internal-combustion power plants 'Dynamic Force Engines'. To bring out their potential to the fullest, their basic structure was completely rethought using TNGA, and their overall structure and configuration were innovated to achieve high-level driving and environmental performance. Work will continue to make the new engines even more advanced.
The new engines employ high-speed combustion technology and a variable control system. They also achieve greater thermal efficiency, resulting in high output, due to a reduction in energy losses associated with, among others, exhaust and cooling systems and the movement of mechanical parts. Their range includes a 2.5-litre engine that has, the automaker claims. one of the world's best thermal efficiencies – 40% – when used in petrol-powered vehicles and 41% when used in hybrids (HVs). This new, thoroughly reconsidered and greatly evolved engine features numerous new technologies, such as technologies for minute control that make it highly responsive and allow it to generate ample torque at all speeds.
Eight-speed and 10-speed automatic transmissions (Direct Shift-8AT & Direct Shift-10AT)
Toyota has developed two new automatic transmissions – the eight-speed Direct Shift-8AT and the 10-speed Direct shift-10AT. For both, various measures were taken to minimise energy loss and heighten transmission efficiency. Gear tooth surfaces were processed using a new technique for a lower coefficient of friction when the gears engage, and the configuration of the friction material used inside the clutch was optimised to reduce clutch torque loss by approximately 50% during rotation (compared to a conventional six-speed transmission). These and other efforts resulted in achieving one of the world's best transmission efficiencies. The new automatic transmissions are more compact and lighter than comparative conventional transmissions, lowering a vehicle's fuel requirements. And their lower centre of gravity results in both improved straight-driving stability and better cornering stability.
Furthermore, widened gears and a newly developed high-performance compact torque convertor combine for a broader gear lockup range. The resulting quick and smooth response to accelerator pedal operation creates an 'as desired' direct driving feel.
In the case of the Direct Shift-10AT, even though the number of gears has been increased to 10, the use of close-ratio gears optimises the range of use of each gear, particularly in the low-to-mid speed range. The resulting smooth gear changes, which are claimed to be among the world's quickest, create, Toyota says, "a rhythmical and comfortable sensation that is suitable for a premium rear-wheel-drive vehicle".
Through such measures, fundamental vehicle performance in practical driving situations ranging from driving around town to driving on the highway has been improved to a degree that drivers can distinctly experience, the automaker says. Smooth response to accelerator pedal operation enables 'as desired' vehicle departure and, in overtaking manoeuvres, it allows lag-free and rhythmical acceleration that meets driver expectations, even in cases of sudden and heavy accelerator pedal use.
Advancement of Toyota Hybrid System II (THS-II)
Applying size-reducing, weight-reducing and loss-reducing technologies used in the fourth-generation Prius, Toyota has enhanced its hybrid system for 2.5-litre engines and developed the new, high-performance Multistage THS II for rear-wheel-drive vehicles.
THS II for 2.5-litre engines is said to excel in both power and fuel-economy performance due to the synergistic effect of size-reducing, weight-reducing and loss-reducing technologies coupled with the high thermal efficiency and output of the new TNGA-based engine.
Multistage THS II gives hybrid vehicles a new driving 'image' with its start-from-stop acceleration performance and abundant direct feel. In addition to improving system efficiency at high speeds, intermittent use of the engine at high speeds has also been made possible, further improving high-speed fuel economy.
The system for plugin hybrid vehicles (PHVs) has also been enhanced. A new dual-mode drive system allows the electric motor, which was previously used only as a generator, to provide direct driving power, resulting in powerful driving, even when in EV mode. Further enhancing the system for PHVs is a large-capacity lithium-ion battery that largely increases the EV-mode cruising range to at least 60 kilometres (about 35 miles).
Roll-out of new powertrain units
Through TNGA-based car-making, efficiencies have been achieved in the development of the base technologies of the new powertrain units, along with improvements in quality, making possible the concerted release of affordable, high-quality products, the automaker said.
"This will lead to Toyota being able to quickly provide its customers with ever-better cars and to further promote widespread use of environment-friendly, fuel-efficient vehicles."
Within five years to the end of 2021, Toyota plans to introduce 17 versions of nine engines, including the 2.5-litre engine just announced, 10 versions of four transmissions, including multi-geared automatic transmissions and a new kind of continuously variable transmission, and 10 versions of six hybrid systems.
In this way, through TNGA-based modular development, Toyota will roll out numerous types of new powertrain units within a short timeframe, successively introducing them in various vehicle models, starting with the launch of a new vehicle in 2017.
By the end of 2021, Toyota aims to have the new powertrain units in 60% or more of Toyota brand and Lexus brand vehicles sold annually in Japan, the United States, Europe and China. It forecasts that Toyota and Lexus vehicles sold that year in those markets will account for a CO2 reduction in those markets of 15% or more, counting the fuel-efficiency-improvement contributions made by the new powertrain units alone.