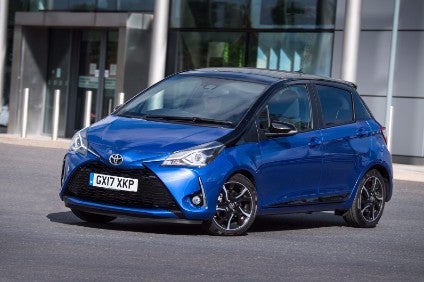 Time was you could just about set your calendar by the Japanese automakers' model rollout programmes. Four years, more or less on the dot. Year one, after a Tokyo motor show debut, a new model; year three, new nose and tail, new dashboard; year one again, full redesign, at least of body and cabin. Engines often carried over and it was not unusual to see a new powerplant or two shoe-horned in, maybe in year two or four, carrying over to the next redesign. Simples.
Nowadays, not so much. With the Europeans operating on more like eight years, it seems the Japanese have cut themselves some slack and model life cycles can now be much longer than four years (we, as it happens, have a product that covers all that, we call it PLDB). We reckon a Yaris replacement will probably appear towards the end of this year (the car is the Vitz in Japan; it has also previously been called Echo in some markets and there have been sedan clones over the years as not every market loves hatchbacks as much as we do in the UK, western and northern Europe).
The French Toyota
Since launch in Europe early in 2011 (ours have come mostly from Valenciennes in France since 2001), Toyota Europe has freshened up the model line at regular intervals though, at first glance, you'd need to be a Toyota anorak to pick the changes. The hybrid appeared in 2012. European market preferences vary by country and some trim names can vary accordingly and these have been rejigged here in the UK along with equipment levels while, somewhere along the way, CVT automatic replaced automated manual. There was a 'facelift' in 2014 which brought tweaked nose and tail (LED tail lamps) styling, some NVH improvement and slightly restyled and retrimmed interiors. Safety Sense (front collision mitigation and braking assist) became available in 2015 and there were further revisions for 2016 (including temporary spare wheels on all models; Toyota GB customers have made clear they want a wheel, not a can of goo and a pump) and the odd special edition, an old marketing trick (as is piling on more equipment) to spur some showroom interest as a model line ages.
The big news for 2017 was a new 1.5-litre petrol engine, ousting the 1.3, and, by now, Safety Sense was standard range-wide and part of yet another range-wide rethink of trim and equipment levels. Another new nose, tailgate, rear bumper and easy-to-spot larger tail lamps also arrived and, just this month, a very limited edition GRMN version, inspired by the Yaris World Rally Championship return car this year, was added with UK made, 1.8-litre supercharged 212hp engine, giving dealers a hoon halo model to shout about.
Toyota claims the Yaris has continued to increase its share of the B-segment (supermini) market in western Europe since the launch of the third generation in 2011, rising to more than 6.5% and record 208,000-plus sales in 2016. The segment-unique hybrid accounts for 40% of volume.
Valenciennes output passed 3m units in 2016 and markets beyond Europe include Africa, North America and the Middle East. One key change most owners will be blissfully unaware of: Toyota Europe took much of the responsibility for the latest updates which were adopted directly for the Japan made Vitz.
New 1.5
Toyota said the new 1.5 I4 petrol engine was developed in anticipation of future Euro 6c emissions standard and RDE (Real Driving Emission) homologation requirements. It's made in Poland as part of a GBP126m update programme and is from the automaker's new ESTEC (Economy with Superior Thermal Efficiency) family, with new technical features that deliver better performance and a claimed cut in fuel consumption of up to 12%. From 1,496cc comes 110bhp/82kW and peak torque of 136Nm at 4,400rpm and it is 0.8 seconds quicker in acceleration to 62mph (11 secs). When overtaking in fifth gear the improvement is more than a second, moving from 50 to 75mph in 17.6 seconds compared to 18.8.
Toyota reckons hybrid technology has helped it achieve a 38.5% thermal efficiency value, placing the engine among the best on sale. This has been achieved by using a high, 13.5:1 compression ratio, adopting a cooled exhaust gas recirculation (EGR) system and extending the variable valve timing operation so that the engine can switch from the Otto to the Atkinson cycle to gain optimum efficiency in different driving conditions. Combustion chamber design and new pistons allow that high compression which promote a homogenous air/petrol mixture and rapid combustion. Cooled EGR reduces combustion temperature and also helps prevent engine knocking and the volume of reinjected inert gases allows for a reduction in pumping losses at low and medium loads, improving overall engine efficiency.
New variable inlet valve timing system – VVT-iE – allows the engine to switch from the Otto to the Atkinson cycle and back in a fraction of a second. Controlled electronically, closure of the intake valve is delayed, reducing the compression phase and further helping reduce pumping losses (Atkinson cycle), and enabling a prompt return to the Otto cycle for better performance under high loads. The phase shift of the exhaust camshaft is hydraulically controlled.
Fuel consumption at motorway cruising speeds is improved by a water cooled exhaust manifold which limits gas temperature and avoids the need for mixture enrichment to reduce combustion temperature so fuel consumption and exhaust emissions are reduced.
Owners will probably be oblivious to all this as most buy this type of car as a reliable appliance to get from A to B, not as a sports car. I tried the Yaris in mid range Icon Tech form, costing a not inconsiderable (but class-competitive) GBP16,495 with the GBP650 optional Touch and Go infotainment system which is reasonably intuitive to use, as is the basic menu to set some things up the way you like. With just 500 miles under its belt, the review car 'still needed running in', as we used to say, so vigorous use of the standard six-speed gearbox was required. Assuming it was not telling porkies, the car's trip computer suggested the fuel economy measures worked – we managed 50.1mpg on one run, 47.4 overall and a worst of 42.8. Not bad given many of my runs are barely over a mile. I found the steering a little lifeless and noted quite a lot of road noise (and splash in wet conditions) and the engine is not the quietest but comparable to others in the segment.
Specification was a bit odd – door mirrors did not fold electrically but you get non-radar cruise control and a speed limiter plus digital radio, trip monitor and 12V and USB ports; the interior is nicely trimmed and finished but obviously down to a price. The Family concluded it would pass as the tribal car; there was more room in the back and the boot than we expected and dad's obsession with Having A Spare Wheel was met.
"We have made Yaris more 'European' than ever," said Toyota Motor Europe senior project manager Serkan Karaman at the 2017 version's launch.
"It has been a big challenge, but the experience we have gained since 2011 has improved the way our different functions work together. Year by year we have increased our capabilities and our knowledge and understanding of the market, while at the same time developing more harmonious and effective ways of working together internally."
The project has involved multiple departments, including the ED2 design centre in the south of France, product planning, R&D, production and sales and marketing.
"It is usual for a new model to peak then gradually decline in sales volume, but Yaris has continued to increase its market share. This is a great achievement, but it also put more pressure on us to find ways to bring more 'newness' and appeal to the car, something that was felt in every part of the process," Karaman added.
New wine in an old bottle, neither the worse for it, might sum up the engine transplant. Competition looms in the form of the latest Fiesta and a swathe of other European and Korean rivals, but the Yaris is still in the battle in 2017.