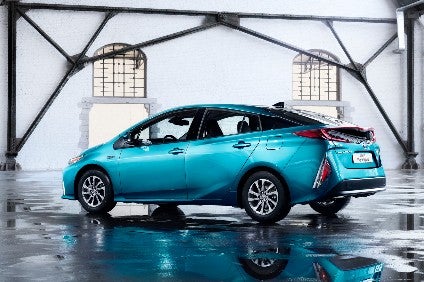 And so, round two of Prius plug-in, a much improved, longer range, more distinctive, fully redesigned model dripping with new technology and yet I'm left with a tinge of disappointment – still would not be able to do the 42-mile round trip to the office without a recharge, something no PHV I've tried to date can manage.
Practicality is also somewhat lacking – the PHV has only two rear seats and all those extra range-boosting battery cells have to go somewhere and that is under the boot floor leaving the compartment reduced to a shallow shelf. And do not ask about a spare wheel. Or speed-sensitive central locking that secures the doors once above crawling speed, an omission from UK-spec Prius that mystifies me.
There is also a daft production-related restriction. You can have the 'base' (lesser of two well-equipped versions) GBP34,895 Business Edition Plus with a clever optional (GBP1,500 in UK) solar panel sunroof that contributes a little to daily recharging but not the posher GBP 37,095 Excel version. (Subtract the just-announced GBP2,500 government EV subsidy which almost all buyers will qualify for.) Why are leather upholstery and a volt-inducing roof incompatible in the much-vaunted Toyota Production System at Tsutsumi?
Pedantic grumblers like me, thinking of The Family, will be politely but firmly propelled across the showroom to my current favourite Toyota hybrid, the RAV4, while early adopters will be shown and marvel at two of the several claimed world firsts – that solar range-extending roof option and gas-injection heat pump air conditioning. And the generator that turns electric motor on demand and battery warming. Driveway bragging rights sure but, not to belittle it, very clever stuff.
Ah, but the flak you can field being first to market – the original Prius Plug-in was launched in 2012. Having driven test mules in Japan two years earlier, I eagerly awaited it and was disappointed – along with just about every reviewer – with the tiny EV range – about 12 miles, if memory serves. Officially, it was 15.5 miles (compared with 2 miles for the standard Prius) and Toyota said at the time it came up with the 15.5 mile range after feedback received from a five-year long global PHEV trial so that the car had the best compromise on range, performance, packaging, vehicle weight and price. It also claimed the 15.5 mile range was sufficient to meet the daily commuting requirements of 80% of Europeans. They certainly sold some – 78,000 worldwide, 11,000 in Europe and "about 1,500" here in the UK with a peak of 500 in the first full year, 2013.
The new model is based on the fourth generation Prius, hence sits on the same Toyota New Global Architecture (TNGA) platform just-auto is familiar with, and now claims a class-leading all-electric EV driving range of 50km or 30 miles. Maximum speed in EV mode has been increased from 53mph to 84mph.
Toyota says the new model "is a powerful response to customer feedback" on Prius Plug-in Mark One and "more than simply an evolution of its hybrid sister model, it stands as a unique vehicle in its own right".
This time around it's a lot easier to pick from its sibling without the power cord. The frontal design has a three-dimensional acrylic grille treatment and thin, ultra-compact, four-LED headlamp units. LED DRLs are round and, in profile, the PHV has a longer rear overhang, lower cowl and rear spoiler heights and model-specific, two-tone 15-inch alloy wheels, designed to provide extra brake cooling. At the rear the cross-sectional shape of the "double-bubble" rear screen is carried into the curve of the rear spoiler. LED rear light clusters are horizontal instead of vertical, integrated into the extremities of the spoiler and the indicators are lower down.
A shutter built into the lower front grille automatically opens and closes to optimise the flow of cooling air into the engine bay, reducing air resistance. When the engine is cold, the shutter is closed to suppress cooling airflow and reduce the time it takes for the engine to warm up, supporting lower fuel consumption.
Technology
The really clever stuff is out of sight – that doubling in EV driving range was achieved with battery development, maximisation of EV driving performance; and an overall vehicle package that is significantly more efficient.
Battery
The lithium-ion battery, located under the rear load space, has capacity doubled from 4.4 to 8.8kW/h yet volume has only increased by two thirds – from 87 to 145 litres. Weighing 120kg, it is only 50% heavier than its predecessor.
Dual Motor Drive System
The new PHV has Toyota's first hybrid powertrain with Dual Motor Drive System, allowing EV power to be increased by around 83%. A one-way gear within the transaxle allows the hybrid system generator to act as a second electric motor, boosting EV driving power, giving better acceleration, more engaging performance and a maximum EV speed of 84mph. It also means there is less frequent engine starting.
Gas-injection heat pump air conditioning
In a claimed world first, a new gas-injection heat pump powers the air conditioning and can heat the cabin without starting the engine, when outside temperatures are as low as minus 10°C, minimising the impact on fuel consumption and EV driving range.
Toyota says the system is far more efficient than engine heating or high-power electric heaters. The pump can warm the car's interior using heat absorbed from the air outside the vehicle. The gas-injection system, mounted on the heat pump, ensures heating performance is not compromised when outside temperatures are low.
Battery warming
During charging, a new battery warming system will bring the cells up to an efficient working temperature, at external temperatures as low as minus 20°C. This ensures battery power and efficiency are maintained at a sufficient level to minimise the impact of cold weather on the EV driving range, with full power available from start-off.
Faster charging
The increase in maximum power from 2kW to 3.3kW means the battery can be fully charged up to 65% more quickly – in two hours when using the Type II Mode III Mennekes connector, or three hours 10 minutes using a standard household plug socket.
Other changes
There are loads of other tweaks, too The body is 60% more rigid than the previous model, there are specific suspension settings, and work was done to make EV driving more enjoyable: "the direct feeling of drive from motor to wheel, a broad spread of torque with linear axle response and the feeling of endless acceleration", Toyota says. The full hybrid powertrain has a total power output of 120bhp/90kW and can achieve zero to 62mph acceleration in 11.1 seconds. Top speed is 101mph. Official combined cycle fuel consumption is from 283mpg (1.0l/100km) with 22g/km CO2 emissions.
Modes
The driver can select four different powertrain modes: HV, EV, EV City and a new Battery Charge mode.
HV combines the power delivered by the engine and electric motors, allowing the car to operate as a full hybrid while Battery Charge uses the engine to generate electricity to charge the battery while driving in HV mode.
EV primarily uses electric power from the HV battery to drive the vehicle; the engine is only started when the throttle is wide open, or at high vehicle speeds. EV City mode reduces maximum power output; the engine is only started when throttle kick-down is engaged, allowing the car to run on electric power alone, for as long as possible.
Three drive modes, Normal, Power and Eco, work in HV, EV or EV City modes. From start-up and at lower speeds with Normal drive mode selected, the car will automatically run in EV mode, using electric motor power alone. After that, the full hybrid drive system automatically combines power from the engine and electric motor, or engages the electric motor alone, according to driving conditions.
Power mode gives a higher throttle response to accelerator pedal inputs and also engages a new DMD (Driver's Mind Logic) drive assist system to provide more responsive performance. DMD uses a Driver Monitoring Index (DMI) system which continuously monitors vehicle G-forces to understand driver behaviour and habits. Thus it will recognise a desire for sportier performance, adjusting engine braking and throttle response accordingly.
In Eco mode, the throttle response to aggressive use of the accelerator pedal is reduced and air conditioning control is adjusted to support better fuel economy. Depending on driving conditions, Eco mode can help drivers achieve a reduction in fuel consumption.
Quietness
Engineers wanted to make the PHV quieter than the regular version as it spends more time in EV mode hence bonnet side seals to reduce engine noise under acceleration and urethane wing separators that reduce cabin noise intrusion. There is also acoustic glass in the front doors, inner silencers in the rear wheel housings, a urethane-based headlining, a larger floor silencer and high sound-absorbing materials in the front pillars, deck side and back door trim. You can still hear a faint 'EV' whine and the engine operates in the standard CVT all or nothing mode – loud whirr as car catches up, then relative 'ush. It's refined enough and a great cruiser though it can be chucked around twisty roads without going to pieces.
Interior
Inside, the main change is a larger, eight-inch infotainment screen (up from seven in the hybrid) with updated graphics and dual 4.2-inch TFT screens with PHV-specific displays. The white base of the shift panel in the centre console is finished with a satin chrome trim. In the back, there are two seats separated by a central console. The luggage deck has been raised by 160mm to accommodate the larger hybrid battery, giving maximum loadspace volume of 360 litres – I doubt we'd get a week's shopping in there and I would not want to try a baby buggy for fit.
Solar roof and other tricks
For GBP1,500 here in the UK the roof can be fitted with a large solar panel to generate electricity to charge the hybrid battery. When the vehicle is parked (but not plugged in to a charging socket), the solar roof charges an intermediate solar battery. When this is fully charged, it will deliver a pumping charge to the main hybrid battery. Coming from a country where sun is not a novelty, I always smile at the use of solar power in permagrey UK. Toyota has somehow worked out that the roof option is good for 659km of solar powered motoring in this country compared with 1,151km in sunny Rome. When the car is being driven, the solar charging system charges the 12-volt auxiliary battery, thus reducing consumption of the hybrid battery's energy and potentially contributing to a 2-3% increase in hybrid system efficiency.
As in regular Toyota hybrids, the air conditioning is equipped with S-flow control which automatically adjusts cabin air vent operation in relation to which passenger seats are occupied, maintaining comfort while reducing power consumption. You can also switch flow off to the rear.
Not immediately obvious: the Prius PHV is claimed to be the world's first mass-production car to be fitted with a CFRP (carbon fibre reinforced plastic) tailgate, another weight reduction measure.
Already seen on standard Prius: wireless phone charging tray (it worked a treat on a co-driver's phone; Apple having not deigned to include it on iPhones), a self-parking system and the Toyota Safety Sense package with pre-collision safety with pedestrian recognition function and all-speed adaptive cruise control, capable of slowing the car to a halt, which works as billed.
UK range
Business Edition Plus includes Toyota Safety Sense which also includes Lane Departure Alert with steering control, Road Sign Assist, Blind Spot Monitor and Rear Cross Traffic Alert (just as well as the rear three-quarter view out is not great). You also will get dual-zone automatic air conditioning, rear passenger footwell heating, Smart Entry and Start Toyota Touch 2 with Go touchscreen multimedia and navigation system, heated, auto-dimming door mirrors with automatic retracting function, rear view camera, dusk-sensing LED headlights, colour head-up display, Bluetooth, six-speaker audio with DAB (digital radio) reception and heated front seats and the solar roof option. Excel adds rain-sensing wipers, Simple Intelligent Park Assist and front and rear parking sensors, 10-speaker JBL premium audio system, voice recognition control and leather upholstery.
At the end of the day, a PHV is always going to be a compromise vehicle and the latest Prius' shallow load area and compromised rear seating brought GM's first Chevrolet 'range extender' Volt to mind. As I said earlier, the family buyer is probably going to be happier in a roomier RAV4 hybrid but, for other buyers, and, especially tech geeks, the latest Prius PHV is a tech showcase, full of very clever technology and new inventions. Even after a GBP government bung to go all-electric as much as possible, you are still looking at a GBP4,295 premium for 30 additional miles of electric running, double the previous car, to be sure, but still hard to make a convincing case for. Hence realistic aspirations at Toyota GB of just 435 sales this year (deliveries start 1 March) – 188 retail sales and 247 fleet. Qualifying buyers also get GBP500 from the government for a wall charger and Toyota will make up the difference. Overall, the UK distributor sold 38,909 hybrids in 2016 and expects over 40,000 this year.
Making your own business case for one of these toys may be a bit difficult but cutting edge, early adopter technology never comes cheap. And the bragging rights are immeasurable.