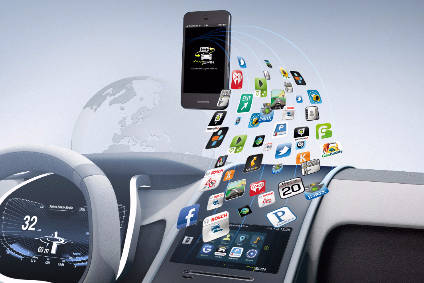 As we review our notes from this year's TU-Automotive Europe conference, we look at the most interesting insights as global players strive to bring more safety and security to our roads, via the Internet of Things.
If consumers all adopt Waze, the industry is in trouble.
A key debate came about between the benefits of Waze, the brought-in navigation app, and the disadvantages greatly affecting the future of OEMs and Tier 1 suppliers. China tops out global figures for embedded navigation, which continues to grow, despite consumer popularity for brought-in solutions. Roger Lanctot, Strategy Analytics, warned that the ultimate goal to save lives cannot be met if OEMs cannot own the data generated by embedded navigation. Welcome Waze at your peril!
Self-drive systems will replace the engine as the car will be built around it.
As we shift from semi-autonomous to highly autonomous transportation, the focus will shift from the engine to the strength of connectivity. VW's Chief Digital Officer, Johann Jungwirth, predicted that two new vehicle types would emerge: urban shared and owned autonomy. Neither will have a steering wheel, cockpit or any other currently recognisable features and the latter will give owners space to create a personal mobile lounge. He believes people still have a need for individual mobility, even if you have a great public transportation system.
Uber will take on DriveNow-style carsharing models.
Sebastian Hofelich from BMW's DriveNow visualised future cities with wide open spaces and transport hubs, comprising bikes and cars for hire. Uber's Christoph Weigler challenged that to suggest it was better to have vehicles constantly on-demand, rather than parked and waiting for hire.
Networked society puts MNOs as an industry in a unique position to shape how the networks will look in the future.
With the biggest growth in machine-to-machine (M2M) communications and in sensors, automotive use of the existing networks wasn't really planned for. Future reliance on connectivity and the networks of the MNOs (mobile network operators) offers them more power than ever before. Historically 1G, 2G and 3G technologies were built out independent of one another. However, the arrival of LTE (Long-Term Evolution – a standard for high-speed wireless communication) has created a foundation on which the next-generation of networked communications technology can sit and automotive requirements can be specifically developed,
V2V will help but you can only use a fraction of the potential use.
The co-existence of V2V and 4/5G tech is essential. Using the example of a truck waiting to pull out of a service station, Juergen Daunis from Ericsson described how platooning (with V2V communications via DSRC – dedicated short-range communications) would pass the message down the line of vehicles on the road that the truck is joining. However, adding a layer of cellular connectivity would enable the truck at the back of the platoon to tell the truck pulling out of the garage when it is safe to pull out.
The connected car is the next great device.
Dotcom revolution brought PCs. Phones connected to the internet led to the smartphone and app revolutions. Cars connected to the internet will bring the next revolution. People say they can use their phone in the car, but looking at history tells us that this might not be the case. Once we had a PC but once we develop apps where we could take advantage of the mobile's sensor, Instagram took over from Flickr, Waze consumed MapQuest, etc; all by capitalising on the capabilities of the hardware. The same thing will happen with the connected car, claims Theo-Han Jansen from Cisco Jasper. Embedded connection will give us new services and capabilities. And unlike the smartphone revolution, the OEM will pay the Data Traffic bill.
Third wave of connectivity integration means finding a way to give user free-of-charge and monetise the back end.
The first wave of connected services was built on safety and security. The second wave has brought music, navigation, concierge services and diagnostics, among other things. The next wave will bring an app store. Coupled with business model innovation, OEMs and suppliers can find a way to reduce the consumer price to zero and cover it by creating additional revenue streams. Subscription services have a cap, as only so many users are willing to do this, so it is necessary to empower the OEM to manage innovative business models.
Monetising kerbside deliveries will replace the revenue lost by fines when CAV* arrives.
Michael Hurwitz, Director of Transport Innovation for TFL, said the existing infrastructure needed to be tweaked to suit modern lifestyles. The evolution of urban delivery has brought a need for innovation on freight and services. With supermarkets building parking fines into their delivery and cost modelling, scheduling kerbside presence would optimise space, manage traffic flow more efficiently and protect local council revenues needed for investment and maintenance.
Machine learning is at the next stage of modelling for businesses and smarter cities.
The connected car is perfect model for machine learning. As the data is only as good as the next set of data coming, programming machines to tweak the data models each time a new data set arrives, is key to saving time, money and costly mistakes. Cars with mobile sensors that are highly connected, highly powered with storage capacity means valuable, regular and high volume data on a secure, buffered and bi-directional platform. Data science buffs will begin to derive value from your model.
Car makers are protecting driver data by using time argument.
So in the age where data is the money maker, it's relatively reassuring to know that BMW is still not just throwing data around willy-nilly. Despite pressure from dealers and fleet managers to share insight, particularly for drivers' driving style, the German car maker argues that not all data is anonymised. It will only share data that has been requested and silences protest by pointing out that information actually isn't gathered real-time at the point the alert is given. "This is not something we can share ethically."
There are three building blocks to securing the connected car.
Concerns around cybersecurity are difficult to hush. Any OEM or supplier embarking on providing an end-to-end robust solution needs the three key pillars: flexible connectivity, security framework and secure production. It is not sufficient just to ensure the connected car is secure. There is a whole chain to consider, as Dvir Reznik from Harman explains in this interview.
Security is not something you can just add.
It's not a bolt-on. It has to be designed as part of the system. There has to be tamper-resistance, crypto library, secure boot, protection execution, key storage and trusted IDs. You need to invest in secure architecture design, communications protocols, access control and rights management, key management, security profiles and security product certification. Layered on that can be personalisation, security patch release and secure over-the-air (Ota) updates, and remote key management. As the software changes throughout the build process of the car, integration of the newest security at the last stage of production is necessary.
OTA updates need to be put into context in order to prioritise.
OTA updates are going to be customisable and thus safety critical updates can be prioritised. If it's a functional upgrade for the car, then it might be that the system updates regardless of what is happening in the car. If it is a simple map update, the system might able to wait until the car is back at home and connected to the domestic Wi-Fi. Legacy systems aren't designed to take software or firmware OTA updates and so the whole architecture will probably need an overhaul. There are also arguments for stripping back the number of ECUs in the vehicle, too.
It may be possible to monetise for OTA updates.
We'd all agree that safety critical bug fixes shouldn't be charged for but when all of this data is flying around, the question of cost constantly rears its ugly head. There are suggestions that if drivers buy an app and use OTA for a racing engine mapping update, then it might be possible to charge them. The connectivity cost is higher than the OTA and costing models for OTA have shown billions of dollars can be saved on quarterly basis. Anecdotally, it was suggested dealers would welcoming OTA updates which, to date, have caused headaches because of a lack of resource, competency and training at a customer-facing level, damaging the brand or franchise.
There needs to be a customer benefit before the business benefit when considering data sharing.
In the future Big Data is King. Content is Queen but is harder to monetise. Using data to make the product better is perfectly acceptable but you can't act against the consumer. BMW and Renault representatives acknowledged that consumer-centric profiling can enhance the product offering and differentiation for the brand, but must at first work to deliver significant value to the customer directly. Finding a way of integrating these ecosystems is challenging but imperative.
One out of every five mins spent on mobile is spent on Facebook and the famous millennial that doesn't buy cars is a fallacy.
Christoph Staedler from Facebook tells us it's not about getting people to your technology, it's about taking your technology to where people are. There's not a more user-centric company on earth than Facebook, according to, erm, Facebook, but the stats do speak for themselves as they crawl towards two billion users. That famous millennial who doesn't buy cars is a fallacy. "They just buy them differently and expect a different offering. We get obsessed connecting brands with cars, but cars don't buy things." It is misguided to focus on tech, rather than people and the automotive world needs to redefine the retail experience.
Mobile is becoming the first screen.
It's spent some time being in second place to the TV, but there's a word of caution about expecting the car display to become first screen. Future calls on interior design decisions need to consider that the smartphone with more mobility is the dominant display and it will take some force to win users' attention away from that. If nothing else, this insight certainly highlights the ever-increasing battle on the safety front for in-vehicle attention.
There's not a solid plan out there to say 'let's measure by users, rather than numbers sold.'
Facebook's Staedler is also concerned about the reluctance to embrace new key performance indicators. There is a limitation on becoming a major player globally if you're only ever going to count the number of cars sold. The problem here is scale. A brand, however, can easily attract 500 million users, linked without owning or driving a car. This alone shows how far brands can be built.
You need to scale before you profit.
A brand can redefine at a broad scale to a group of people but the key is to scale before you consider turning a profit. With 18 million new cars sold per annum by US figures, but 204 million passenger cars or 225 million driver licences, why start with 18 million, rather than start with 204 million? Even looking further at trips; 411 trips daily, 4 trillion miles, where 45% are shopping, but only 15% are commuting, it makes sense to scale first.
*CAV – Connected and Autonomous Vehicles
According to just-auto/QUBE's dedicated connected vehicles intelligence service, cost savings from over the air software updates to cars were worth $2.7 billion in 2015 and may be worth $35 billion in 2022.