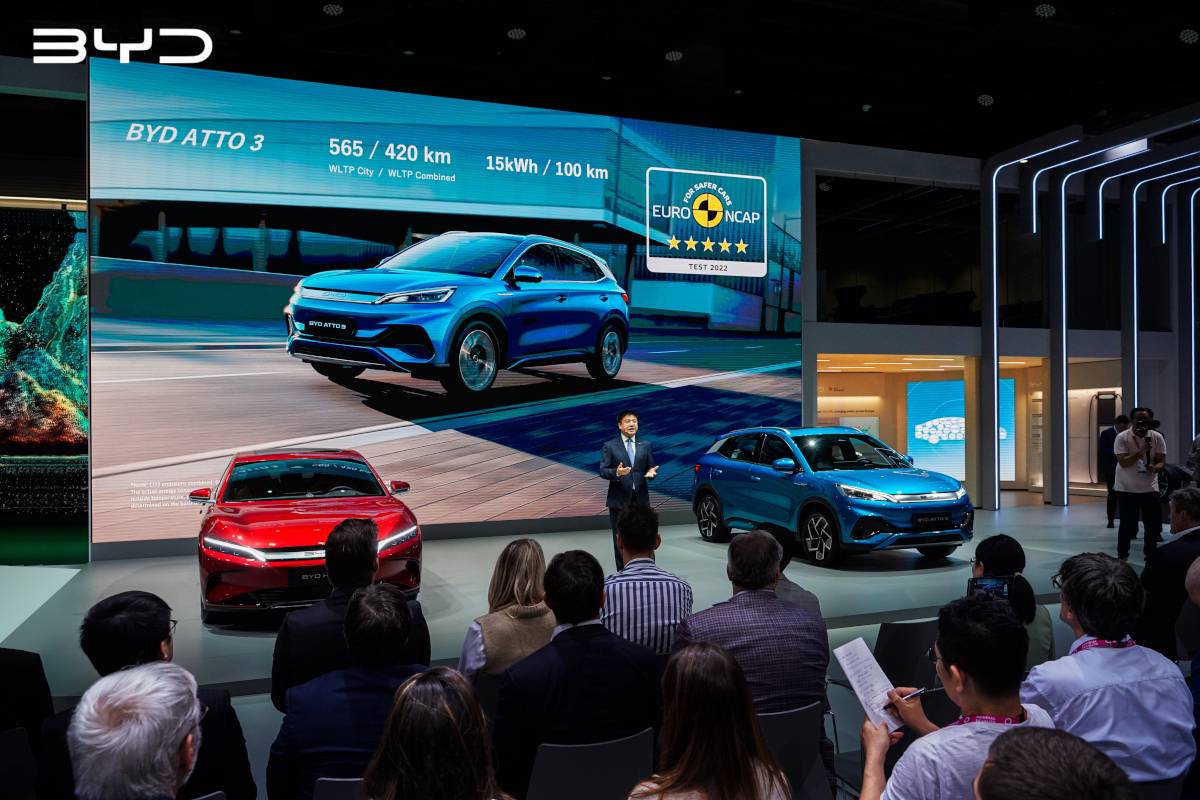 A new report from GlobalData examines key trends and themes that are shaping the automotive industry. Here's a summary of ten key trends that will impact the sector in 2023 and beyond.
Global battery electric vehicle (BEV) demand will approach 11 million units in 2023
One in eight or 12.5% of light vehicle sales globally in 2023 will be a BEV, while the electrified market from mild hybrid through to pure electric will exceed 30% of demand or more than 26 million sales in all. Europe's sluggish BEV growth, expected to be just 20% YoY in 2022, will accelerate to 50% in 2023 as the chip crisis eases, although that will continue to impact on vehicle availability through 2023 and probably beyond that time. Conversely, China's battery electric growth will moderate in 2023 after a meteoric rise in 2022 of more than 100% YoY. The slowing economy and unavoidable retail price increases will dampen China BEV and plug-in hybrid (PHEV) demand, though much volume will still be added. North American BEV sales will break through the 1 million unit level in 2023 with 1.3 million pure electric cars and light trucks delivered. Share-wise, BEVs will exceed 7% of N. American light vehicle sales with electrified vehicles gaining a forecast 22% of the market.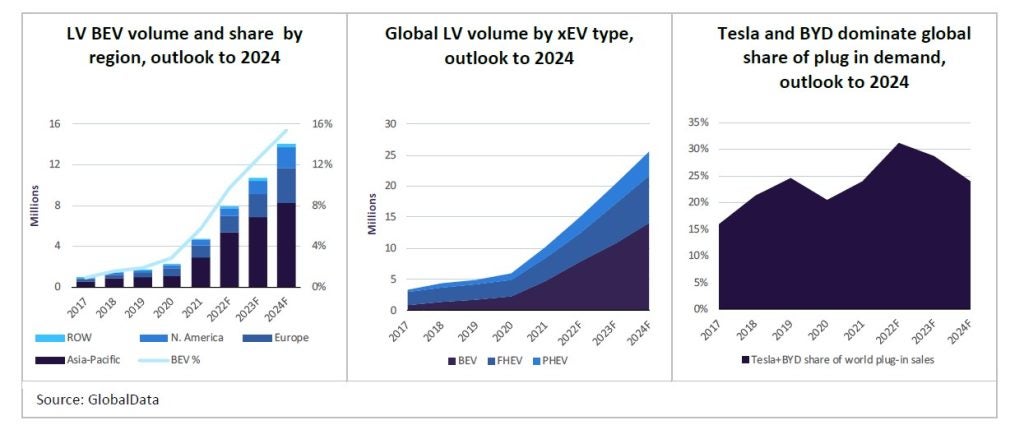 Battery electric vehicle prices will remain elevated
The point at which mass-market BEVs can achieve price-parity with ICE or ICE hybrid from a production standpoint is slipping from mid-decade, possibly to late decade as a result of sustained high prices for battery raw materials, in particular lithium. Many government support schemes for plug-ins are geared towards those vehicles being cost-competitive within a few years and some are now being tapered. Additionally, taxes on BEVs will start to be introduced, often for the first time, to offset lost revenue from falling ICE sales. And in Europe, electricity prices, hence BEV charging costs, have risen substantially. All of this, plus economic recession across multiple markets, may dampen BEV demand.
China will accelerate its efforts to find new overseas markets for its electric vehicles
Some Chinese BEV producers are accepted to be several years ahead of mature market brands in the plug-in vehicle space, in particular their ability to offer very competitive pricing. Not long ago this came hand-in-hand with compromises in design, performance or safety. Today there are a raft of Chinese brand cars that have appeal for European, Asian and American buyers. They can compete on design, performance, durability and safety while offering competitive pricing. They may even be available with class-leading advanced technology plus features such as battery swapping. So far Chinese brands have captured just 4% of Europe's BEV market, but we expect to see this figure rise in the next few years.
Tesla emerged several years ago as the most desirable of the battery electric car brands and sales of more than 1.4 million units in 2022, almost 0.5 million more than its closest rival, illustrate the point. That rival is BYD which, due to a combination of advanced technology, a wide portfolio of BEV models and competitive pricing, has shot ahead of all rivals in the BEV market and will soon be challenging Tesla. We think the race between them in 2023 will be closely run.
Supply chain disruption eases, but it's a disappointing start to the year
The slow exit from the Covid pandemic has produced a surprisingly strong multi-sector supply crunch. This may have always been likely, with the benefit of hindsight, but the breadth and depth of supply chain disruption was always hard to predict. For the automotive sector, the primary problem for almost two years has been a chronic shortage of semiconductors. Indeed, even after the first few months of acute shortages manifested in early 2021, OEMs across the globe had assumed, and reassured investors, that improvements in semiconductor supply would emerge within months, something that has yet to definitively take place.
The largest impact from semiconductor shortages was experienced in 2021, with over 10 million units of lost light vehicle production leading to severely constrained sales and unmet demand. Total lost output in 2022 is likely to be closer to 7 million units, with as much as 1.7 million units of that being caused by fallout from the war in Ukraine. For 2023, there are much indications that lost production will reduce much more, especially in the latter part of the year. However, this will be partly the result of falling demand in the context of the onset of a broad-based recession brought on by high inflation, rising interest rates and the subsequent blow to consumer spending. The year will likely start disappointingly from a sales and production point of view, especially in the most impacted regions of Europe and North America.
China will supply two thirds of battery cells for world plug-in vehicle build in 2023
China currently has 85 operational battery cell plants supplying the global electrified light vehicle sector with another 76 under construction or planned according to GlobalData research. By contrast, Europe has 15 and 41 respectively while North America has 10 and 25. The current situation of China supplying more than 60% of global battery cell requirements represents its peak share as Europe and North America rush to establish comprehensive local supply chains. This will take years, but as the chart above reveals, China's share enters decline by 2024, although capacity (GWh) supplied does not.
Larger format cylindrical cells are coming
Tesla revealed its new 4680-format cylindrical li-ion cell in 2020 but due to production issues the cells have only recently come to market in volume. Cylindrical cells were not expected to approach this size due to an inability to cool the cell core. However, the tab-less design allows the cell to be much better cooled, reducing damaging heat build-up and extending the useable life of the cell. Some companies (like BMW) may even go beyond the 4680 size and are exploring 4695 and 46120 cells. These cells are the same 46mm diameter as Tesla's but are 95mm and 120mm long, resulting in increased cell capacity. An advantage of cylindrical cells that is becoming apparent is the ability to increase the quantity of silicon in the anode, due to better control (than other types) of thermal expansion caused by the addition of silicon. Greater use of silicon has the advantage of enabling more energy density in the cell both volumetrically and specifically.
More deals to consolidate supply chains and generate strategic gains
OEMs have, understandably, become concerned about the availability of battery materials in future, once Battery Electric Vehicles (BEVs) hit new record levels of market penetration, as is now broadly expected, over the coming years. Regional and national political strategies that support the emerging automotive battery industry are also likely to spur collaboration, with potential for greater vertical integration right through from mining companies to the end-user OEMs.
The volume of technology content – in terms of both hardware and software – is increasing exponentially in today's latest vehicles. New services are going to be offered that were previously unavailable to passengers. The Sony-Honda alliance is one example of the kind of hitherto unexpected partnership that will see pure consumer and internet technology companies involved far more heavily in mainstream vehicles.
Chinese expansion into mature markets
The expansion of Chinese OEMs into mature markets, particularly utilising value-driven BEVs as an entry method, is likely to become more of a feature in the near future. However, starting from scratch in any vehicle market is extremely difficult and carries high execution risk. One potential way to mitigate against these risks is partnering with established companies, for example though independent distribution networks or even directly supported by OEMs.
Incremental improvements from ongoing 5G rollout
The rollout of 5G networks will support enhanced connectivity of vehicles over the coming years with further performance improvements likely to be felt on an incremental basis in 2023. While 4G/LTE connectivity does support some of the ever-increasing requirement of connected systems, the assumption of 5G coverage is, in varying degrees, built into new vehicle designs. In the US, for example, a number of OEMs and telecoms providers have signed agreements to offer full 5G connectivity – in 2024 model year vehicles which will commence sale in the latter part of 2023 – with an accompanying increase in connected capabilities.
Plans to offer new services that rely on higher and more stable data transfer rates have already taken shape and are being implemented. Higher quality streaming services will be offered alongside the potential for in-car gaming, though this may take a number of years before becoming more mainstream.
While Tesla has led the way in Automotive in over-the-air (OTA) updates to a range of vehicle systems, newer models from other OEMs already support significant updates to primary operating systems and other ancillary components. The offer being pitched by OEMs, and their supplier partners, is that your vehicle will actually get better over time as improvements in performance are delivered directly to the vehicle. The large bandwidth and low latency in 5G will support such improvements and also minimise both the time taken to transfer large updates and the risk of vehicles being 'bricked' by incomplete updates that have failed because of the drawbacks of 4G/LTE systems (relative to 5G).
More GlobalData research: Automotive Intelligence Center