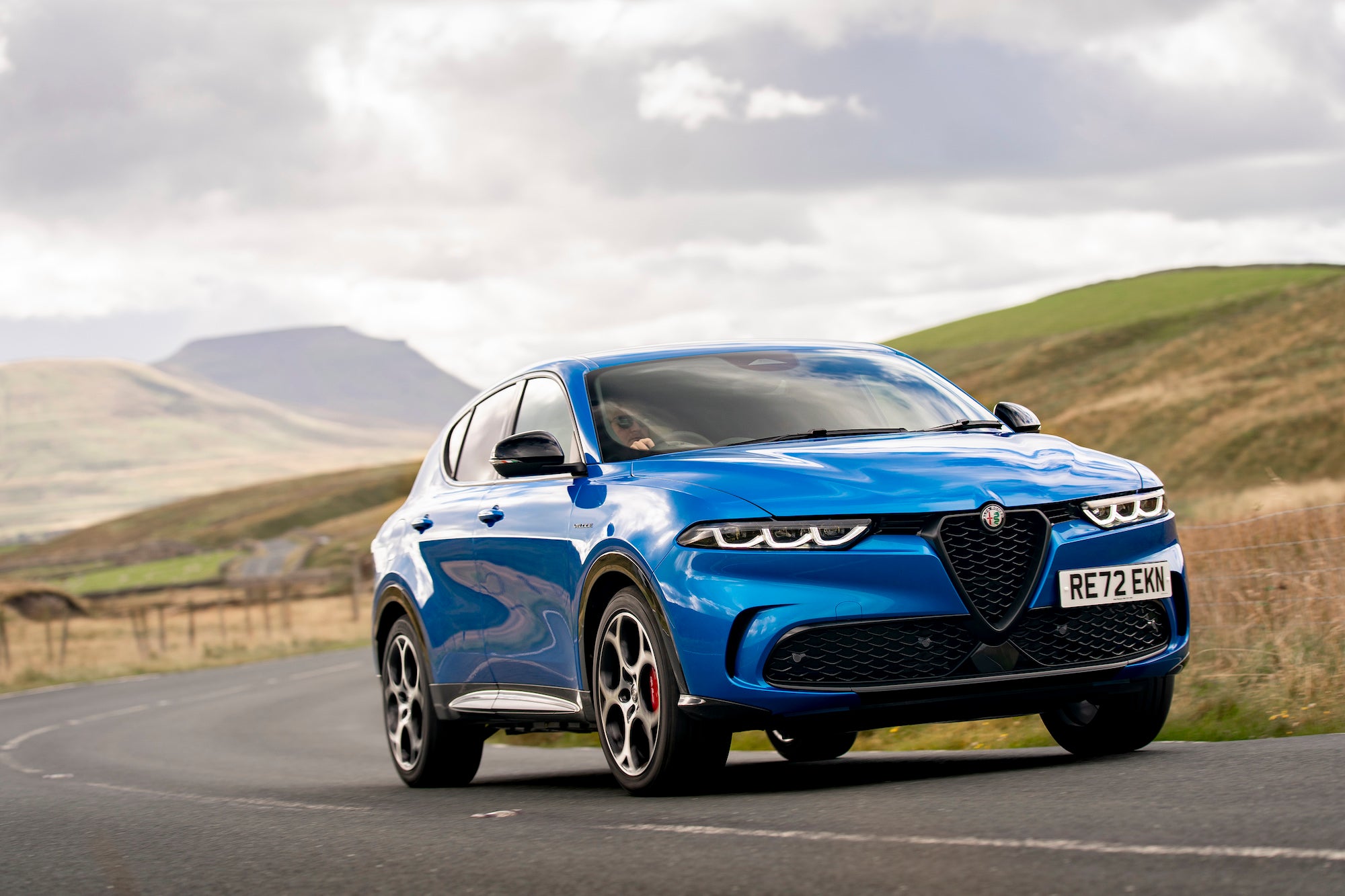 Fiat Chrysler Automobiles already seems like a company from a former era. However that name must be mentioned as part of any explanation of why a second SUV for Alfa Romeo has taken until now to arrive.
Incredibly, the marque's global sales haven't plummeted quite as steeply as for example Jaguar's – and anyone who loves cars hopes that's a temporary thing. The only Alfas available in 2022 have been a six-year old sedan in a segment which continues to contract and an SUV with zero electrification options.
Ever more Alfas promised
Immediately upon its creation, Stellantis, or rather those tasked with creating brand plans, decided to do what FCA didn't during its final years: announce a strong belief in Alfa Romeo (and other under-exploited divisions).
Even with a fresh strategy and money being spent it will take some time for momentum to build. And yes there is a ten-year investment timetable, five of which are funded but things can change due to any number of factors. So a dash of caution isn't just recommended, it's essential.
The marque's latest management has been open about why Alfa is where it is. The name is well known but there hasn't been a lot of consistency when it comes to the competitiveness of every part of the business. That includes design, production, distribution, pricing, length of life cycles and many other things.
Some of us do wonder about the wisdom of a new so-called 'agency model' coming to Britain in 2023. That's shorthand for ending franchise agreements and replacing them with direct sales. Still, new things need to be tried for there to be potentially better days ahead. And so we come to the debut of this 4.5 m long SUV, a model which dealers are understandably excited about.
The only way is up
Managing director Damien Dally stated at the recent media launch of the Tonale that he had "been around the Alfa Romeo brand for twenty years". It's an intelligent approach by Stellantis to put such a man in charge of UK operations. A realistic outlook combined with an obvious amount of enthusiasm also seem present in Dally.
How bad has it been, you may wonder? Well, more Alfas were sold in the first half of 2022 than during all of 2021. Year to date, SMMT data show sales of 1,303 compared to 1,154 for 1 Jan-30 Sep '21. Maybe advertising and perhaps even word of mouth about improved quality are part of the reasons for the improvement.
Quality. The MD, along with Marketing boss Gerry Southerington mentioned that word repeatedly during presentations to journalists. And while it wasn't announced as such, the suspicion lingers that the emphasis on this might be in response to research findings of brand perception.
The typical British market customer is a fifty-something male making a personal purchase of a Stelvio or Giulia. Now, with the arrival of the Tonale, fleet managers as well as younger buyers including more females should in theory be looking at Alfa Romeo.
The first electrified Alfa
We've been waiting a long time for any new model, the most recently arrived one having been the Stelvio back in 2017. Incidentally, facelifts and other updates for the Tonale's bigger brother and its Giulia saloon counterpart are promised for 2023. Then in 2024 comes an EV, the details of which are still secret. It's likely to be another additional SUV, this time in the segment below the Tonale.
Returning to October 2022, what better example of how far FCA allowed Alfa to fall behind the times than this fact: the new Tonale MHEV is the brand's first electrified vehicle. Truly. Which also serves to show just how good the aged Giulia and Stelvio remain, given that in the European region, it's been almost impossible for fleet managers to approve any Alfa.
Retail sales in a depressed European region have therefore been pretty much all that the brand has had. No wonder the UK bosses are so excited by the opportunity which the Tonale presents.
No ICE-only Tonales for UK
Its maker calls the electrified version of this new SUV a hybrid but it's only a mild one. No matter though as the powertrain works very well indeed. Other European markets get the option of a 130 PS MHEV but in Britain only the 160 PS version is available. We also only take the top two of four global trims, which are Super, Sprint, Ti and Veloce.
In North America, a 252 hp (185 kW) 2.0-litre turbo is standard in combination with AWD and a nine-speed automatic gearbox. That engine isn't for the UK or EFTA-EU countries. Conversely, there's a 1.6-litre diesel (96 kW/130 PS and 320 Nm) in Italy and certain other countries but again, that's frutto proibito. Instead, for us it's a Miller Cycle 1,469 cc petrol-electric mild hybrid or nothing, at least at launch. The Jeep Renegade e-Hybrid and Compass e-Hybrid share this powertrain.
If, like me you default to metric, engine power is 118 kW. A seven-speed (code: 7HDT300) dual-clutch automatic gearbox is the only available transmission. The motor's additional outputs are 15 kW (20 PS) and 55 Nm – claimed to be equivalent to 135 Nm at gearbox input level. Electrically-generated energy is there for use in certain circumstances such as at low speeds when the engine is automatically kept from being fired up.
High gearing
In practice, 160 PS is just about enough get up and go but the gearing seems to be tall, likely tuned for quiet motorway cruising and good CO2/average MPG numbers. Quite a firm prod is needed to make the Tonale Hybrid surge forward for some overtaking movements, or even out of junctions with obstructed views. It's never heart-stopping, just something you notice.
Alfa Romeo UK will launch the PHEV separately in 2023 and perhaps this one will be worth the wait and an inevitably higher price. The 1.3-litre engine and motor are said to produce 202 kW (275 PS) and there is another crucial difference, that being all-wheel drive.
We had all manner of bonkers (i.e. normal) English weather on the media drive event. This took place in the north of England. There weren't many dual carriageways. On narrow lanes and moorland tracks plus faster and equally scenic A roads, the Tonale showed what a good chassis it has. Of grip there seemed to be plenty (the Hybrid is FWD-only) and of body roll, admirably little. Chassis settings can be tweaked via Alfa's usual DNA dial.
Fiat platform updated
As Groupe PSA found FCA's EMEA region cupboard somewhat less than bursting with fresh platforms as it merged to form Stellantis, a legacy architecture was approved for this model. Obviously, the priority was to get a C-SUV launched ASAP rather than scrap FCA's project and start afresh.
What had once been Fiat's SUSW Evo platform is actually very competitive. Also, it has been extensively updated compared to what underpins the likes of the Jeep Renegade and Fiat 500X or even older FCA models such as the 500L.
Direct, quick steering is what we've become accustomed to in Alfas. The minimum of lock is there in the Tonale but it could be a little more precise when it comes to feel. The wheel itself is good in terms of tactility, and you can say the same about almost all other surfaces. No Giulia or Stelvio that I've tried has been anything other than a perfectly put-together car, with materials which look as though they'll stand the test of time. The same can be said of this new SUV.
Interior (perceived) quality: tick
Things which the traditional Alfa buyer will like (or even those who are new to the marque but have heard about the heritage) include the instruments. OK, they are digital but the look is authentically 1960s/'70s and if that's not desirable then touching a button makes them 2022-generic.
It's also nice to report that Stellantis has specified a touchscreen which isn't so large as to risk overwhelming driver or front passenger. HVAC functions are little keys similar to what Peugeots have, only nicer. More bonus points plus it's interesting to see Stellantis returning to real controls (FCA ditched them in Jeeps, Maseratis and so on).
In the Veloce model grade, there's a pair of beautiful metal gear change paddles. The rest of the cabin's materials and components feel just as sporty-premium. In fact, the lower price Ti is well specified too but it would want to be as certain class rivals cost less. We're talking an entry point of GBP38,595 which gets you a launch edition called Speziale. Unusually, this is cheaper than the Ti (GBP39,995) and Veloce (GBP42,495).
Room for the family
For a family, the Tonale has a lot to offer. That includes a great amount of space in the back seats – for two at least; three adults would be a tad tight – plus a boot with a capacity of 500 litres. That's almost as much as the new U11 series BMW X1's, which gains 85 l (over the F48 series X1's) for a total of 505 (but only 495 in PHEV form).
Let's see what the plug-in hybrid Tonale's equivalent is, Alfa having not yet announced the luggage bay volume for that one. It likely won't be as good as the MHEV due of course to a motor on the back axle and a far larger battery.
Life cycle – it's complicated
Stellantis will probably build this model for between five and eight years: it's hard to be specific due to the legacy architecture and all manner of other variables. Extra derivatives, each inevitably with an emphasis on premium pricing and profit, will surely be added in 2024 and 2025. One of these should be a Quadrifoglio but as for what would power it, that remains speculation: perhaps a more powerful 2.0-litre turbo for North America while Europe instead gains a 300PS+ PHEV?
Come 2027, Stellantis will have phased out all non-EV Alfa Romeos, the group's CEO Carlos Tavares declared in August 2021. Perhaps that means the Tonale will be dropped in just four years' time, replaced by a second generation e-only model based on a native-electric platform. Maybe instead the Hybrid, PHEV and ICE-only variants will disappear with battery-electric Tonale appearing some time between 2023 and the end of 2026 (as a successor propulsion system for all of them).
Naples-based production
Whatever happens in the future, the focus remains on the now, with this new SUV potentially to be built at an annual rate of around 60,000 units. If that target, which certain suppliers say they were told to plan for is reached, then Alfa's reinvention and renaissance will be rightly celebrated.
The Giambattista Vico plant in Pomigliano d'Arco will also soon start manufacturing a controversial near-twin of the Tonale for Dodge. Why Stellantis would do this to its Alfa dealers in North America just as they finally get a new SUV is puzzling. And not only is the new-for-'23 Hornet more or less the same vehicle, it has lower pricing.
Will it sell?
None of the divisional politics matters in Europe, and certainly not in Britain where there's no Dodge and a lot of curiosity about this new Alfa. Will that translate into a big lift for the marque's overall sales? Failing any unexpected problems, it's near-certain to do so.
The Tonale is going to cause many to think again about their intention to choose an XC40, X1, Q3, GLA-Class or Evoque. It's certainly a strong enough proposition to do that and a great new addition to the segment.
Alfa Romeo quotes a 0-62 mph time of 8.8 seconds for the Tonale Hybrid and a 132 mph top speed. Kerb weight is 1,600 kg, Combined CO2 emissions are 130-142 g/km and consumption is 45.3-49.6 mpg.