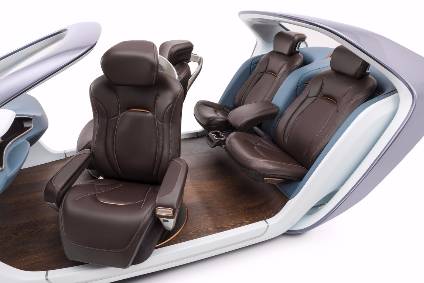 Developments in vehicle seating have been taking place much faster than may be apparent on the surface. OEMs are demanding greater differentiation in their seat designs while motorists look for greater functionality and luxury. Continuing just-auto/QUBE's series of research snapshots, this one focuses on automotive seating developments.
Power to the people
Back in the 1970s, a vinyl car seat was a functional component with few or no added value features. Nowadays, with drivers spending more time in their car on longer commutes, they expect a more comfortable ride. Consequently, the seat has become an integral part of the car's overall design and appeal in the showroom. More power content in the front and back is becoming commonplace.
Lightweight solutions
Seat manufacturers say that the road toward more lightweight and sustainable solutions for vehicles will continue to drive interior innovation. "Helping automakers to meet the upcoming environmental and fuel economy requirements is a key driver of our interior products and processes," said Richard Chung, Vice President, Innovation and Design, Advanced Product Development, Adient.  "By using a wide range of technologies, we have been able to reduce the overall weight of our seats by a total of 20-30 percent over the past ten years. As recently as 2010, a front seat structure weighed 14 kilograms; in 2015, we were able to reduce it to around 10 kilograms."
Adient's goal is to reduce the weight of standard seat structures by 22 pounds by 2020.
Adient is the world's largest supplier of car seating. Its goal is to reduce the weight of standard seat structures by 22 pounds by 2020. The supplier says it will achieve this through a multi-material approach, optimising the use of materials such as carbon fibre-reinforced plastics, magnesium, high-strength steel or aluminium in the seat. The company used the most recent North American International Auto Show (NAIAS) to reveal a multi-material seat structure made from die-cast magnesium.
"Magnesium is the lightest of all structural materials, 75 percent lighter than steel and 33 percent lighter than aluminium," said Dr Detlef Juerss, vice president engineering and CTO at Adient. "Because of this, [our] seat structure has a very good strength-to-weight ratio, flexible construction possibilities and very good dimensional stability." The supplier also exhibited a glass fibre-reinforced plastic front seat backrest concept at NAIAS; Adient claims that weight reduction of up to 30 percent can be achieved with the use of a composite structure.
Flexible seats
As manufacturers develop seats that are lighter, offer more space for occupants and incorporate environmentally friendly materials, these market drivers have led to greater use of alternative and advanced materials. Space creation inside the vehicle has become critical with the explosion of added content and features. Discerning consumer tastes also cause consumers to expect more flexible living space within their cars.
Not only are seats becoming safer but more supportive, versatile and pleasant to sit in with a multitude of hidden creature comforts, such as adjustable lumbar supports, massage systems, climate control systems, memory mechanisms, height and rake adjustments, self-positioning headrests, built-in seatbelts and, of course, airbags. Magna developed the seats for the new Lincoln Continental. It supplies the complete seat system for the vehicle, including the "perfect position" driver and passenger seats with 30-way adjustability and rear seats offering power lumbar support, heating and cooling and recline.
While the focus has, for some time, been on improving the front seats, automakers have paid more and more attention on the second and third-row seats. The Honda HR-V is equipped with the carmaker's flexible 'Magic Seat' system which flips up cinema-style to provide three modes, namely: Utility mode – the rear seatback folds forward as the seat base itself lowers into the rear passenger footwell, creating a maximum 1,845 mm-long flat floor; Tall mode – the front of the rear seat base rises up and back and is locked in a vertical position to leave a Cargo height of 1,240 mm from floor to ceiling, allowing tall objects to be placed behind the front seats; and  Long mode – the front passenger seatback folds back to a horizontal position, while the rear seatback folds forward, forming a 'tunnel' to accommodate items up to 2,445 mm long.
According to a study by Magna, consumers want more flexibility in their vehicle with easier access to the third row and make power sources available to all passengers. The supplier has addressed this need with the launch of its Pitch Slide seat, which maximises the opening for passengers to enter and exit the vehicle's third row without having to move an installed child or infant seat.
Autonomous vehicle seats
Yet flexible and movable seating with new configurations in the futuristic autonomous car has triggered a re-think on occupant safety and airbag placement. Magna believes that the auto industry will go through a transition for seating.  "As we move to a situation where we have autonomous vehicles then the interiors are likely to be reconfigurable," said Ian Simmons, Vice President, Business Development, Corporate R&D, Magna International.  "If you own an autonomous vehicle then it is likely to be customised to your specific needs. But when you look at forecasts which indicate that 20 – 25 percent of vehicles being shared in some form of autonomous mode – probably in geo-fenced areas – you are then faced with a situation of how do you provide seating in a reconfigurable interior in order to meet a whole host of different use cases? So there are some challenges there."
New forms of mobility such as autonomous driving, car sharing and electromobility were also hot topics at NAIAS. Adient used the event to showcase its solutions for tomorrow's interiors, including its AI18 innovation demonstrator.
Following Adient's presentation of the AI17 concept for luxury and premium segment autonomous vehicles last year, the AI18 focuses on urban, electrically-powered and autonomously-driven vehicles. "Our AI18 demonstrates our vision of future mobility and the impact to consumers in 2030 and beyond," said Chung.  "This concept presents solutions for five key usage scenarios for autonomous vehicles, namely Lounge, Communication, Cargo, Baby Plus, and Family. In Communication mode, for example, you can rotate the two front seats to face the rear seat occupants. If you are not driving then you do not have to sit right up against the steering wheel or the instrument panel. Instead, you may sit back and use a digital display table to control the functions of the vehicle.
Are we sitting comfortably?
"With the Robutt, we are now able to replicate very accurately how people really behave."
Ford of Europe has developed a robot to move like a human bottom and perfectly simulate how drivers and passengers get in and out of their car seats. Engineers used pressure maps to establish a 'perch pattern' and resultant data enabled them to test the wear and tear of materials using the robotic bottom – dubbed Robutt – to mimic our most common paths. This video from Ford, which incidentally shows my daughter getting into the new Fiesta, gives the complete picture. "From the first moment we get into a car, the seat creates an impression of comfort and quality," said Svenja Froehlich, a durability engineer, at Ford's European HQ, in Cologne, Germany. "Previously, we used pneumatic cylinders that simply moved up and down. With the Robutt, we are now able to replicate very accurately how people really behave."
In another advance from Ford, seat materials and carpets across the Fiesta range were the first to be tested in the carmaker's upgraded materials laboratory in Dunton, UK. Seat bolsters undergo 60,000 test cycles to ensure wear-resistance. The robustness of colours is tested using a 'weatherometer', and analysed with a spectrometer to avoid fading after exposure to ultraviolet light. Ford points out that leather seats must resist ground-in coffee and the dye from denim jeans. Leather steering wheels are tested for resistance to sunscreen lotion.
Are you under pressure?
In the meantime, the focus on driver 'wellness' remains topical. Faurecia claims that its so-called Active Wellness technology embedded in a car seat can detect occupant stress levels. It was developed with support from Stanford University with the aim of keeping drivers alert and comfortable while in a self-driving car. The seat is embedded with piezoelectric sensors to measure the driver's heart rate and breathing rhythms. If it detects the driver's stress levels, counter-measures such as a seat massage will be offered on a touchscreen.
"It is difficult to cheat on a seat."
Explaining the reasons behind this development, Geoffroy de Grandmaison, marketing director, Faurecia told just-auto: "You cannot have an autonomous car without a good and comprehensive assessment of the driver status. Are you distracted at all? Are you turning behind to talk to your children? Are you a bit drowsy? Are you under pressure? The autonomous car needs to know that. The seat is one of the best car components to have reliable information such as blood pressure, temperature, humidity, respiration, weight, pressure map and so on. It is difficult to cheat on a seat."
Another topic is the concern regarding autonomous cars and motion sickness. With a new seating layout, occupants of self-driving cars will expect to use the time to read or fiddle with a handheld device, both possible causes of car sickness.  "We do not have the complete answer yet" added Chung. "I understand how it happens and why it happens but how to solve it completely, we do not have the answer yet. There are two ways to do it. One is vehicle-based, i.e. suspension based. The other one is the seat based, i.e. reducing all the vibrations coming up from the vehicle body and minimising it. But we do not want to get rid of all the vibrations because that then introduces different sensations of you not being in a car. So we want to have some familiar motions without those that create motion sickness. So we understand the range but now we are working on various ways to reduce that."
What does it all mean?
Well, we can expect that the role of the car cabin – with or without a steering wheel – will transform into a comfortably designed control and entertainment centre, a workplace and an area to rest. In short, tomorrow's car will be an all-rounder. It will need to fulfil new demands concerning communication, health, relaxation and comfort yet maintaining occupant safety. No pressure then.