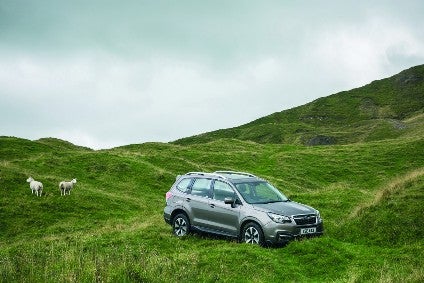 Rarely do I try any vehicle for the first time right at the end of its life cycle. In the case of the Subaru Forester that is exactly what has just happened. It was a handy way of discovering why well in excess of a million have been bought during the last six years.
I don't really know why the Forester had eluded me for all that time, only that it's a good thing that the chance arose to give it a try over multiple days. That smooth and distinctive boxer engine hum is there, typically well matched to the eCVT which has become the norm with Subarus, plus the all-weather grip of standard 4×4 drive.
The new model is already available in the US where it helped the brand set a February record: more than 26,000 sold so far this year.
The dynamics of this outgoing model show the vehicle's age, the handling being more on the safe and dependable side rather than marked out by agility. Still, that's to be expected. The successor is some months away for Britain even though the new model is already available in the US. There, it helped the brand to a record February: more than 26,000 have found owners so far this year.
Twenty two years and five generations of heritage
The SJ series Forester is the fourth generation in a series which some say started the fad for crossovers back in 1997. The car has always been an estate with a suspension lift and at first people weren't sure what to make of it. The clever bit was taking a gamble by not also offering a 'normal' wagon equivalent. After a short while, this was understood to be a model in its own right. The same thing was attempted with the Levorg and while that car has a good following, it's not a major one. Especially as it has never been available in the USA.
In Japan, the standard engine for generation four has been a 2.0-litre four-cylinder, in naturally aspirated or turbocharged forms. In addition to the Lineartronic-branded CVT, there is, or was, a six-speed manual alternative. In Britain, Lineartronic is standard for both XE (GBP30,000) and XE Premium versions (GBP32,500).
Five-vehicle Subaru range in UK
Here, the Forester slots into a line-up which also includes the Impreza (GBP24,310-25,010), XV (GBP25,310-28,510), BRZ (GBP27,025-28,510) and Outback (GBP29,995-33,010). We won't see the fifth generation model until later in 2019. And where at one time the current shape car was available with a boxer diesel (from 2013), that engine was not updated for Euro 6 so it is now out of production.
Subaru has had a good start to 2019, February sales rising by 19% in a market up by just 1.4%
The standard engine in North America and Japan for Forester Five is a normally aspirated 2.5-litre boxer linked to a CVT. It produces 182hp (136kW) and 176 lb-ft (239Nm) of torque, versus 170hp and 174 lb-ft in the previous Forester. The turbocharged 2.0-litre petrol engine from Forester Four is absent.
The other big change to powertrains is the arrival of a hybrid, which, I hear, will be the standard engine for us here in Europe. Subaru calls this variant the e-Boxer and it is the same as what powers the XV e-Boxer, mating a 143PS and 188Nm 2.0-litre engine with a CVT.
Might we eventually see a plug-in hybrid Forester? It's possible, as there is a Crosstrek Hybrid in North America. Just to be clear, this is a PHEV and Crosstrek is what Subaru of America calls the XV. This petrol-electric crossover is mainly for California and volume is expected to be only around 3,500-4,000 vehicles per annum. Mainly, it was developed to help Subaru of America meet the zero-emission-vehicle mandate in CA and other states where the California Air Resources Board's emissions rules apply.
This, the first plug-in hybrid Subaru, has a powertrain which was developed with assistance from Toyota. It consists of a 2.0-litre engine and two motors. One starts the engine and can then draw power to function as a generator for the hybrid battery. The second motor propels the vehicle in hybrid and electric modes while also charging the hybrid battery during regenerative braking. The range using the energy stored in the battery is a maximum of 17 miles and the top speed in EV mode is only 65mph.
Forester 5: on display at the Geneva show
Might we see the PHEV set-up under the bonnet of Europe's next Forester? It's possible although volumes might be too small to justify the engineering costs of honing what is a complicated system for the particular norms of the European Commission's ever changing emissions and CO2 requirements. For now, only the e-Boxer (i.e. hybrid) has been confirmed for Europe's fifth generation Forester, the new car having its regional premiere at the Geneva motor show which opened its doors last week.
Built to last but needs more oomph
The petrol-electric alternative to what is currently available makes much sense. The car I drove for a week was the sort of vehicle you think of as being someone's faithful companion for a decade or two. It may lack power and torque, these being 150PS and 198Nm and the body leans excessively when driven enthusiastically, yet none of that will be of much relevance to the typical owner. Subarus, not just this model, seem to go on forever – where I live in the Somerset/Wiltshire borders, pulling over on a single-lane road to let a permanently mud-spattered Forester, XV or Outback past with a farmer-driver at the wheel happens relatively often.
A minimum of £30,000 can seem steep for this 4.6m long, non-premium brand family estate.
To me, a 0-62mph time of 11.8 seconds is a touch on the slow side, although there isn't much wrong with the CO2 average of 168g/km. Economy, at a Combined 32.2mpg seemed too pessimistic an official number for a car of this weight and engine size and so it proved: over 250 miles I saw 37mpg. There was very little motorway driving in that, and a lot of 30-60mph B and A roads plus some activation of the push-button X-Mode to try out automatic control of the engine, transmission and brakes when off-roading/in Hill Descent Mode. Ground clearance is 220mm and approach/departure angles are 25 and 26 degrees respectively.
Summary
It might have taken me six years to meet the fourth generation Forester but I'm glad to have made its acquaintance. On the face of it, a minimum of thirty thousand pounds seems steep for this 4.6m long, non-premium brand family estate. Spend some time with the Forester though and you start to see that while it may look like an ordinary crossover, there is German-style depth of the engineering going on. In its low-stress engine and therefore gearbox, linked to an unbreakable-unflappable 4×4 system. I therefore declare the fourth generation Subaru Forester – great, great grandchild of the world's first crossover – to be…an SUV. And a pretty good one at that.