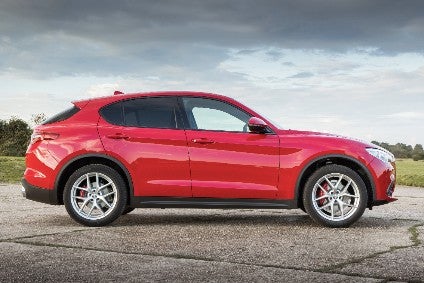 The Giulia showed that if given proper attention by its parent, Alfa Romeo could be successfully reinvented. The Stelvio further demonstrates the depth of engineering and design talent within Fiat Chrysler. Which only makes the minor flaws of this SUV all the more maddening: with just a little more money invested in certain components, Alfa's first SUV could beat the BMW X3 to become best-in-segment.
Not only BMW, but Daimler, Audi, Volvo and JLR engineers will likely have been forensically examining the Stelvio, keen to learn the secrets of this remarkable model.
The engine being positioned far back and low, the length of the wheelbase, a lack of long overhangs, the clever way that the car's height and therefore excellent headroom is disguised – these are just some of the things which FCA has mastered in its first attempt at an Alfa Romeo SUV.
Interior – maddeningly close to perfect
FCA still has some things to learn, though. The main one is simple: if Alfa Romeo is to be remade as a luxury marque, then buyers expect an interior with Italian flair and flawness design.
The genius of the German makes plus Jaguar, Range Rover and Volvo is in providing an instant buzz for anyone who sits in most of their passenger vehicles. It's an ambience which can be hard to define. It might comprise some or all of the following: perfect weighting of the door and a satisfying thunk, a welcoming scent, soft lighting, cosiness, luxurious feeling materials.
When it comes to a true premium vehicle, less is more: silence instead of whirring for the seat motors, and no loud beeps as the doors lock and the electric tailgate opens and closes, Fasten Seatbelt chimes which are too quick to nag. These things are now missing even from most Jeeps, and that has never been a brand known for its absence of brashness. FCA clearly understands this stuff, so hopefully, true Italian luxury is headed Alfa's way.
Aside from its Ferrari division, Fiat Chrysler isn't a company with which most people would associate true luxury. Maserati gets close but certain brittle feeling or overly shiny interior components shared with Fiats and which you would never find in an Audi, Mercedes or a BMW can be all too visible. Not to mention how quickly an overloaded or non-intuitive touchscreen can turn minimalist-looking into maddening.
The frustration with the Stelvio, a model which has been manufactured for more than a year now, is not one of build quality. The bad, bad decades, and there were many of them for Alfa Romeo cars, do appear to be behind the marque. This XC60-sized SUV could, with some frustratingly easy-to-remedy changes, push aside all current rivals in the D segment when it comes to overall excellence. Already, the dynamics are as good as the best – the X3 – and way better than certain others. Interior space is also superb and to many, the looks are highly appealing. Why then did FCA not go the extra mile to lift less-than-best details to the same standards?
The driving experience: joyous
Every time I drove this model over seven days, it just kept on underlining how good it is. Few other elevated models grip the road or have more direct-feeling steering than the Stelvio. Jumping into a Grand Cherokee immediately after the Alfa went back to Fiat Chrysler UK was telling. It isn't that there is anything wrong with the big, aged Jeep. Just that the Stelvio feels like a (tall) sports car whereas the GC is more of a heavyweight off-roader. The Italian brand needs several more SUVs as good as the Stelvio in its line-up. Pronto. Just as long as FCA irons out some of the creases, of which a few need sorting out ASAP.
Press the unlock button and the Alfa beeps loudly. An Audi does not. Touch the lever to select D or R and the immediate sensation is 'slippery' plastic. This, you do not find in a Macan. And then…well, there is nothing else to complain about. The steering wheel is as beautiful as the metal pedals, the door coverings are lovely pieces of design, the instruments and their curved hoods have exactly the right amount of retro-look linking them to Alfas of old, the quilted leather is classy, the headliner has a premium feel, and so on.
The tested model had FCA's turbocharged 280PS 2.0-litre four-cylinder petrol engine and an eight-ratio ZF torque converter automatic gearbox. The exhaust note could have a touch more character, and a bit more torque would have been handy but there is no faulting the suspension system. You may choose Dynamic, Natural or All-weather/Enhanced Efficiency from a controller with d n a markings. The variations are relevant and useful, unlike in many cars where the alternatives to automatic/normal are a sudden hardening of the ride or way too much lean in corners as part of a comfort setting.
The ownership experience: it has to be perfetto
Alfa Romeo is one of those names which most people know, and yet that's not always a good thing. Friends up from Australia holidaying in England, wanted to have good look at the Stelvio. One of them comes from a family which has owned an Alfetta, GTV, 90, 164, and a couple of 156 sedans. Now a Mazda6 estate-driving mum, my buddy explained to me that she wouldn't risk the reliability issues – her husband agreed. Both wanted to know had the test car behaved itself. It had.
More than 17,000 miles were showing on the odometer of the Stelvio 2.0-litre and aside from a little bit of minor wear on the driver's leather-covered seat, it could have been showroom fresh. The boot and rear doors were opened for cargo volume and leg room assessment, eyes were run over the front, rear and sides and I could almost hear the sound of minds opening. If my friends take a test drive upon their return to Sydney, I won't be surprised.
Europe, US and China sales – up, up and not-yet up
What FCA really needs Alfa Romeo to do most is to expand its sales outside Italy. The locals are loyal to home brands – witness how strong Lancia registrations remain even though everyone knows that marque is doomed – and this has been one of the issues with Alfa. The Giulietta is old, the MiTo is older still, and yet Italians keep buying them. Understandably, given how aged the two smaller hatchbacks are, few other Europeans do though. But people are falling for the Giulia, and even more so for the Stelvio.
The Giorgio architecture models are the reason why Alfa's Europe-wide registrations were able to (just) cross the 50,000 registrations mark during the first half of 2018. Selling 50,098 cars represented an 8.6 per cent year-on-year rise, with the market reaching the highest total this century even with the ongoing situation in the UK.
In the world's two other major regions for car sales, the picture is good and bad. First, the USA. In July, Alfa sales reached 2,016 vehicles. Not only was that a jump of 65 per cent but the Stelvio accounted for 1,014 of the total. This means that so far in 2018, 14,281 Alfas have been sold to US-based customers. If only dealers had SUVs in the size classes below and above the Stelvio, this brand could become a true alternative to established premium makes.
China remains the greatest challenge for Alfa Romeo. In the first half of 2018, just 2,308 vehicles were delivered. For Fiat Chrysler, the world's number one market is all about Jeep, the Fiat brand's two locally built cars having failed. Alfa, like Maserati, remains a low-volume, import brand. Perhaps FCA and its partner GAC are waiting for the arrival of more suitable models before committing to manufacturing Alfa Romeos. FCA stated only a few months ago that there will be extended versions of the Giulia and Stelvio and it is presumed that these will be for the PRC. Small models are needed too.
What FCA should do to perfect the Stelvio
We heard all about FCA's plans for Alfa Romeo back in June. The timing of facelifts, new models, and extra models remains vague but it can be reasonably assumed that the Stelvio won't have or need any styling refresh for some years yet. Extra variants could do wonders for this model's worldwide success, there being a perplexingly wide chasm between the current 280PS and 510PS petrol engines.
US buyers in particular could surely be easily persuaded to pay high prices for a Stelvio powered by the 350hp and 430hp Ferrari 3.0-litre turbo V6s which can be found in the Maserati Levante. FCA might wish to preserve those engines for the Trident logo marque's SUV as well as Alfa's own future equivalent but that seems silly when additional money could be made.
What about more diesel options? As the situation in Italy shows, sales of such engines are not falling dramatically in all countries, so adding some high-torque diesels could do wonders to boost Stelvio sales in relevant markets.
Summary
Right now, Alfa Romeo has two first rate models which are being held back from their true potential. The interior upgrades which are needed don't have to wait for mid-cycle facelifts: some nicer plastics could be a running change, in the same way that other updates have just been announced for 2019. And how about ditching the bland steering wheel and key badges, replacing both with ones that uses Alfa's green and red badge?
If FCA would do these few things, the Stelvio would shift from being a gorgeous yet frustrated communicator burdened by one arm tied behind its back. Italians are surely at their best when speaking with both hands.