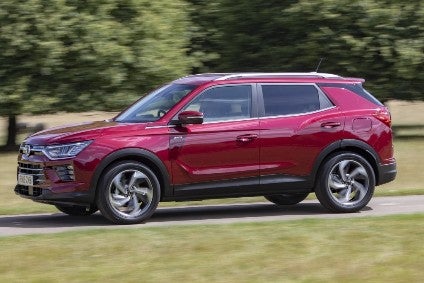 Will 2020 be the year that SsangYong delivers on the opportunity which Mahindra saw when it bought a majority shareholding nine years ago this month? Or will the Korean SUV maker remain not-quite-there-yet, even though it now has few excuses for being an under-achiever, its powertrains, platforms and vehicles being more than good enough to be taken seriously?
The Korando, newly available with a petrol engine here in the UK, is vastly more successful in the home market than the previous version. Yet even though January registrations surged by 314 per cent that still only meant 1,159 deliveries. The 4.5m long SUV is every bit as good as many competitors but as with KIA perhaps a decade ago in most markets, or Chevrolet right now in South Korea, the brand's heavily discounted, less capable models from a prior era can weigh heavily on the present line-up. An economy class image takes time to shift.
The issue of image is not really the problem in Britain, a market where sales could be a lot better. As has been noted before, SsangYong simply isn't that well known. The importer continues to try various things to remedy the low visibility, the latest being a TV campaign with Vinnie Jones. It seems unfair that the latest Korando hasn't (yet?) taken off. Perhaps the addition of the new petrol engine will give the model what could in effect be a relaunch.
Buyers can choose from multiple trim levels as well as manual and automatic gearboxes, each with six speeds. The 1,497cc turbo engine has 163PS and 280Nm versus 136PS and 324Nm for the 1.6-litre diesel. Average weight per version is around 130kg less with the petrol engine, which means a higher top speed of 126mph (petrol auto) versus 112mph (diesel). Against that, the diesel alternative has an advantage for towing, its maximum braked trailer load being 2,000kg, which is 500kg more than for the petrol engine.
Still ahead of Samsung and Chevrolet in South Korea
A wholesale renewal of the model range and the phasing out of outdated and poorly performing vehicles during the last few years is helping this brand to rebuild at home. There was a 37 per cent plunge in January but even so, SsangYong remained in third place (behind Kia and Hyundai). It's interesting what's happening lower down the sales rankings too, with Mercedes-Benz taking fourth position ahead of GM Korea and Renault Samsung. Genesis also had a big tumble in January, dropping by 43 per cent to seventh place with 3,000 deliveries exactly.
There's all manner of reasons for the recent upsets in South Korea and it's best to see what happens over the coming months before drawing definitive conclusions. Buyers have taken anew to freshened or replaced large sedans such as Kia's K5 and K7, along with the Hyundai Grandeur and Sonata, while most SUVs – aside from the new Kia Seltos and an updated Samsung QM6 (Renault Koleos in export markets) – have taken a beating. That also includes two SsangYongs which had hitherto being doing well, the Korando Sports and Tivoli. Will they bounce back this month and next?
Exports – SsangYong's next challenge
The recent sales result for the Korando will give SsangYong a boost, something the company needs as its financial performance in 2019 wasn't the best. Exports are the real problem, as even though deliveries rose slightly in South Korea – by one per cent in a market that dipped by two – overseas sales are tiny compared to rival Korean brands. Last year, the total number of vehicles delivered to export markets was 27,446, giving SsangYong worldwide sales of 135,235.
Future models
If overseas results could do with a lift, the current model line-up is at least strong, and what's coming later in the 2020s looks even better. The Korando has been in production at the company's Pyeongtaek factory since June last year, this plant building multiple vehicles based on one of two architectures: a FWD/AWD platform and the RWD/4WD 'Quad Frame' which is used for the Rexton SUV and Musso/Korando Sports pick-up.
There should be two more SUVs to come – probably in 2021/2020 – variously aimed at Kia's Sorento and Mohave. As with those models, the first should be a monocoque with the second to have a separate chassis construction. SsangYong also has at least one EV coming, the provisionally named Korando E100 being due later in 2020. A next generation Tivoli is also in the pipeline and that should be launched towards the end of 2022.
Pricing for the SsangYong Korando starts at GBP19,995 for the base 2WD ELX with petrol engine and manual transmission, rising to GBP31,995 for the 4WD Ultimate diesel automatic.