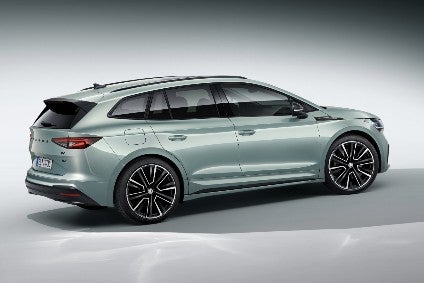 The company which has often embarrassed other Volkswagen divisions with its double-digit profit margins hit a rough patch last year in its now former largest market. China continues to be tough going for ŠKoda, sales being down more than 40% on what was a difficult 2019 too. Even though Germany is now the No.1 market, the brand continues to push hard in the PRC and more special models are coming for there with others for Europe too.
Cars
Škoda is leading a project to develop a 4-4.2m long car for India and certain other countries. The company is said to be considering a revival of the Favorit name, although Rapid might be retained for the Indian market. That model isn't due to be replaced until late 2021 but its VW Vento twin will be released first. The new Škoda will be larger than the Rapid, insiders say. The platform is a special adaptation of MQB called MQB-A0-IN.
The next Fabia is due to be shown in 2021 but production may not commence until early in 2022. The car should be based upon the MQB A0 Evo platform.
Expect three- and four-cylinder petrol engines but no diesels. Unlike others (with the exception of Lada) in this global segment, the new model will still also be offered as a wagon. The Fabia has always been available as a Combi and the body style accounts for more than a third of sales. It is especially sought after in many central and eastern European countries, as well as in Russia.
It's been a busy time for plug-in hybrid Škodas, 2020. One of the latest arrivals, the petrol-electric Octavia, is available in two forms although each one has a 1.4 TSI engine and a single motor. The standard car (Octavia iV) produces 150 kW (204 PS) and 350 Nm while the outputs of the Octavia RS iV are 180 kW (245 PS) and 400 Nm. Energy is stored in a 13 kWh lithium-ion battery. Both come with a six-speed DSG. There are both hatchback and wagon bodies.
Complicating matters, not all RS Octavias are PHEVs: there is one other alternative and that's a diesel. The RS 2.0 TDI has power and torque of 147 kW (200 PS) and 400 Nm, offers the choice of front- or all-wheel drive with each having a standard seven-speed DSG. All Octavias are due to be facelifted in 2024 and replaced in 2027.
Two years ago, Volkswagen told us that the future Passat for European countries would be manufactured at Kvasiny. The same plant would also produce Škoda's next Superb and Kodiaq but the Seat Karoq and Ateca would no longer be built there, it was said. Those plans changed in November, which was when the company announced that the next Superb, as well as the next Passat Variant, would be made in Slovakia at the Bratislava plant, commencing in 2023.
SUVs
A prototype of a small SUV for India was revealed at this year's New Delhi motor show. This model will be based on MQB-A0-IN with the suffix being an abbreviation for India. 'Kosmiq', the proposed name, is speculative. Company executives have said the production model will be introduced in the second quarter of 2021 after a static premiere in March.
The Vision In concept exhibited at the Indian auto expo in February was 4,256 mm long, powered by a 110 kW (150 PS) 1.5-litre turbo petrol engine and had a 2,671 mm wheelbase.
A Kodiaq iV will be Škoda's third PHEV after the Superb and Octavia. It is expected to share these vehicles' 1.4-litre petrol engine plus one motor powertrain. The European markets sales launch should take place in the second quarter of next year, timed to coincide with a facelift for the existing variants. Their appearance has not been updated since build began in October 2016.
The European production location for a second generation Kodiaq would again be Kvasiny, Volkswagen told the media in November 2018. This was restated last month. The next model should be on sale in 2024.
Electric
The Enyaq iV is the brand's first vehicle to have been developed purely as an EV. The batteries are positioned in a space below what is up to three rows of seating. This new crossover can be thought of as Škoda's version of the VW ID.4. It has been manufactured in Mlada Boleslav since late November and build by SAIC Volkswagen will follow in 2021. More plant data can be found in PLDB (see link at the end of this report).
The 4,649 mm long production model, although longer than the closely related VW ID.3, has an identical wheelbase dimension of 2,765 mm. It was shown for the first time in September.
There is a choice of three lithium-ion battery packs and five outputs:
50 iV: 55 kWh pack, 109 kW (148 PS) & 220 Nm (162 lb ft) rear-mounted motor, RWD, 0-100 km/h in 11.4 seconds, 340 km (211 miles) WLTP range
60 iV: 62 kWh pack, 132 kW (179 PS) & 310 Nm (229 lb ft) rear-mounted motor, RWD, 0-100 km/h in 8.7 seconds, 390 km (242 miles) WLTP range
80 iV: 82 kWh pack, 150 kW (204 PS) & 310 Nm (229 lb ft) rear-mounted motor, RWD, 0-100 km/h in 8.5 seconds, 510 km (317 miles) WLTP range
80x iV: 82 kWh pack, 195 kW (265 PS) & 425 Nm (313 lb ft), front- & rear-mounted motors, AWD, 0-100 km/h in 6.9 seconds, 460 km (286 miles) WLTP range
RS iV: 82 kWh pack, 225 kW (306 PS) & 460 Nm (339 lb ft ), front- & rear-mounted motors, AWD, 0-100 km/h in 6.2 seconds, 460 km (286 miles) WLTP range
Top speeds for the 50, 60, 80 and 80x are 160 km/h and 180 km/h for the RS (vRS in the UK market). We should see more derivatives in the coming few years and then a facelift in 2024. The second generation should be due in late 2027 or early 2028.
A second electric crossover, not dissimilar to the Enyaq and tentatively called Enyaq GT has been confirmed by Thomas Schäfer as on the way for a sales launch in late 2021. Interviewed earlier this month, the CEO of Škoda Auto was speaking in a European markets context but the car will surely also be built in China.
The 4.6-4.7 m long coupé-crossover EV may have only five seats but that is not confirmed. Production should be at Škoda's Mlada Boleslav base in the Czech Republic as well as at SAIC Volkswagen's Anting factory in the Jiading District of Shanghai.
Reports for many other manufacturers' future models are grouped in the OEM product strategy summaries section of just-auto.com.
Future platform intelligence
More detail on past, current and forthcoming models can be found in PLDB, the future vehicles database which is part of GlobalData's Automotive Intelligence Center. That includes Škoda models not reported on above.
This is the sixth report in a series which highlights certain current and future models from the passenger vehicle divisions of Volkswagen Aktiengesellschaft. It follows a look at VW cars; VW SUVs, MPVs and pick-ups; Audi cars; Audi SUVs; and Porsche. Features on SEAT and Cupra, Bentley, Lamborghini and Bugatti will be published in January.