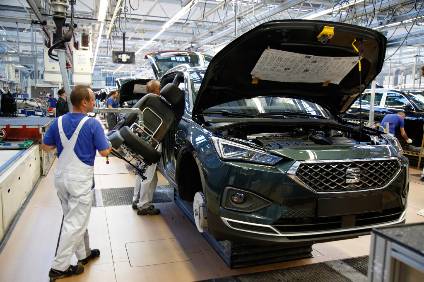 Sweeping announcements by the region's automakers mean that over one million vehicles will be lost from production in the period up to the week beginning 27th April, according to GlobalData estimates.
The COVID-19 coronavirus is cutting a swathe through the economic and social fabric of the world and bringing incalculable human cost. Indeed, it is presenting an economic crisis few expected to see again in their lifetimes after the 2007/8 global financial crisis.
Once again, the automotive sector, as one of the most powerful economic multipliers, is at the forefront of the economic crisis. Hardly an hour has gone by in the past few days without an announcement by an automaker that it was stopping production. A multitude of reasons are given for the stoppages – be it supply chain disruption, softening demand or a need to protect the safety of workforces – but all have the coronavirus pandemic at their core. Thus far, 95 out of 103 light vehicle production plants in Europe have announced production stoppages to some degree.
The cost of the stoppages to the OEMs and their suppliers is huge, but what sort of numbers are we looking at?
Taking GlobalData's latest European light vehicle production forecast sheds some light on this question. According to our assessment, in the six-week period from the beginning of March to 26 April over 1.3m light vehicles will be removed from production. That's the equivalent of what four average-sized car plants would expect to manufacture in a year. Or taking the average value of a new car at some GBP22,000 it amounts to GBP29.3bn in lost revenues.
These are just the short term costs to the industry over a six week period. This crisis is a negative sum game across all industrial and consumer sectors and walks of life and the numbers could be set to become a whole lot worse before they become any better.