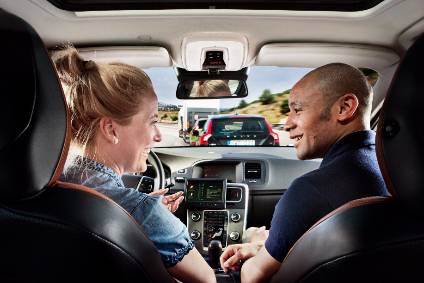 Predictions as to when we can buy a driverless car vary depending on who we talk to. Even if the more optimistic predictions come true, initial volumes will be small. Continuing just-auto/QUBE's series of research snapshots, this one considers what we can expect, by when and how much extra it might cost.
Caution, driverless cars approaching
You don't have to look far to find plans afoot to test driverless cars. On our doorstep, a consortium of British companies have plans to test driverless cars on UK roads and motorways in 2019. The Driven group also plans to try out a fleet of autonomous vehicles between London and Oxford. The cars would communicate with each other about any hazards and should operate with almost full autonomy – but will have a human on board as well.
Last summer, we learned of JLR's plans to create a fleet of more than 100 research vehicles over the next four years to develop and test a wide range of connected and autonomous vehicle (CAV) technologies.
Looking further afield, a number of states, including California, Texas, Arizona, Washington, Pennsylvania, and Michigan already permit driverless cars while nuTonomy and Groupe PSA expect to commence road testing in Singapore this September.
For its part, Ford put three times the number of autonomous test vehicles on the road last year, so it has more self-driving cars on the horizon than anyone else.
Levels of driver assistance
With testing in the pipeline, when could we expect to be ferried around in a driverless car? It depends on how you define it. That can be confusing given the mix of terms often used, such as self-driving, driverless, autonomous, semi-autonomous and self-piloting.
Feet off, hands off, eyes off and then brain off.
The Society of Automotive Engineers (SAE) define five levels of driving automation, spanning from 'no automation' (you do all the work, level zero) to 'full automation' (level 5). A key distinction is between level 2, where the human driver performs part of the dynamic driving task, and level 3, where the automated driving system performs the entire dynamic driving task. These automated driving levels are also referred to feet off, hands off, eyes off and then brain off.
While such numbered levels suggest an expectation of evolution, in reality it may not work out as the regulators plan. As regards to level 3, we have seen some industry commentary that the distinction is so nebulous that some will leapfrog from 1 or 2 to 4.
How soon for level 5 self-driving car? Not even close, says Toyota
During the most recent consumer electronics show (CES), Toyota's Research Institute CEO, Dr Gill Pratt said that full autonomous driving (SAE level 5) is not even close. He used a speech at the carmaker's press conference to emphasise that the complexities are manifold and will take quite some time to overcome, explaining: "None of us in the automobile or IT industries are close to achieving true level 5 autonomy. It will take many years of machine learning and many more miles than anyone has logged of both simulated … and real-world testing to achieve the perfection required for level 5 autonomy."
Dr Pratt's comments came as Toyota unveiled a concept car, dubbed the Concept-i. The heart of Concept-i is a powerful artificial intelligence (AI) system, named Yui that learns with the driver and builds a 'relationship' (a term used no less than four times by Toyota here). Concept-i goes beyond just mere driving patterns and schedules, maintains the carmaker, making use of multiple technologies to measure emotion, mapped against where and when the driver travels in the world. In some ways, the Concept-i resembles Tesla's Autopilot in that the car's autonomous capabilities are activated when required. Both can be interpreted as a level 2 in SAE parlance.
Yet Ford says level 4 ready by 2021
Ford is aiming to have an SAE level 4 autonomous vehicle in commercial operation by 2021 and wants to have 'high volume' (over 100,000 units a year) to maximise the business opportunity via ride-hailing or ride-sharing. At the company's Investor Day last September, CTO Raj Nair outlined the company's strategy in what it sees as a major new opportunity to exploit 'transportation as a service' in urban areas during the 2020s. By 2030, Ford forecasts that autonomous vehicles (AVs) will account for 20% of all vehicle sales.
Nissan recently confirmed that phase one of its ProPILOT autonomous drive technology will be made available in the new Nissan Qashqai launching in FY17 and the second-generation model of the Nissan LEAF. This level 4 technology enables single lane autonomous driving on motorways and is already available on the Nissan Serena, which was launched in Japan last year. Nissan says it is the first Japanese automaker to introduce a combination of steering, accelerator and braking that can be operated in full automatic mode, easing driver workload in heavy highway traffic and long commutes.
Other automakers, such as Honda, are working on systems to give drivers 30 seconds to prepare to re-engage and that can pull to the side of the road if the car doesn't detect human hands on the wheel.
Legislation needs to be updated.
Thatcham, the UK motor insurer's automotive research centre, predicts that fully autonomous driving will be a reality in 2021. Legislation will need to be updated, however, to allow these cars on the road.
And there's the rub.
Although much of the technology needed to operate self-driving cars in geo-fenced areas has been developed, the laws that allow such vehicles on the open road are some way behind. Given that existing federal regulations do not anticipate self-driving cars soon, Ford lobbyists are said to be talking with the powers that be in Washington. Following a fatal crash involving car driving in semi-autonomous mode, the authorities are justifiably taking longer than expected to draft regulations for testing fully autonomous cars. Some have also questioned whether Ford could adequately test such cars by 2021.
Other carmakers are pushing back the technical boundaries, including JLR
Jaguar Land Rover is also working with start-ups to develop future mobility solutions. Its so-called Tech Incubator programme, set up in Portland, Oregon, opened a new technical centre last year. JLR is also working on a range of technologies that would allow an autonomous car to drive itself over any surface or terrain.
Dr Jochen Böhle, head of product development for Volkswagen's compact car line-up, told just-auto: "We have the first prototypes of autonomous driving cars which are preparing for testing shortly. If you look at the current list of driver assistance features in the current Tiguan, you can imagine that many will still feature in the autonomous car. For example, ACC and Lane Assist. To build a couple of prototypes is relatively easy, but to make them safe and secure will take years."
Volkswagen and Mobileye are planning to implement a new navigation standard for autonomous driving starting in 2018. Future Volkswagen models will use the camera-based map and localisation technology Road Experience Management (REM) from Mobileye.
In the new Audi A8, that will have level 3 technology on board, Audi and Mobileye are demonstrating the next level of development – with image recognition that uses deep learning methods for the first time. This significantly reduces the need for manual training methods during the development phase. Deep neural networks enable the system to be self-learning when determining which characteristics are appropriate and relevant for identifying the various objects. With this methodology the car can even recognise empty driving spaces, an important prerequisite for safe, piloted driving.
and Hyundai
Other automakers have equally ambitious plans. Hyundai Motor Group has hired a leading former General Motors researcher to oversee an R&D centre dedicated to the development of fully autonomous vehicles. Lee Jin-woo previously led autonomous driving technology development at GM. He now heads up the Hyundai Motor Group's newly established Intelligent Safety Technology Centre. Hyundai Motor and KIA aim to develop highly automated vehicles by 2020 and fully autonomous vehicles by 2030.
Suppliers are doing their bit, too
Mobileye let it be known while the CES was in full swing that it has sealed a deal with NextEV NIO to jointly develop differentiated level 4 autonomy for NIO US vehicles by 2019. Nio Usa vehicles will be built upon the Car 3.0 stack, a set of integrated modular technologies and infrastructure conceived from the ground up for L4 Autonomous Electric Vehicles. In its entirety, say these partners, the Car 3.0 stack will deliver transformational digitally immersive user experiences for their customers. NIO USA plans to launch its first vehicles built fully in 2019. See also our interview with NextEV US CEO.
Last March, at the Bosch Connected World event in Berlin, NVIDIA CEO Jen-Hsun Huang let it be known that the company would deliver technology enabling level 3 autonomous capabilities (in which a car can drive on its own but still needs a driver to intervene under various conditions) by the end of this year, and level 4 capabilities by the end of 2018. And just last week, Nvidia divulged it is collaborating with Toyota to deliver AI hardware and software technologies that will enhance the capabilities of autonomous driving systems planned for market introduction within the next few years.
How much extra would you pay for a self-driving option?
Last week, we asked: If a self-driving car could give you back an hour each day, how would you use it? A Ford-commissioned survey of 5,000 adults found that most drivers would use the time to either kick back, chat on the phone, binge-watch Breaking Bad or read a book.
To give you that hour back each working day, all year round, how much extra would you be prepared to pay? A research team from Cornell University has found that the average American car-buyer is willing to pay $3,500 for some automation (such as crash avoidance) and $4,900 for full automation on top of the expected price of a car. Within its sample of 1,260 consumers, however, the team found there was quite a difference in what people would be willing to pay. At one end of the scale, some would be happy to fork out more than $10,000 for automation while at the opposite end some would not be prepared to pay anything extra.
On balance, although some of us are looking forward to a level 5 fully connected and autonomous car, these aren't expected to become mainstream until 2030 at the earliest. Yet Stanford University economist, Tony Seba, predicts that 95 percent of US car miles will be travelled in self-driving, electric, shared cars by 2030.
Most new cars are already connected via sat nav or Bluetooth, and more than half are available with safety systems such as collision warning or autonomous emergency braking. And while giving instructions in our cars is nothing new, putting questions to the likes of Alexa and Cortana while on the road is. Hey Google, who is to blame if something goes wrong in the driverless car? That's another story …