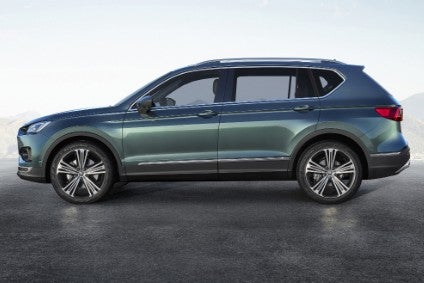 Doesn't it seem a long time ago that we thought of Seat as a maker of small cars? The addition of the new 4.7m long Tarraco means the brand now has a third SUV, putting it in competition with the VW Tiguan Allspace, Škoda Kodiaq and Peugeot 5008 for the first time.
SEAT UK told journalists attending this week's UK media preview that this is the company's first model to be available with 20-inch wheels. Not something most other makes would even mention. It matters though, perfectly illustrating the changes which continue to occur with this brand. Not even the Alhambra MPV, which is bigger than the Tarraco, has rims of this size.
Manufactured in Germany
To be clear, we're not talking large SUVs when thinking about where the Tarraco sits in the market. It's one size down from the Tiguan and some 12 centimetres shorter than the 4,854mm long Alhambra. The comparison with the LWB Tiguan matters too, as the Tarraco is built in Wolfsburg by Volkswagen and uses the same MQB A Long-Wheelbase architecture. The new SEAT has one key advantage over the Peugeot 5008 and a few others SUVs of a similar size in that all-wheel drive is available. Not that being Fwd only has stopped the 5008 or its 3008 brother from becoming very successful in many countries.
Seven seats standard in the UK
Anyone wondering how the Volkswagen Group manages to package a 4×4 system and decent third row space into a 4,735mm long SUV needs to be aware of a crucial fact: you wouldn't call that room in the two small seats generous. I'm of average height and had the ceiling brushing my head, while with the second row in a comfortable position for adults – the bench slides – knee room was barely acceptable. People aren't going to buy this vehicle as an alternative to the Volvo XC90 though are they? It's more a vehicle for families who occasionally need to drop their kids' friends home and for these people, the Tarraco works well.
Interestingly, a five-seat layout exists but SEAT UK won't be bringing such versions here, something which Hywel Evans, the Tarraco's product manager told me is all about resale values. Research shows that the RVs of large-ish SUVs available with seven seats tend to be higher than those which can only have two rows.
A fourth SEAT SUV to come?
Richard Harrison, who is SEAT's managing director in Britain, says the Tarraco "completes our SUV family", although rumours persist that there could be at least one coupe-SUV to come. That would be a version of the Cupra Formentor and potentially, a low-roof Ateca although there is nothing official about the existence of a project to create the second of these models.
Tiguan Allspace similarities
The Tarraco has good looks although I'm not sure it stands out. There are nice details, which include the shape of a straight line with a hook in both the daytime running lights and tail lamps, while the grille with its multiple V graphics is something we are going to be seeing more of in future SEATs.
The interior is where things are a touch disappointing, not helped by a lot of dark grey in the cars I drove, sampling various engines and drivetrains. The standards of materials is high and there is certainly a great deal of space for all occupants in the first two of the three seating rows, it's just that this looks and feels like a slightly less swanky version of the Tiguan Allspace. That's a good problem for SEAT to have though, dealers will be able to say that you're getting pretty much the same model as the pricier Volkswagen and with a sportier image.
Sales – catching Škoda
SEAT had a great 2018 worldwide and in most markets, Britain included, this year the good news has continued. SMMT data out earlier on 4 April show the brand's registrations crossed the 20,000-units mark on 31 March, reaching 20,635. That compares to 18,390 for Q1 in 2018. While the market dipped in March, SEAT saw its deliveries rising by seven per cent to 12,682 passenger vehicles. The León remains the most popular model; no small achievement considering this C segment range is now more than six years old and up for replacement later in the year.
Something worth taking note of in the SMMT numbers is how SEAT is performing relative not only to other mass-make brands but others within the Volkswagen Group. We know how successful Škoda is but some haven't noticed how close the Spanish brand is getting to its Czech rival. In March, the gap was only 955 vehicles. Year to date, Škoda is on 21,992 so its lead is now down to 1,357 cars.
ACEA data for March and Q1 are not yet available so we have to instead look at February figures to see how the two compare across Europe. Škoda is a long way in the lead and even ahead of Audi (118,451 versus 107,538) as the latter suffers from WLTP compliance issues, but SEAT has pushed its regional market share up to 3.0 per cent from 2.8 per cent, reaching 71,676 sales. This was also the only group division to lift its numbers in Jan-Feb.
Covering eight tenths of UK market
Back in Britain, the Tarraco's product manager Hywel Evans wouldn't tell me what the sales aspirations are, even when I suggested the potential could be as many as a couple of thousand a year or even more. Richard Harrison the brand's MD believes the addition of this SUV "opens us up to an audience who haven't previously been coming into the SEAT family", pointing out that gaining this vehicle means "our coverage of the UK market is now above eighty per cent for the first time". As recently as 2015, the brand's product line encompassed only fifty per cent of all segments. Little wonder then that registrations and market share keep rising.
Summary
The Tarraco takes SEAT into new territory, albeit a part of the UK and greater European market where there are many already strongly performing rivals. It will never become a mainstream model, one of its roles instead being to push the brand into higher price brackets. Just as importantly, growing families who like their existing SEAT dealer and don't see themselves as MPV people or need all-wheel drive, have an SUV alternative to the Alhambra.
With this new model and other additional vehicles coming later this year and next – an electric new generation Mii plus the el-Born in Q4, 2020 – and a fresh León range including a PHEV, 2019 and 2020 are already looking as though they could be record-setting years.
The new SEAT Tarraco is priced from GBP28,335 On The Road. Cars are in dealerships from this month and for the moment, there are only four trim levels, with an additional two – FR and FR Sport – coming later. Powertrains consist of turbocharged 150PS 1.5- and 190PS 2.0-litre four-cylinder petrol engines along with 150PS and 190PS 2.0-litre diesels. Gearboxes are six-speed manual and seven-speed DSG. A 201PS and 400Nm plug-in hybrid will be added "by 2020".