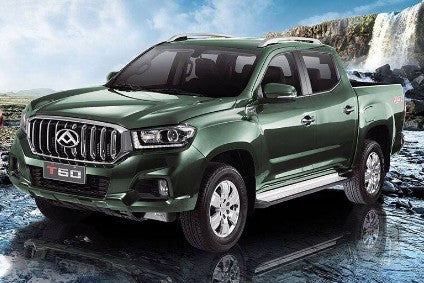 Commercial vehicles are having a stonking year in China, sales surging as provincial government lavish cash upon infrastructure projects and small businesses also invest in new vans. SAIC, via its Maxus brand, is one of the many winners from this, the LCV market more than doubling in July.
Registrations for Maxus are traditionally better when it comes to light commercials and this has been the case in 2020. Over the first seven months (data for August not yet released), there were 20,376 registrations of those models classified as passenger vehicles plus 64,869 LCVs. The majority of the latter were delivery vans and pick-ups, whilst the remainder were SUVs.
Pick-ups
Such has been the pace of additions to the brands' line-up, the T60, which is yet to need a mid-life facelift, is now one of the oldest models. Launched in 2017, this pick-up had first been seen at November 2016's Guangzhou motor show. Powered by a VM Motori 2.8-litre four-cylinder diesel engine, it is intended to be a rival for the Toyota Hilux and Mitsubishi L200/Triton in relevant export markets. Australia was one of the first, the LDV-branded T60 becoming available there in October 2017.
Last year, SAIC added the T70 for the Chinese market, this variant premiering at the Shanghai motor show. It is the same vehicle as the Maxus/LDV T60 but with SAIC's N series 2.0-litre diesel engine. Outputs are 120 kW (160 hp) and 375 Nm in single turbo form, or 160 kW (214 hp) and 480 Nm for the bi-turbo version. The MG Extender is a version of the T70 sold mainly in the Thai market.
As for the life cycle, this should last until 2027, with the first facelift expected later in 2020 and a second one in 2024. A concept with a radically different front end was revealed at the Chengdu motor show in July: this should have been a preview of the restyle.
The Wuxi plant which SAIC inherited when it took over Nanjing Auto is the manufacturing base for many of the Maxus & LDV brands' models. That includes the T60, T70 and certain other ladder frame chassis models.
Another pick-up, potentially to be called T80, is to join the T60 and T70 later this year. Should there be exports to countries where the LDV brand is instead used, the same model name would likely apply.
An outline illustration was released on social media by SAIC in May and there have been suggestions that the new truck may be either an electric or PHEV version of the T60 or T70. In fact, it could be both, sharing propulsion systems with the Euniq 6 and Euniq 6 Plug-in SUVs (see below). The life cycles of these models should be seven-eight years.
SUVs
The D60 is a ladder-frame chassis SUV in the style of the Mitsubishi Pajero Sport. Initially for China only, where it has been sold as the Maxus D60 since the July 2019 market launch, it will sold with LDV brand badges in relevant countries. The vehicle's debut as a prototype took place at the Shanghai motor show in April last year.
SAIC will likely facelift the D60 twice: first in 2022 and then again three years later, with a replacement due in 2028.
The largest of Maxus and LDV's SUVs is now three years old and likely six to twelve months away from a facelift. The D90 is 5.2 m long and available with both petrol and more recently, diesel engines. The second of these is a 2.0-litre biturbo which produces 160 kW and 480 Nm.
There have been rumours that SAIC intends to assemble the D90 in India but that the model will be sold as an MG. There might also be a larger derivative for China and other countries which could be called D100. Such a vehicle was hinted at by a concept in 2018.
Electrified models
Two 4,735 mm long SUVs with strong links to the D60 were announced in China in August last year. One, the Euniq 6, is fully electric, while the Euniq 6 Plug-In is a PHEV.
The CATL ternary lithium battery in the Euniq 6 is claimed to have an NEDC range of up to 600 km (372 miles). As for the Plug-In, its powertrain consists of a 1.3-litre turbocharged four-cylinder petrol engine and a single motor. On electricity, the maximum claimed range is 65 km or 750 km for both petrol and ions.
Styling wise, the EV has no grille, whereas the Plug-In has blue accents in its headlight modules and matching stripes in the tall air vents which sit astride the large grille which it shares with the D60.
Both vehicles should be facelifted in 2022 and again in 2025, then replaced in 2028.
Reports for many other manufacturers' future models are grouped in the OEM product strategy summaries section of just-auto.com.
Future platform intelligence
More detail on past, current and forthcoming models can be found in PLDB, the future vehicles database which is part of GlobalData's Automotive Intelligence Center. That includes the Maxus/LDV vehicles not included in this report.
This is the first of three features which give an outline of the current and next generation models for SAIC's brands. Still to come are a look at what's ahead for Roewe and MG.