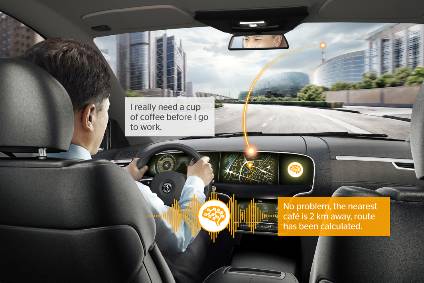 For some time, we have seen cockpit designers working on ways in which to display more information yet make the dash appear less complex. The general approach is to ensure that only the most essential information is displayed while remaining features are available in the background or brought up at will. But the increasing fitment of artificial intelligence (AI), connectivity and voice control suggests that this part of the interior is still in its infancy in terms of development. Continuing just-auto/AIC's series of research snapshots, Matthew Beecham reviews some supplier innovations in the voice control arena.
Look who's talking
"I'm Casey, your new passenger. Are you ready to get started?" Voice assistants such as Alexa, Siri, Google, Cortana, and Bixby have taken charge of smart households, control lighting and the vacuum cleaner – Bosch now puts the voice assistant behind the wheel.
While giving instructions in our cars is nothing new, putting questions to the likes of Alexa, Cortana and now Casey while on the road is. "Voice interaction is definitely a modality we are getting more and more used to through our smart devices at home," Alexander van Laack, Vice President of Sales – FCA, Nissan and New Entrants, Faurecia Clarion Electronics, told just-auto. "However, talking to a machine is not as simple as you might consider. The smarter a machine is and the more it reacts, the easier it will be for a consumer to feel comfortable with this. Especially when it comes to complex tasks, voice interaction will be preferred over others as long as natural language is understood. This natural language processing requires a fast internet connection for off-board processing. This is where 5G will become handy in the future. For smaller tasks such as reducing the sound volume, people will still prefer to use a rotary knob, but as humans are multi-modal beings, we will encounter situations, especially when stressed, in which several modalities will be used at the same time."
Last month, Cerence let it be known that Ford has selected its Drive products to bring advanced, conversational AI and voice recognition to the automaker's Sync 4 communications and entertainment system. Cerence started working with Ford in 2005 in the early days of voice-enabled phone dialling, later evolving to the development of the Ford Sync platform. Ford Sync 4 operates in English, French, Spanish, Portuguese and 21 other languages, depending on region.
Meanwhile, Visteon is supplying the infotainment platform for Volkswagen Group's new Nivus model for Brazil. The automaker is launching VW Play for in-car connectivity, streaming and other services. Connected infotainment technology is among the secular trends in the digital cockpit market that will continue to evolve and provide OEMs value as the industry emerges from near-term challenges caused by the impact of the COVID-19 crisis, explained Visteon President and CEO Sachin Lawande. "Traditional OEM systems are very expensive to develop and are limited in their ability to offer downloadable apps and new market-driven features. This innovative infotainment system, on the other hand, offers a much broader app ecosystem and can be more easily upgraded for new capabilities such as voice assistance."
Harman's in-vehicle communication solutions
With voice commands emerging as the norm for managing in-car experiences, clear in-vehicle communication is becoming increasingly important. In addressing this, Harman used the 2019 Consumer Electronics Show to showcase its Premium Communication solutions, a novel modular offering designed to elevate today's in-vehicle communication environment. By integrating microphone, voice processing and noise cancelling technologies, the supplier claims its Premium Communications can enable clear, frustration-free conversations for all occupants within a vehicle – with each other, and with digital voice assistants and external call recipients. Built on AudioworX, Harman's proprietary, open-framework development platform, the key features of Premium Communications include:
In-Car Communication – which allows the driver to communicate directly with passengers in the back seats without needing to turn around or take their eyes off the road.
ClearChat with Far-End Noise Cancellation – combines beamforming microphones, echo cancellation, and noise reduction algorithms to remove unwanted cabin noise — including air conditioning, road noise or rear seat passengers – for listeners on the receiving end of a call.
Personal Communication Zones – gives every occupant the freedom to simultaneously interact with their voice assistant of choice or have a phone call with confidence that call recipients won't hear the music or entertainment from others in the vehicle.
Multi Voice Personal Assistant Capability – which allows occupants the freedom to use the voice assistant of their choice.
Continental's digital assistant
Driver assistance and infotainment systems are supplying more and more information. As a result, solutions are required that ensure intuitive, easy, and above all, safe interaction between the driver and car. To meet this demand, Continental has developed an adaptive voice-activated digital assistant for vehicles.
With the digital assistant, the supplier says it focuses on the most natural means of communication: the spoken word. The system is capable of communicating almost like a human. Natural dialogue design, the capability to understand multiple questions in one sentence and, above all, its capacity to detect logical connections make this innovative solution from Continental a smart companion on the road. Thanks to smart algorithms and a system architecture precisely tailored to the vehicle, the assistant continues to learn with every conversation. Frustrating answers like "I cannot understand you" or "That is beyond my capabilities" to legitimate questions are now a thing of the past, says the supplier.
Claimed benefits of Continental's smart voice assistant include the seamless transition between various function menus. For example, the driver might ask for a route to activate the satellite navigation system. The driver might then ask about free parking spaces at the destination or even dictate an e-mail to book a table at a restaurant in the vicinity of the destination. The system ensures coherent communication, sends the relevant data from the navigation system to the parking space assistant, matches the internet search for restaurants to the location of the recommended parking garage and, finally, transfers data from the navigation system (estimated time of arrival) and restaurant search (address and e-mail contact) to the e-mail and voice recorder programme in order to reserve a table. The assistant understands the request "search for restaurants there" and correctly interprets "there" as the previously selected destination.
Sit down, we need to talk
Although new cars with minimalist cockpits are becoming increasingly common, almost giving the impression that they are too clever for buttons, some go a little too far. While glossy touchscreens add a touch of class to the otherwise dreary dashboard, some of us still prefer to adjust the HVAC using old-fashioned dials while keeping our eyes on the road.
And although carmakers are fast adopting virtual assistants, confirming that speech is becoming the preferred interface for tomorrow's cockpit, it exposes the motorist to hackers. Voice control increases vulnerability, leaving voice command-enabled car systems at greater risk.
Voice recognition can certainly eliminate many controls that have traditionally been manually operated. It can also play an important part of a multimodal HMI solution for inputting information or for cutting through layers of menus, by requesting a function directly. And voice recognition will inevitably play a bigger role as cars gradually become more autonomous. But we are not quite there yet. In the meantime, a balance needs to be struck and technology advances must be brought into alignment.