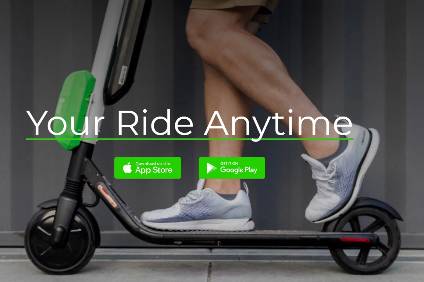 The British government recently fast-tracked a permit to allow electric scooter rentals on public roads. The move forms part of a broader investigation into greener travel and overcrowding on public transport as the pandemic rages on. Advocates for e-scooters say they provide a fun alternative to driving short distances while promoting social distancing. Yet there is still concern about safety to riders, drivers and pedestrians as well as the environmental credentials of e-scooters. Matthew Beecham takes a moment to ponder the prospects for e-scooters in the new normal.
British government puts a new SPIN on the scooter market
Last May, during a daily government press conference on its response to the pandemic, UK Transport Secretary Grant Shapps unveiled a £2 billion package to support "active travel", encouraging people to find modes of transport outdoors.
"I'm fast-tracking trials of e-scooters, bringing this programme, already underway, forward from next year, to next month," said Shapps. "And extending those trials from four local authorities to every region in the country that wants them in a bid to get e-scooter rental schemes up-and-running in our cities as fast as possible."
The green-lighting of e-scooter trial applies to rental schemes only "to avoid a flood of poor-quality scooters onto the streets." It is being piloted in four areas of Britain, namely Portsmouth and Southampton, The West of England Combined Authority, Derby and Nottingham, and the West Midlands (including Birmingham, Coventry, Wolverhampton and Dudley).
The 12-month trial is intended for local authorities wanting to operate rentable scooter schemes in partnership with scooter firms. The 12.5 mph speed restrictions put scooters travelling at the same speed as bikes in urban areas. They operate in a way similar to city centre cycle hire schemes.
Riders must be aged 16 or over and have a full or provisional driving license. But they don't need to take out their own insurance. Privately-owned e-scooters will remain illegal on all public roads, cycle lanes and pavements in Britain, including the trial areas.
This latest move spells out good news for Silicon Valley scooter firms such as Lime and Spin as well as European competitors such as Voi, Tier, Bolt, and Wind that offer them via a smartphone app.
Spin, the micromobility unit of Ford Motor, is expanding its footprint from 70 markets in the US to cities in Europe. Last month, Spin launched in three German cities (Cologne, Dortmund and Essen). Its prices start at €0.30 per minute with no fee to unlock a ride. In response to COVID-19, riders are encouraged to wear gloves or clean their hands with soap or hand sanitiser before and after each ride.
So why is Spin joining the European market now? Co-founder and president Euwyn Poon told just-auto: "After a successful year of building up our operations throughout the US in over 60 cities and 25 universities, Spin is now ready to take on the international market, using this knowledge to accelerate growth in a responsible way. In addition, from a regulatory standpoint, we feel the time is right. We're seeing more and more European countries and cities adopting regulatory frameworks that bring certainty back to the marketplace."
Based on a recent survey conducted by Spin and YouGov, nearly 50 percent of people indicated that they are already using or planning to use a solo transportation option for commuting to and from work and for taking trips within their immediate vicinity.
An opportunity to reinvent urban transport
Fredrik Hjelm, co-founder and CEO of the Stockholm-based e-scooter startup Voi, welcomes the UK government's move to fast-track trials for e-scooters, which they will participate in. He said: "As we emerge from lockdown, people will want to avoid overcrowded public transport but we need to make sure that there are good non-polluting options available that suit all abilities and pockets. Right now we have an opportunity to reinvent urban transport and to increase our use of electric vehicles, bikes and e-scooters. The last thing anyone wants, as communities emerge from this crisis, is for people to resort to cars to get around."
Earlier this month, Voi let it be known that it has reached its first ever monthly profit at group level for the month of June, two years since it launched the e-scooter service which now operates across 40 cities and 11 countries. The rapid growth of the startup has been supported by large sums of capital from committed shareholders, allowing it to launch in all of Europe's biggest e-scooter markets including Germany, France, Switzerland, Austria, Italy and Scandinavia.
Safety first
As the number of e-scooters grows across cities so does the need to provide safety systems for those using them. Last year, television presenter and YouTuber Emily Hartridge was involved in the UK's first fatal e-scooter crash when she collided with a lorry at a roundabout in Battersea, London.
Earlier this year, Autoliv completed the first crash test with a concept airbag for e-scooters. It says initial results indicate the e-scooter airbag reduces injuries to an e-scooter rider's head and chest. The tested concept airbag for e-scooters will complement the Pedestrian Protection Airbag (PPA), previously introduced by Autoliv. Whereas the airbag for e-scooters is mounted on the e-scooter, the PPA is mounted on a vehicle and deploys along the A-pillar/windshield area. This makes it the only airbag to deploy on the outside of a vehicle. Working together, the two airbags offer increased protection for drivers of e-scooters specifically in the case of a head-to-head collision with a vehicle.
Meanwhile, the UK road safety charity IAM RoadSmart has warned mixing e-scooters, vehicles and pedestrians on roads and pavements would be a dangerous cocktail. The charity welcomes a long-term approach to transport planning by the government but insists new modes of transport need dedicated routes to be truly safe. It added that there is an urgent need for users of e-scooters to embark on some level of basic rider training and awareness before they start.
Neil Greig, IAM RoadSmart director of policy and research, said: "Electric scooters are simply not safe enough to be on our roads alongside full-size vehicles. Mixing with pedestrians is also potentially very unsafe in shared areas. As with cycling, the answer probably lies in dedicated safe infrastructure for vulnerable road users. Allied to that there is an urgent need for more rider training, information on protective clothing and clarification of e-scooters' legal status."
Questionable environmental credentials
While the use of e-scooters has clear benefits, especially during a pandemic, transport charities are calling for greater regulation as e-scooters gain popularity.
The Parliamentary Advisory Council for Transport Safety (PACTS) and registered charity has also responded to the Department for Transport's consultation on e-scooter trials and to the Transport Select Committee's inquiry into e-scooters. It points to the growing evidence of the health and safety disbenefits of e-scooters and their questionable environmental credentials. Use of e-scooters is currently illegal on public roads in the UK. PACTS believes that trials, despite the restrictions proposed, will be seen as a green light to general, unregulated use by the public. This will place the police in an impossible situation.
Nor does PACTS agree that an e-scooter is an alternative to car use. In a paper setting out its position, PACTS stated: "The evidence from other European countries where e-scooter rental schemes operate and where private use is permitted is that very few car trips transfer to e-scooters. E-scooter trips are predominantly trips made previously on foot, or by cycle or public transport, or new trips (often for leisure). They are often very short, between 0.5km and 5km."
Despite a lockdown in many areas, people still have to go to work without a car and, given the current situation, do not feel entirely comfortable using public transport. Hence it is not surprising to see why electric scooters and bikes are being seen as less risky for wary commuters.
While the benefits of shared scootering are clear, there are still some issues to address including those for governments and insurers. Who is to blame if an accident causes injury to a pedestrian or damages property? Fast-tracked scooter pilots in our cities is of concern to safety campaigners too.
While the 'shared' element of rental scooters still causes concern, operators recommend that riders wipe down their bike before using it or wear gloves.
Hip to be square
The scooter-land market is flooded with competitors, most with hip and trendy names like Grin, Yellow and Gotcha.
Meanwhile, the scooter-land market is flooded with competitors, most with hip and trendy names like Grin, Yellow and Gotcha. While some now appear to be doing well (Voi above) as the world eases out of lockdown, it's not easy to make money in this sector.
Before the pandemic struck, the scooter industry was facing some strong financial headwinds. Last January, market leader Lime said it would lay off about 14% of its workforce (roughly 100 employees) and shutter operations in 12 markets as it seeks to become profitable this year, the company told Axios. In a statement, Lime CEO Brad Bao said: "While the vast majority of our 120+ markets have adopted micromobility transportation solutions quickly and are profitable, there are select communities throughout the world where micromobility has evolved more slowly."
Time will tell if the pandemic will see e-scooters being legalised across Britain and provide the boost that the sector needs.