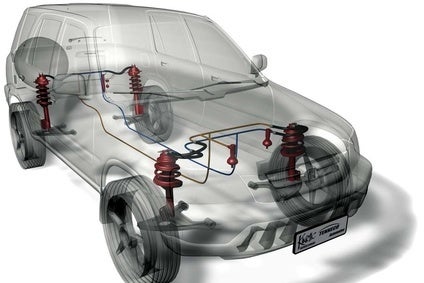 Continuing just-auto's series of research snapshots – pulled from its automotive research platform, QUBE – Matthew Beecham reviews some novel shocks and asks: what does the autonomous car mean for suspension manufacturers?
Dampers (widely and erroneously known as shock absorbers) vary widely in their detail design if not in their external appearance. Chassis engineers argue the merits of monotube and twin-tube dampers, and seek to improve performance by filling the chamber voids with pressurised gas. Great care and ingenuity is devoted to the design of the orifices through which the damping fluid passes (these being fundamental to the damper's performance), with different and progressive characteristics in bump (compression) and rebound (extension).
For the last two decades or so, the high-end technical emphasis has been on developing dampers in which the damper rate can be varied according to the road conditions, to avoid the compromise in which damping soft enough to feel comfortable on rough road can create a nauseous "floating" sensation on near-smooth but slightly undulating surfaces. Most designs have concentrated on computer-controlling the opening and closing of valves which bring additional damper orifices into operation – thus the firmest rate exists with all valves closed – but BWI has devoted much effort to developing its MagneRide technology in which a magneto-rheological fluid passes through an orifice which can be "restricted" by applying an electric field across it. MagneRide thus provides continuously variable characteristics, opening new possibilities.
Meanwhile, getting the right balance between ride and handling has been the focus of research for some time. But why continue to compromise? Some latest advances from Tenneco come in the form of a computerised electronic suspension (CES) and Kinetic ride control technology that improves vehicle stability and handling. As a further advance, Tenneco's continuously variable semi-active suspension system (CVSAe, for short kind of) forms part of Monroe's intelligent suspension portfolio. The portfolio includes CVSA2/Kinetic and ACOCAR active suspension solutions for luxury cars, high-end sports cars and SUVs with off-road capability. The new Renault Espace, which made its debut at last year's Paris motor show, is fitted with the CVSAe.
For its part, ZF has developed a new valve technology for its twin-tube damper portfolio by means of modern fluid analyses. The preloaded valve including a new preload element illustrates the entry into ZF's fourth generation valve technology, a development of the standard damper valve. ZF's solution relies on a valve with a linear characteristic curve and preload for its new damper generation. Thanks to the preload, the supplier claims there is sufficient damping force available, even at low piston speeds. The linear characteristic curve can be set correspondingly flatter. Consequently, the preloaded valve reduces noise and vibrations in the chassis considerably. The preloaded valve can be set from sporty to comfortable, depending on the customer wishes.
There is of course a lot of chatter nowadays about autonomous driving. Like it or lump it, the driverless car will appear on a road near you in the not too distant future. Such cars have, of course, featured on the big screen for some time. Herbie, the self-driving VW Beetle made its first appearance in the 1969 Disney film The Love Bug. Hollywood's fascination with self-driving cars showed itself again twenty years later when the 1989 Batman, played by Michael Keaton, was able to instruct the Batmobile to drive itself to Batman's location and stop just inches in front of him. So is vision set to become a reality? More specifically, what does this mean for suspension system manufacturers?
From its perspective, Tenneco sees two main aspects of autonomous driving. "The first is clearly that the driver will be able to divert his or her attention to other things," said Maarten Maes, Director OE Sales & Programme Management, Tenneco. "Therefore we believe that there will have to be an extra comfort level built into the car. In this respect, we are working on our fully active system which will bring the next level of comfort to support autonomous driving. Secondly, if the car is driving itself then the 'driver' becomes less aware of potential hazards on the road resulting in sudden manoeuvres. So, from a suspension point of view, an autonomous vehicle needs a system that can proactively anticipate movements of the car. Our active suspension can help there."