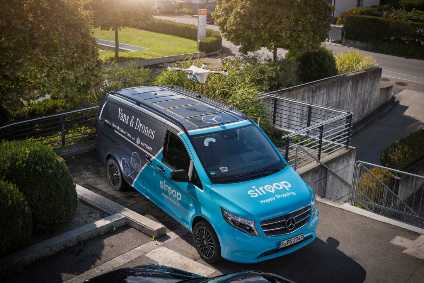 Although the term 'last mile' sounds like an epic journey of personal endurance, in the logistics business it refers to the last step of the delivery process when a parcel is moved from a depot to your front door (or very close to it). The word 'mile' is used loosely as it can vary from a few streets to a number of miles. Given that consumer buying behaviour has changed over the past decade or so, especially with regards to online shopping, most of us have come to expect fast, cheap (preferably free) and contactless delivery, especially during the pandemic. For logistics operators, this is challenging considering that this last leg is clunky, expensive and fiddly. Much can be achieved by addressing each step of their last mile delivery process, however, including the mode of transportation. While parcel lockers and smart door locks can help cut costs, droids and drones are playing an emerging role. Continuing just-auto/AIC's series of research snapshots, Matthew Beecham takes a look at some last mile technology solutions that are shaping the new normal.
Delivering products to people, autonomously
Over the past few years, we have seen automakers reveal a variety of electric autonomous vehicle concepts designed to move parcels and takeaway food over short distances. In 2018, Toyota took the wraps off a concept it called e-Pallete, fully automated battery-powered electric cars designed for a range of "mobility-as-a-service" businesses. At the time, the carmaker said it intends to work with companies such as SoftBank, Amazon, Didi Chuxing, Mazda, and Pizza Hut to deploy shuttles that can be used to deliver food, offer onboard medical examinations, double as hotel rooms, and more.
Jaguar Land Rover recently revealed its Project Vector, part of its Destination Zero project, an autonomous, electric, connected urban mobility vehicle. The Tata Motors owned automaker described the concept as "an advanced, flexible, multi-use electric vehicle that is autonomy-ready." The concept is four metres long and designed for city use, packaging all its battery and drivetrain components into a flat floor, to allow a variety of uses. Seating configurations for private or shared use and arrangements for commercial applications, such as last mile deliveries, are all possible.
Droids and other novel solutions
Meanwhile, we have already seen small autonomous delivery robots (droids) road tested, piloted and rolled out with a good degree of success. For example, REV-1 is the name given to a food delivery robot developed by US-based Refraction AI. The startup is solving the last mile challenge by making low-cost, lightweight autonomous delivery robots that can operate in both the bike lane and on the roadway. Business has boomed over the past year as Matthew Johnson-Roberson, CEO and co-founder of Refraction AI told just-auto: "Since the pandemic began, we've been experiencing 3-4 times as many restaurant orders as before. With partners on the waitlist, we're moving quickly to build more robots to scale up and meet the demand."
It's not all short-term gains either. Refraction AI sees this uptake in demand for autonomous delivery robots as sustainable post COVID-19. "The newfound need for contactless delivery will allow people who were previously reluctant to try robot delivery before COVID to use it during the pandemic as a safer delivery option," said Johnson-Roberson. "And as more people experience the service, we think they'll see the real advantages around efficiency, convenience, and less human error. With acceptance of the technology during the pandemic, this can certainly change views and behaviours in the post-pandemic world."
Starship Technologies is another startup offering a last mile robot delivery service. The company is headquartered in San Francisco, California, with engineering operations in Tallinn, Estonia. Last March – just as Britain's government issued stay-at-home orders – Starship became the first robot delivery service to operate in a UK town centre with the rollout of its service in central Milton Keynes. The company also announced that frontline heath care workers living and working in its UK service areas would be able to get free deliveries for a limited time period. Parcels, groceries and food can be directly delivered from stores via a Deliveroo-style phone app. Once ordered, a six-wheeled delivery robot's entire journey and location can be tracked. Starship's knee-high robots move at pedestrian speed, navigating around people and public spaces and weigh approx 100 pounds. For security, the cargo bay is mechanically locked throughout the journey and can be opened only by the recipient with their app.
Austin, Texas-based Ayro Inc, formerly known as AEV Technologies Inc, also designs and makes small, short-haul EVs for urban markets. Its quirky low-speed trucks are used for a variety of niche applications, ranging from serving food on college campuses to moving equipment around hospitals, hotels and airports. In the wake of the pandemic, its custom-designed food trucks alone are attracting the attention of universities as they seek to reduce large canteen gatherings and restaurants to deliver takeaways.
While there are other last mile food delivery solutions out there, Rod Keller, CEO of Ayro believes that the company is unique because it offers a custom engineered EV solution to fulfil the specific needs of mobile hospitality and food on demand delivery. During an interview with just-auto, Keller said: "Ayro's EV solutions operate at maximum efficiency, saving customers up to 50% annually on operating costs compared to gas-powered alternatives, and do not require special charging infrastructure. This is a significant benefit for restaurants looking to increase operational efficiency and cut costs, as well as avoid third party delivery charges which can be up to 30% on each ticket."
Delivery drones are taking off
No longer seen as a joke or a fad, drones – launched from the roof of an electric van parked close to the final destination – represent a novel way of doing business with a clear public health benefit. Van-mounted drones attracted widespread attention at the 2016 Hannover Commercial Vehicle show when they appeared on the Vision Van from Mercedes-Benz. The concept incorporated two drones, each with a payload capacity of just under 5 pounds, with consignments for autonomous delivery within a radius of 6 miles. Daimler is also a key investor in Starship.
Taking a slightly different approach, Amazon Prime Air is a drone delivery service currently in development by the e-commerce giant. The service uses delivery drones to autonomously fly individual packages to customers within 30 minutes of ordering. To qualify, the order must be less than 5 pounds, must be small enough to fit in the cargo box that the craft will carry, and must have a delivery location within a 10-mile radius of a participating Amazon order fulfilment centre.
In the meantime, Amazon recently announced that it is adding more than 1,800 electric vehicles from Mercedes-Benz Vans to its delivery fleet in Europe this year. "With the eVito and the eSprinter, we have electric vehicles in our portfolio, which are ideally suited for the requirements of the courier-, express- and parcel-service industry for goods delivery on the so-called 'last mile' in terms of their equipment and range," said Marcus Breitschwerdt, Head of Mercedes-Benz Vans. Amazon also recently revealed its first custom electric delivery vehicle, designed and built in partnership with Rivian. The company has committed to be net zero carbon by 2040 and 10,000 custom electric delivery vehicles will be on the road delivering worldwide as early as 2022 with all 100,000 in use by 2030.
Amazon has also been exploring the use of autonomous robots to make deliveries. The company officially rolled out its last-mile delivery robots in a Southern California testbed last year. Known as Amazon Scout, the delivery robot is designed to autonomously carry parcels from urban distribution points to Amazon Prime customers. Last June, Amazon acquired autonomous driving technology startup Zoox Inc, enabling it to strengthen its capabilities in the area of automated e-commerce delivery.
Ford says its US truck and van fleet sales have grown 33% since 2015 and the company expects continued growth of van sales in the US as e-commerce and last mile deliveries increase.
Middle mile 'sweet spot'
While autonomous delivery droids are designed for short trips, Gatik AI is going after the 'middle mile' market. Founded just three years ago, the company has received funding from a number of investors. It has big aims too. By 2025, its goal is to achieve for logistics what Airbnb has done for hospitality, and Uber has done for personal transportation.
"The vast majority of our competitors are focusing on passenger transportation, and those that are working in the autonomous delivery space are trying to solve autonomy over a general/generic geo-fenced area," Gautam Narang, Co-founder and CEO of Gatik told just-auto. "These models pose very different challenges, require specific technologies and as we have seen, will take a long time to achieve. Gatik also fills a clear gap in the market: on one end of the delivery spectrum there are self-driving trucks that operate with a large payload at highway speeds, and on the other end there are sidewalk robots that operate at restricted speeds, have limited weight capacity, and cover short distances. The middle mile is dramatically underserved, and we address this market need."
During an interview with just-auto, Christian Schumacher, Vice President Program Management Systems, ADAS, Autonomous Mobility and Safety, Continental, gave us his vision of last-mile deliveries and how Continental supports it. He said: "Continental's vision is to provide sustainable mobility solutions. In general, mobility means freedom but the current infrastructure is reaching its limits. We are losing time in traffic jams or use our multi-ton heavy cars for small errands, like picking up groceries. There is a better way to get things done. With last mile delivery robots, we add a fully autonomous robotic application to our mobility portfolio. Driverless vehicles like the CUbE and robots are sharing basically the same algorithms and might even share computing resources to perform their duties. Therefore, we build-up development platforms (CUbE, Robots) to develop autonomous technologies for our customers and partners."
Emerging trends
As part of Volvo's Sensus technology, in-car delivery is a relatively new service that allows online orders to be delivered directly to the boot of any Volvo. Using the carmaker's On Call service, In-car delivery allows single-time access for depositing items such as groceries or dry-cleaning in the boot of a parked car. It essentially turns a car into a preferred delivery address. You can also send a destination directly to the car's sat-nav so it's all ready to go when you get into the car.
Taking a different take on last-mile delivery, Skoda is offering a scooter as a £120 option in its Scala hatchback and Kamiq compact-SUV models. Using a patented folding mechanism, the scooter fits into the spare wheel well. The carmaker says it makes the scooter ideally suited for the first and last mile, i.e. the short journey from the car to the destination and back.
Same day delivery becomes the new standard
Stepping up a gear, drones and droids have shifted from a novel way of doing business to a clear public health benefit. And unlike autonomous vehicles, we don't have to trust them with our lives. While nobody can be sure what the 'new normal' will look like, we can be confident that social distancing will be with us for the foreseeable future. Deliveries to parcel lockers and car boots can certainly help cut costs and maintain social distancing. And as regulators cut more red tape, we shouldn't be surprised to see and hear more bots and drones in the post-coronavirus world. A balance needs to be struck, however. Do we really want thousands of drones competing for air space buzzing around neighbourhoods carrying 2kg parcels? Using drones for critical, niche items (e.g. urgent medical supplies) or making deliveries to isolated spots makes good sense but there should be a limit on their use. The 'first mile' for the collection is just as complicated as the last. But that's another story.