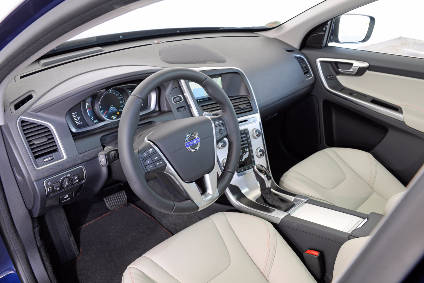 For some time, we have seen cockpit designers working on ways in which to display more information yet make the dash appear less complex. The general approach is to ensure that only the most essential information is displayed while remaining features are available in the background or brought up at will. But the increasing fitment of multimedia and connectivity systems suggest that this part of the interior is still in its infancy in terms of development. This month's research snapshot is of the Volvo XC60 and Toyota Auris, taking a closer look at the interior design and technology that gives each a distinctive feel and style.
Toyota Auris: Hybrid driving with improvements in sensory quality
Although Europe is the key market for the Auris, Toshio Kanei, project director, Toyota European Projects, states that the model has an increasing global relevance: "We sell it mainly in Europe, Japan and Australia, but we have considered the possibility of new markets for this car, including marketing it in the USA as the Scion iM, with cars built in Japan. Of course, North American regulations are different, so we had to make revisions to meet these specific requirements. We also conducted focus group interviews in New York and Los Angeles to gain a clearer understanding of American customers' expectations and the direction we should take with a Scion version."
Around 50 percent of Auris sales in Europe are accounted for by the petrol-electric hybrid model, which Toyota sees as key to building overall share and gaining conquest from other brands.
Built at Toyota's Burnaston plant here in the UK, the Auris is one of just a few hybrids in the compact hatchback class. Other comparable models available with a hybrid powertrain include a VW Golf and Audi A3.
Following the launch of second generation Auris in 2012, driver feedback highlighted a need for improvement in sensory quality. In response, the automaker established a sensory quality division to act as the link between design and engineering, focussing on details such as interior shape, colour, touch, illumination and graphics. The division has attempted to bring the same level of engineering logic that applies to ergonomics and occupant comfort to the field of sensory quality.
"Sensory quality is about how customers perceive our vehicles," said Mehmet Faith Kale, senior engineer, body design division, Toyota Europe. "When we sit in a car, all our senses are judging the environment, predominantly its visual, tactile and aural qualities."
The latest generation Auris has succeeded in a more appealing interior ambience than its predecessor. For example, the dashboard is less cluttered with a more uniform illumination while the upper surface and fascia are finished in the same soft-touch material with a grain pattern. The centre stack instrumentation features touch-sensitive switchgear with more consistent back-lighting.
In explaining the finer detail of the Auris cockpit, Kale added: "To achieve consistency, we worked on aligning sections and matching decoration shapes, for instance linking door trim to instrument panel to console. Additionally, the steering wheel, instrument panel and air vent chrome trim were matched to give the same look, while the new piano black finish on the centre console matches that of the audio display."
The design team also worked on improving colour consistency, with a focus on black elements. Kale explained that this was achieved by dividing the interior into three groups – injection moulded parts, painted parts and soft parts – and using a colour measurement-based system. "The colour of all the interior parts has been fine-tuned to create visual unity," he added.
The net result is clean, continuous surfaces, elimination of superfluous text from the switchgear and various levels of illumination and backlighting. Compared to the funky cockpit of the latest generation Prius, Auris has a more conventional appearance yet still packaged with the same level of equipment.
"Nobody likes being unpleasantly surprised by a car's interior," concluded Kale. "It's very important to achieve a good combination of touch, shape and surface. If a part looks hard, it must feel hard; if it looks soft, it must feel soft; if it's a metal finish, it must look metallic and feel cold to the touch. And there's a fundamental difference between animal and technical grain. If you see technical grain, you expect it to feel hard, but all our experience of animal grain, for instance in furnishings, signals that it must be soft to the touch." Quite.
The hybrid proposition is, of course, about how the car drives as well as the benefits of fuel economy and CO2 it delivers. While Auris is unlikely to set pulses racing, it does provide a quiet and smooth ride. The optional panoramic roof also made the cabin feel that little more spacious. Although starting the car is eerily silent – with just a 'ready' light appearing in the dash – there is no shortage of audible beeps whenever anyone or anything comes close.
The range-topper Excel Hybrid model we borrowed came with a 1.8 engine and CVT that provided some feel-good driving, especially in congested traffic. This set-up also allows for the lowest CO2 emissions in its class (just 92 g/km) and some agreeable fuel consumption figures. While our road test covering some 450 miles (on 16-inch wheels along mostly motorways and dual carriageways) didn't quite match Toyota's headline mpg expectations, we achieved an acceptable 50.6 mpg.
Volvo XC60: Practical with a classy interior
Since the launch of the XC60 way back in 2008, Volvo Cars has sold some 750,000 units. Europe is the carmaker's most important sales region, representing more than half of its total global sales. The carmaker reported a solid double-digit sales increase for the first six months of 2016, posting growth of 10.5% to 256,563 cars compared with the same period in 2015. The XC60 was the best-selling model in Europe while the XC90 also saw strong demand. Globally, the XC60 was the best-selling model in the first half of 2016, with 73,817 cars sold (H1 2015: 78,066), followed by the V40/V40 Cross Country, with 48,670 sold cars (51,507).
The XC60 has a choice of four trim levels, namely the SE, SE Lux, R-Design and R-Design Lux. The model we borrowed was a SE Lux spec featuring plenty of soft-touch materials, including leather upholstery, leather instrument panel with a walnut inlay, ambient lighting, heated steering wheel and windscreen. The classy interior detailing includes a Piano Black deco option, rotary jewel-like knobs in the centre stack and a frameless rearview mirror.
The contemporary instrumentation uses a customisable thin film transistor (TFT) crystal display to display all sorts of information to the driver. The knobs dotted around Volvo's now trademark floating centre console to control various functions are angled toward the driver making them easy to reach but fiddly to use on occasion. Behind the console is a mobile phone sized tray. Another distinctive feature on the console is a pictogram depicting the climate control layout. Like most things found in new car cockpits nowadays, it all becomes apparent once you have spent a little time figuring out how it all works.
The fresh digital display theme colours are also echoed in Volvo's connected infotainment system, known as Sensus Connect as viewed on a 7-inch screen. The cloud-based services allow the driver to find and pay for parking from the car, discover restaurants and stream music. Messages can also be helpfully read out aloud through the system. The DAB sound system is engineered by Harman Karden, delivering the sound quality you would anticipate from 12 loudspeakers.
Sensus includes Volvo On Call, which allows drivers to communicate with their car via an app to lock, unlock, check fuel levels, pre-heat, pre-cool, locate and check mileage on the car.
Seating-wise, the power front seats leave plenty of headroom for six-footers although the XC60's sloping roof line leaves a little less head room in the back. That said, the three-split (40/20/40) rear seat is mounted higher than in the front allowing small children a good view. Folding the rear seats flat liberates loads of boot space (1,455-litres, to be precise) enabling a mountain bike to slip through the large, powered tailgate.
As you might expect with Volvo, the safety equipment on the XC60 is second to none. Even the entry-level SE model comes equipped with dual-stage airbags, curtain airbags traction control, hill descent control and no fewer than five different electronic braking technologies.
On balance, the XC60 interior is both practical and desirable with a rich blend of comfort and style.