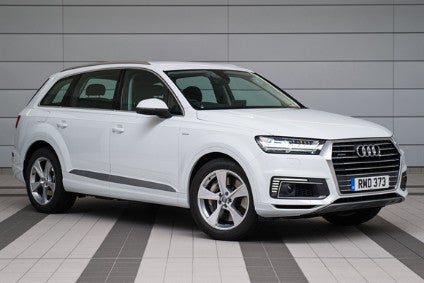 Volvo has gone one way with its four-cylinder petrol-electric plug-in XC90, while Audi believes Europeans wanting a plug-in hybrid SUV will prefer V6 diesel power. How does the first plug-in Q model for this region measure up?
At the risk of causing confusion, and this wasn't mentioned on the recent UK media drive event for the Q7 e-tron, there are in fact two different plug-in hybrid Q7s. European countries receive the diesel-electric model but a petrol-electric Q7 will soon be on sale in Japan, China and Singapore.
The Q7 2.0 TFSI quattro is powered by a direct injection turbo 2.0-litre four-cylinder petrol engine and one electric motor. Its claimed range on EV power is 33 miles (53km). The petrol engine and electric motor deliver 270kW (367hp) and 700Nm (516.3 lb-ft) of system torque. So in fact, Audi does have a direct rival for the Volvo XC90 T8, a car which will be reviewed here on just-auto.com soon.
Let's return to the Q7 e-tron, which too has 700Nm of torque. Combined power of 275kW (373PS) is from a biturbo V6 3.0-litre diesel and a 94kW motor. Top speed is 143mph and this big SUV cab reach 62mph in 6.2 seconds despite weighing 2,445kg. The official NEDC number is 156.9mpg. The CO2 rating is 48g/km so you can see how attractive the e-tron is going to be to business users, despite its steep starting price of GBP64,950 (US$85,935 / EUR77,007).
Due to the size and positioning of the battery pack, you can't have the e-tron as a seven-seater and range from the energy stored in those cells is a maximum of 34 miles. On the media test drive it was tricky for Audi to have the cars recharged quickly enough for the next group of paired writers to try the e-tron in silent mode. I tried a couple of examples and managed to feed some kinetic energy into the pack thanks to braking but if you're heavy on the throttle pedal, it's all too easy to quickly drain the batteries. The good news is that you can fully replenish the 17.3kWh cells with energy in two and a half hours via a public charger or a domestic wallbox.
Audi UK seems to be aware of the potential sticker shock issue as all cars imported to these islands will be in high spec form. That means LED headlights and tail lights with those must-have sequential indicators (Audi calls them 'dynamic'). Other standard gear on the plug-in Q7 includes MMI navigation with MMI all in touch, that fully digital virtual cockpit but with features specific to the e-tron, the expected Apple Car Play and Google Android Auto functionality embedded into the smartphone interface, and Audi Connect Infotainment.
One handy feature of an MMI app is the ability to remotely control the charging process and climate control, while you can check data from previous journeys too. There is an innovation in the climate system: the Q7 e-tron is world's first PHEV with a heat pump. In short, this minimises the energy consumed by the HVAC system by recycling heat given off by electrical drive components.
The driving experience is much like in other Q7s apart from the obvious lack of combustion engine sound when you hit the start button. You have a choice of modes and in EV, electric drive is prioritised, while selecting hybrid hold stores any available electrically generated energy for use later.
Unless the batteries are depleted, the e-tron always starts off in EV mode but if you want the diesel V6 to come to life all it takes is a firm press on the right pedal. The transmission is a modified version of ZF's eight-speed torque converter automatic, which Audi calls a tiptronic. This gearbox has been specifically engineered for the e-tron as the electric motor is integrated and the electronics will command the transmission to shift into coasting mode the moment the driver's foot lifts off. When this happens, both diesel engine and electric motor switch off. If you then need to slow the car, regenerative braking kicks in. This is really clever as the front-facing camera and data from the MMI navigation plus system will be ready for this situation, as will adaptive cruise control's radar sensors, if in operation.
The first deliveries of the new Audi Q7 e-tron commence on 1 August.