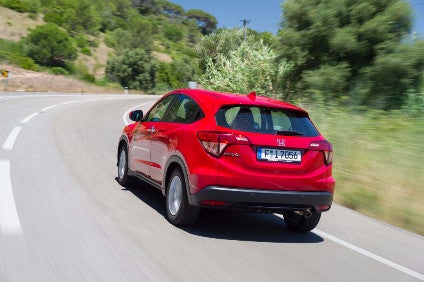 Obviously responding to a spate of recent recalls and new product development hitches, Honda Motor president & CEO Takahiro Hachigo has unveiled a new direction for the automaker, starting on 1 April.
"Processes that had grown increasingly complex raised some issues such as an increase in man-hours and workload in automobile development and production," Hachigo said in a speech in Japan.
"We will establish a structure where development teams at the spot can concentrate on creating automobiles and focus on the development of one whole vehicle as one product under a consistent concept.
"We will add some new positions, including new positions in charge of the area of product development, a new position in charge of conducting evaluations from the standpoint of the entire vehicle consistently for all models and new positions in charge of supervising design creation of Honda and Acura models, respectively, on a global basis.
"Through these changes, we will realise a development structure that can further highlight the unique characteristics of Honda."
He said roles and responsibilities for each area such as production, purchasing, quality, service and sales would be further clarified while a new company structure would enable the automaker "to make simple and speedy decisions".
Hachigo said, when he took over as the president, he introduced "two themes to be pursued for the creation of a new Honda" – advancement of the six-region global operation structure and "development of challenging products unique to Honda".
The Honda Walking Assist Device, now on lease sales in Japan, is one example of "challenging products unique to Honda".
"We are now preparing to evolve this business in Japan as well as in countries outside of Japan."
Honda wants to continue delivering "attractive products unique to Honda through our broad range of businesses" but also recognises a need for a fundamental transformation of business operations especially with the automobile business in order to further strengthen operational structures.
Under the six-region global operation structure, some regional models such as the Pilot in North America and the Brio Series in Asia have become key products supporting Honda's automobile business in each region.
Global models such as Fit [Jazz], Civic, Accord, HR-V and CR-V remain the mainstream products.
The redesigned Civic, which underwent a full model change in North America in November 2015, became the first Honda global model to adopt a new platform and a downsized turbo engine. This Civic already is scheduled to be launched in China and other Asian countries and is being considered for Japan.
The next generation CR-V and Accord also will adopt the new platform and a downsized turbo engine and be introduced as products with further refined design and driving performance.
Through the adoption of the new platform and powertrain, Honda will renew global models such as Civic, CR-V and Accord.
The Honda chief said the automaker would "re-emphasize" nore attention to the "product concept" and would "evolve further" design and driving experience, "which are a part of Honda DNA".
"We will start a project that will further advance and take our unique S-E-D-development system, a consistent flow throughout the areas of sales, production (engineering) and development, to the next level. At the same time, we will introduce a new approach to automobile manufacturing which requires consideration of electrification beyond the concept of a 'platform'.
"Through these initiatives, we will strive for the creation of attractive automobile products unique to Honda as well as improvement in the profitability of our automobile business and enhancement of our brands."
Global automobile production would be strengthened in two ways – "mutually complementary production by utilising global models" and strengthening production and sales of regional models in each region to accommodate local needs.
As already announced, Europe – the under-used car plant in Swindon, England, would become the base for supplying the next Civic hatchback to North America and other parts of the world. Japan will be a base for "providing flexible support for production/supply of other regions depending on the demand and supply balance in each region".
Honda Japan began supplying North America with the Fit last year. As just-auto reported today, it will begin exporting the Accord Hybrid this year.
"In the future, we will consider producing and exporting Civic and CR-V while carefully monitoring demand in North America so that we can establish a mutually complementary production system between Japan and the US, Hachigo said.
"For Europe, in addition to the Jazz, which we have already been supplying from Japan, the HR-V [currently from Mexico] and CR-V will be supplied from Japan so that Japan will complement production in Europe which will focus on production of the next Civic hatchback.
"For Canada, the original plan was to have Canada produce and export CR-V to Europe. However, in order to accommodate high demand for light truck models in North America, the plan was changed to have Canada focus on supplying CR-V for North America and have Japan export CR-V to Europe.
"In Japan, with production of the export models mentioned above and strengthening of sales of Japanese models, we will strive to realize a production system with annual capacity at the level of about halfway between 900,000 to 1m units."
In North America, in addition to the Pilot, the just-redesigned Ridgeline and the next CR-V and Odyssey are scheduled to be launched.
"In order to accommodate these new model introductions and high demand for light truck products in North America, production of large-sized SUVs which have been concentrated at the plant in Alabama will be expanded to another plant. The East Liberty Auto Plant in Ohio will start producing the Acura MDX in 2017 as the second plant to produce light truck models in North America," Hachigo said.
In China, production will be expanded along with the introduction of key new models such as a large-sized SUV which is scheduled to be announced this year under the Honda brand and a new Acura compact SUV.
In Japan, the Freed compact minivan is scheduled to undergo a full model change this year.
"We will strive to optimise the supply-demand balance on a global basis through the establishment of a structure that enables prompt production and supply of products with high product strengths and profitability," the Honda chief said.
Electrification technologies will also get a boost, including the EV-CUB electric motorcycle, scheduled for Japanese market launch in about two years, and subsequently in main ASEAN countries.
Honda plans to position plug-in hybrids at the core of its electrification and introduce a new PHEV in North America by 2018. All major models will eventually have a PHEV variant.
Sales of the Clarity Fuel Cell vehicle begin in Japan in March.
The next-generation fuel cell system, developed jointly with General Motors, will move towards production and purchasing, with launch planned around 2020.
"With these initiatives, we will strive to make two-thirds of our overall unit sales from plug-in hybrid/hybrid vehicles and zero-emissions vehicles such as, FCVs and battery EVs by around 2030," Hachigo said.
Honda even plans electrification of lawn mowers (it has a big Power Products plant in France supplying Europe) and construction machines and "enhance the lineup of automated machines that come after the electric robotic lawnmower. In this way, we will contribute to the reduction of CO2 emissions".
Other plans include development of a smart hydrogen station.
"Through these initiatives, Honda – the world's largest powertrain manufacturer whose broad range of businesses includes motorcycles, automobiles and power products – will strive to become a company that leads the world's CO2 reduction efforts," Hachigo concluded.