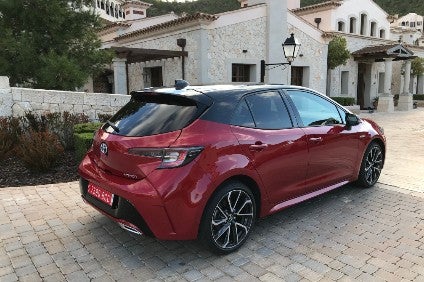 I came away from the European media launch of Toyota's latest generation Corolla on the Balearic (Spanish) island of Majorca with the distinct impression that the late decision to revert the nameplate back to Corolla – used worldwide since the model first appeared in 1966 – from Auris, used in Europe for two generations plus mid-life facelifts between 2007 and 2018, had rather caught country distributors on the hop. Why the change?
The official answer, from a Japanese executive, was now all versions are built on the same Toyota New Generation Architecture (TGNA) we've been hearing about with every new model launch since the latest Prius, it made sense to again name all versions worldwide Corolla. Toyota GB (TGB) people were insistent the Corolla badge still resonates well with consumers (I suspect a focus group or two may have been involved) and current Auris owners won't be fazed, nor will those who currently inhabit the likes of competing C-segment product such as Focus, Astra, Golf, etc., from whom sales hopefully will be conquested.
I think they're right. Exhibit A would be my neighbour who, after a disastrous experience with a Mk4 petrol VW Golf company car he took with him into retirement, swapped to his first Auris – a near-new 2008. He's now on Auris #4, his third hybrid and pretty much the current model (UK Corolla deliveries start in March), and I fully expect, within a year, to see a Corolla replacement on his driveway. Why? Well, come every change, the personal contract plan (PCP) lease payment has gone down and the spec has gone up. Car is right, deposit (the trade-in) is right, monthly payments are right, dealer is right. Equals happy, long-term, loyal customer.
Mention that to TGB execs and they say the recent Auris' high residual values, especially for the hybrids, are key. Knowing they can get more for the used car at the end of the lease term allows lower monthly payments. The Corolla looks like achieving likewise with a forecast average 49.5% retained value after three years compared with a competitor average of 38.3%.
New range
And so to the new Corolla range. The boat has not been rocked too much. Three body styles are again on offer after a hiatus: UK-built hatchback, Touring Sports (estate car or station wagon to you) and, in the UK's case, a reintroduced Turkish made saloon (aka sedan). Diesel's gone completely and the entry level engine is again the nice 1.2, I4 petrol turbo I sampled a while back in the Turkish built C-HR crossover with six-speed manual gearbox only. In the UK, that's available across the Icon, Icon Tech and Design trim levels while the carry over, but much-modified, automatic-only, 120hp 1.8 hybrid powertrain extends also to the top Excel trim offered only with the hatchback and wagon body styles, and also not with the 1.2.
The big change is the availability of a second, more powerful, 178hp hybrid powertrain combining a new two-litre engine with the latest hybrid tech seen underneath the Prius, recently redesigned RAV4 (which has a 2.5 litre petrol engine) and other Toyota group models such as Camry which makes a western Europe return this year.
TGB said its hybrid sales last year rose 26% while the overall market for passenger diesels was off 29% hence its all-petrol, mostly hybrid powertrain choices. It expects hybrids to account for around 90% of Corolla sales, adding that the more powerful two-litre gives it an "additional 20% of market opportunity".
In an overall UK market down in 2018 6.8% to 2.37m units, TGB is a relatively small player with sales last year flat at 101,479 units though market share was up 0.3% at 4.3% and the company was seventh for retail sales with a 4.8% slice, also up 0.3%. The outgoing Auris accounted for 13,394 sales and a 5% share of its segment.
Trim level split for the new Corolla is pegged at 5% Icon, 45% Icon Tech, 20% Design and 30% Excel. Hatchbacks will account for 60% of sales, the estate 30%-35% and the sedan 5%-10%.
The saloon has been reintroduced to give current Avensis sedan owners something to trade up to when the time comes. The now defunct UK built sedan (there was also a wagon; the hatchback having been dropped some years ago) was good for 4,000 sales a year and TGB wanted to offer a suitable replacement with a similar boot capacity and with a hybrid option – its first such sedan for UK sale. Again, 90% are expected to be ordered electrified.
Redesign
TME displayed a first generation, LHD, two-door Corolla sedan at the launch, reminding us of how much cars have grown. These latest C-segment cars sit, in sedan and estate form, on a newly lengthened, 2,700mm wheelbase. Thirty-five years ago, Japan Automaking Inc switched many of its D-segment models from RWD to FWD on a 2,600mm wheelbase, greatly improving interior packaging and, especially, rear seat legroom for western export markets. Today, a C-segment Corolla is bigger.
Chief engineer Yasushi Ueda said 'dynamic styling' and 'driving pleasure/fun-to-drive' were the two main pillars of design and styling.
"One of the big merits of this new [TNGA-based GA-C platform] is that it allows designers more freedom to create a dynamic exterior. All three Corolla body types now have a distinctive and individual look, with a lower stance and more appealing proportions. We've also ensured better all-round visibility for the driver by introducing thinner A-pillars and a lower dashboard and bonnet.
"The new Corolla shares its platform with the latest generation Prius and C-HR. From that point of view, we already knew we had a good basis for driving dynamics thanks to a low driving position, a lowered centre of gravity and a multi-link rear suspension. Nevertheless, we were able to improve the dynamic performance even further."
There is a lot of detail difference between saloon and hatch/estate – none of the nose is interchangeable, for example.
Ueda said: "Based on customer research we conducted at the beginning of the project, it was clear that hatchback and Touring Sports customers are very keen to have a dynamic looking vehicle, whereas saloon owners tend to prefer a car with a more prestigious look.
"Visually, the three body types are clearly related thanks to their overall sporting shape, but we've added more of a prestige touch to the saloon's exterior design.
"Dynamically, the car is aimed at Europe, but for other markets we conducted some further regional tuning, optimising suspension and steering set-ups to ensure that the car copes well with local road conditions.
"The hatchback has a more dynamic character with a more direct response and more agile feeling. The saloon and Touring Sports both make use of the extended wheelbase to combine good handling with more ride comfort – especially for the rear passengers – while still offering a stable ride.
"Of course we also had to tune the Touring Sports's suspension to ensure the same level of handling even when the owner makes full use of the car's higher load capacity. These different characteristics were already defined at the beginning of the development programme."
The centre of gravity has been lowered 10mm, multilink rear suspension is standard across the range and the body shell is 60% more rigid, achieved through the use of high-strength steel reinforcement in key areas.
A considerable reduction in the car's body weight has been achieved by making extensive use of high-tensile steel and hot-stamped materials, and by reducing the thickness of the door and roof panels. Applying adhesives and more spot welding throughout the body shell and using fully closed cross sections and structural rings, together delivered that increase of around 60% in body rigidity.
Handling and agility were further improved by the engine's low mounting height, a lower hip point for the seats and the location of the hybrid battery beneath the rear seats or under the load floor.
Suspension
The new Corolla uses a proven MacPherson strut front suspension, a new multilink arrangement at the rear and new shock absorber valve technology. The front suspension geometry has been revised with new shock absorbers and coil springs optimised for a linear steering response in mid to high-speed cornering. The characteristics and clearance of the bounce stoppers and location of the anti-roll bar have been optimised, and the strut bearing rotation axis has been realigned from the shock absorber to the king pin (steering) axis, reducing the left/right side steering force differences and enhancing steering feel.
The suspension arm and bush structures have been changed and the friction of sliding parts has been reduced to achieve quicker shock absorber response and minimise the transmission of shocks from rough surfaces.
The new multilink rear suspension is notably compact and makes use of new coil springs, offering both handling stability and ride comfort. Link arm location has been optimised to keep the tyres at a toe-in angle, both during cornering and under braking, securing better response to steering inputs and stability. Friction in both the front and rear suspension has been reduced by 40%, helping gain a smoother and more comfortable ride.
Aerodynamics
The GA-C platform offers the further benefit of allowing for the design of a highly aerodynamic body shape, thanks to factors such as the reduction in overall vehicle height and a significantly lower bonnet. The new cars has a full underfloor cover and there are aero stabilising fins on both the rear bumper seal and the rear lamp clusters to help direct airflow and improve handling stability.
Improved NVH
The new Corolla builds on the inherent quietness of hybrid technology with numerous measures to minimise noise and vibration entering the cabin. The engine installation has been designed to minimise vibration at start-up and idling speeds. The increase in engine speed at the start of acceleration has been suppressed, to achieve both a more linear match between engine and vehicle speeds and quieter running under acceleration. The GA-C platform contributes to the suppression of transmission vibration, the steering wheel pad acts as a dynamic damper to suppress steering vibration, and even the tool box design helps reduce vibration in the rear floor panel. Generous application of sound-absorbing and insulating material in the engine bay combines with a triple-layered dashboard inner silencer to minimise the ingress of engine and transmission noise into the cabin. The car further benefits from an integral floor silencer, increased body sealer in the gaps between panels and foam material injected into numerous locations around the body frame to reduce wind and road noise levels in the cabin.
Improved 1.8-litre hybrid powertrain
The fourth generation 1.8-litre hybrid system develops 120bhp/90kW and 142Nm of engine torque, with the added power of a 53kW/600V electric motor that produces maximum torque of 163Nm from zero rpm.
The four-cylinder, 1,797cc DOHC Atkinson cycle engine has been made smaller and lighter to fit within the new GA-C platform and benefits from numerous measures to enhance acceleration and reduce noise levels in the cabin.
Its fuel efficiency has been improved by reducing friction, creating high tumble flow and optimum heat management. Friction reduction measures include a new piston skirt shape, with a resin coating on its sliding parts; a spacer fitted inside the cylinder block water jacket to suppress deformation of the cylinder bore; low-friction valvetrain and chain drive components; and optimisation of the crank and connection rod bearings.
High tumble flow has been achieved through adjusting the shape of the intake port and piston, enhancing exhaust gas recirculation (EGR) performance and improving combustion. A diagonal squish combustion chamber, aligned with the spark plug angle, has improved anti-knock performance and fuel efficiency. The EGR system valve has been enlarged to optimise gas flow; the intake manifold gas distribution structure has been optimised; and the efficiency of the EGR cooler heat exchange has been increased.
Heat management has been optimised by using a low-flow-type electric water pump and by splitting the cooling path in two – one route for the engine and the other for the heater. A flow shutting valve has been installed between the water outlet and the EGR cooler to reduce the flow of coolant during engine warm-up. Other measures include using thin, long-reach spark plugs, changes to the shape of the combustion chamber water jacket and the promotion of high tumble flow in the cylinders.
Better acceleration performance has been gained by using dual needle-type spark plugs to improve ignition, and a rectangular-type ignition coil.
Adjustments to the main engine body promote low vibration and noise, while noise experienced in the cabin has been further reduced with new engine mount shape and positioning and a new-shape exhaust silencer. A new resin cylinder head cover saves weight and reduces noise and vibration.
The hybrid system has a smaller, lighter transaxle with a dual axis structure for the electric motor and generator, achieving a low-loss gear train with smaller overall width than a single-axis arrangement. The parallel axis design allows for both an increase in the motor's rotation speed and a reduction in its size.
The gear ratio has been optimised to promote maximum fuel efficiency and dynamic performance. The new gear structure also benefits from polished gear tooth surfaces, which further suppresses resonance and operating noise.
Greater torque from the electric motor providing a more linear increase in revs under acceleration, while a new hybrid battery pack – lithium-ion for the hatchback and Touring Sports, nickel-metal hydride for the saloon – contributes to better fuel economy.
Performance figures for the hatchback, Touring Sports and saloon with the 1.8-litre hybrid powertrain are 0-62mph in 10.9, 11.1 and 11.0 seconds respectively. Top speed for all three versions is 112mph. Fuel consumption for the hatchback and Touring Sports is from 55.42 to 65.94mpg (combined, WLTP), with 76g/km CO2 emissions (NEDC). For the saloon the respective figures are 49.26 to 65.46mpg and 77g/km.
New two-litre hybrid powertrain
This develops 178bhp/132kW and 192Nm of engine torque, with added power from an 80kW/650V electric motor that produces 202Nm maximum torque from zero rpm.
There is more power, a sport driving mode and a six-speed sequential 'shiftmatic' transmission with steering wheel-mounted paddle shifts.
The aluminium engine block has been designed for minimum weight, with its outer wall thickness reduced to 2.3mm, and a low centre of gravity. Other weight-reducing measures include a thinner cylinder head, a lightweight timing chain case and a lighter valvetrain.
Fuel efficient, high speed combustion is achieved through a high tumble flow created by an efficient intake port design and long stroke. There is also a new oil pump and, in common with the 1.8 hybrid system, numerous friction reducing measures and a 14.0:1 compression ratio.
The four-cylinder, 1,987cc engine has an uprated Dual VVT-i system with VVT-iE electric intelligent variable valve-timing on the intake side. This uses an electric motor instead of oil pressure to control timing, which improves output and efficiency while reducing emissions. Emissions are also reduced by locating the catalytic converter closer to the engine and by initiating warm up control after the engine is started to achieve early and better exhaust purification.
Powertrain noise levels are lowered by the use of a balance shaft, changes to the position and shape of the engine mounts, structural changes to the transaxle, gear tooth polishing, a positive/negative hysteresis damper, a lightweight timing chain and revisions to the water pump motor.
The new powertrain shares the same benefits of reductions in size of the transaxle, power control unit, motor and nickel-metal hydride hybrid battery as the 1.8-litre.
Maximum EV drive cruising speed has been increased to 70mph and system control has been changed so that the engine cannot be started without pressing the accelerator pedal, even before engine warm-up starts. These measures all substantially enhance fuel economy.
Zero to 62mph acceleration times for the hatchback and Touring Sports are 7.9 and 8.1 seconds respectively; top speed for both versions is 112mph.
Combined cycle fuel consumption (WLTP) for both models is 50.43 to 60.62mpg; CO2 emissions are 89g/km (NEDC).
1.2-litre turbo petrol engine
The engine is a four-cylinder, 16-valve DOHC 1,197cc turbo petrol unit developing a maximum 114bhp/85kW and 185Nm of torque.
It features a single-scroll turbocharger with a water-cooled intercooler and a Dual VVT-iW (wide) system that provides standard intelligent variable valve-timing on the exhaust valves and "wide" timing on the intake side (featuring a mid-position camshaft lock mechanism to retard the continuously variable valve timing).
Maximum engine speed has been raised from 5,600 to 6,200rpm for smooth acceleration during low-speed driving.
Friction reduction measures to improve fuel efficiency include a DLC (diamond-like coating) on the outer circumference of the compression and oil rings, a new resin coating for the piston skirt and crankshaft main support and optimisation of the thickness and material of the V-ribbed belt.
The six-speed intelligent manual transmission (iMT) automatically increases engine revs when downshifting, ensuring a smooth gear change and improving clutch and transmission wear. The system also works when upshifting, reducing clutch shock for a more comfortable drive. It also ensures a smooth start and reduces the risk of stalling to almost nil.
Acceleration from rest to 62mph is 10.1 seconds (hatchback), or 10.2 seconds (Touring Sports). Maximum speed for both versions is 124mph. Fuel consumption (combined, WLTP) is from 39.41 to 47.24mpg with CO2 emissions from 128g/km.
TMC hybrid specialist Hiroyuki Tsukashima said: "The 1.8-litre system was developed for customers who value fuel economy, while the 2.0-litre powertrain has been developed for those who want more power and a more dynamic drive. But the difference between the two is not limited to the displacement of the combustion engine. The latter is a completely new self charging hybrid system that can offer both excellent fuel efficiency and enthusiastic driving.
"The 1.8-litre HV system is basically the same as that found in Prius and C-HR but we made some small tuning changes to further refine the powertrain and enhance the driving experience.
"For the new 2.0-litre hybrid powertrain, we further developed not only the rate of acceleration but also the sense of acceleration. By suppressing the initial engine rpm by using more battery and electric motor power, we were able to realise a more linear feeling of the engine and vehicle speeds matching during acceleration.
"Since the 2.0-litre hybrid system has more battery cells than the 1.8-litre, it can both develop a greater output and offer more regenerative energy.
"The difference between the transaxles in the 1.8 and 2.0-litre systems is in the size of the motor and gear. On the 2.0-litre hybrid powertrain we provide shift paddles as they give the driver more control and so allow for a more enthusiastic driving experience."
Bodies
Hatchback overall length has was increased 40mm with front and rear overhangs reduced by 20mm. Overall height is down 25mm and cowl height reduced 47mm. Front track has increased 6mm and rear track by 30mm.
The Touring Sports body type is exclusive to Europe and was styled at Toyota's new design centre in Zaventem, Belgium. Every panel rear of the centre pillar is exclusive. Although the front and rear overhangs have been reduced, the model is 55 mm longer than the model it replaces with wheelbase 100mm longer (at 2,700mm) and front to rear couple distance increased 48mm (to 928mm) to give claimed best-in-class rear passenger legroom.
Saloon overall length has been increased by 10mm (to 4,630mm) – 5mm has been taken from the front overhang, while the rear overhang has increased by 15mm. The extended, 2,700mm wheelbase is the same as the estate.
Interior
Inevitably the Corolla has adopted the tablet-balanced-on-the-dashtop style of centre ICE display and an instrument cluster that combines analogue dials with a large central screen which offers a different style on saloon models. Equipment ranges from generous to lavish and materials and finish are to a very high standard for the class
The new instrument panel is 24mm slimmer overall while the centre console is 42mm wider and 22mm higher to improve switchgear and shift lever ergonomics. Centre console arm rest sliding range was increased by 20mm to improve comfort.
Toyota insiders pointed out the conventional style of automatic transmission selector saying hybrid buyers "do not want a joystick" as previously used.
A new steering wheel has integrated heating and improved switch layout.
The driver's instrument binnacle has that seven-inch multi-information display (the saloon's is unique to that model), the central eight-inch multimedia 'tablet' display, electronic parking brake control and an auto-dimming rear-view mirror.
Front seats are redesigned and new 'sports' front seats for Excel models have slim and wide shoulder supports and thick side bolsters.
The rear seat has new cushion material and rear air vents have been added.
Materials and trim finishes include satin chrome plating and paint, piano black inserts and surfaces covered in a leather effect material. The hatchback and Touring Sports have black interiors with fabric or part leather upholstery while the saloon has black cloth.
Tech
TGB stressed the extensive standard equipment specifications for UK cars – details and trim level names vary by European (and global) market.
LED headlights are standard on all versions – parabola or bi-beam units along with the seven-inch multi-information display and eight-inch central touch-screen and access to connected services (with more planned on a gradual introduction basis).
All versions have the Toyota Touch 2 multimedia system and navigation comes with all but entry level Icon versions. Operation and functionality have been improved, with faster response and boot times and allowing the use of pinch, zoom and side commands like smartphones. There is now a One Box Search facility and the sharpness and contrast levels have been adjusted for improved readability, even in direct sunlight.
All versions are fitted with eCall which can automatically contact the emergency services with the vehicle's location and number of people on board in the event of an accident in which the airbags are deployed. It also enables occupants to communicate with the emergency operator. The system can be operated using a one-touch button, making a call to the emergency services using the car's built in SIM, at no charge to the vehicle owner.
Proposed connected services include Last Mile Guidance, Send to Car Navigation, Driving Analytics and Maintenance Reminder.
Excel versions can be optionally equipped with an eight speaker JBL Premium Sound System while Design and Excel variants can be had with a panoramic roof which now comprises two glass panels with the front section sliding to give a maximum opening of 272mm. When the panel is fully open, a mesh deflector reduces wind noise. The roof also comes with an internal electric roller shade. Current Auris has only a fixed glass roof.
From Icon Tech and up, TGB includes Simple Intelligent Park Assist with automatic braking (SIPA), an intelligent park assist system which uses a rear camera and sensors on the sides of the front bumper to identify viable reverse and parallel parking spaces. It will then automatically apply the correct sequence of steering inputs to manoeuvre the car into the target space. The driver needs only to control the vehicle's speed; SIPA automatically applies the brakes to ensure safe operation.
The standard Safety Sense package has been improved by adopting a new, higher resolution single-lens camera which works with a millimetre-wave radar to detect potential hazards. Both elements have a wider scope of detection and improved functionality, and the system unit has been made smaller for easier installation. Upgraded versions of the Pre-Collision System (PCS), intelligent Adaptive Cruise Control (iACC), Lane Departure Alert (LDA), Road Sign Assist (RSA) and Automatic High Beam (AHB) are used and a new Lane Trace Assist function has been added. That's for hybrids; on versions with the 1.2-litre engine, Lane Trace Assist is replaced by Lane Departure Alert with steering assist and the Adaptive Cruise Control operates only at higher speeds.
Verdict
A considerable number of social media posts during the launch event confirmed our own impressions – the new Corolla is a significant improvement over its Corolla/Auris predecessor and is particularly notable for refinement and interior quietness, especially in the new saloon which lacks the potentially resonating loadspace of the hatch and estate which is much harder to 'ush. Performance is as expected in the 1.8 hybrid and noticeably more eager in the new two-litre. Handling is excellent and the various tech items such as radar cruise control and lane trace assist work well while being intuitive to set up and use. We'd expect the car to at least meet its European sales goals while in some markets, such as Thailand where seemingly every Bangkok taxi is a Corolla, it should soon be ubiquitous. A very good redesign.