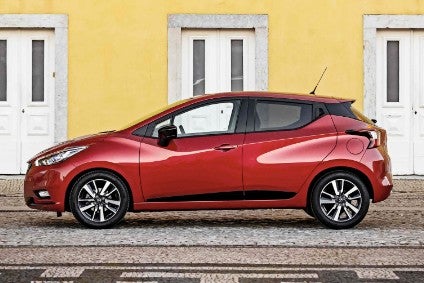 Why isn't Nissan Europe a more powerful force in small cars? Intense competition in the Qashqai segment and the surrendering of the B-SUV class to every other brand as the Juke has grown ever older are the reasons for the current woes. Yet none of that should be affecting the performance of the Micra. It's a cracking little car and deserves to be more popular.
As recently as 2018, Micra sales were close to six figures in European markets, this being easily the number one region. It isn't sold in the USA or China or even Japan, mostly because the K14 series model was developed especially for Europe, plus it's manufactured in France, by Renault. Not that that should be a reason why it can't be exported to, say, Asian markets, as Renault ships the Clio to Japan and South Korea.
The Micra has much in common with the Clio, in fact. And not the X98 fourth generation model but the new BJA. Nissan's car was the first vehicle for the Alliance CMF-B architecture so for the last two and a half years, it has been a state of the art design whereas the Clio used an outmoded platform. Which is why K14 was able to be easily updated at the start of 2019 with a fresh Alliance engine called HR10DDT. Developed in partnership with Daimler, the one in the latest Micra has a capacity of 999cc, develops 117PS and 200Nm and comes with an Overboost facility for its turbocharging system. This engine will also be available in the second generation Juke later this year.
Nissan specifies a six-speed manual gearbox for the Micra's three-cylinder motor and it's a great combination. Fitted to what is a new variant called N-Sport, it pushes the car to 62mph in 9.9 seconds from standstill and where possible, on to a top speed of 121mph. The CO2 average is 133g/km and the Combined consumption is 47.9mpg which isn't as good as what the test car showed over a few hundred miles: 49.1mpg.
The best thing about the HR10DDT is how happy it is in relatively high gears. You can stay in third and sometimes fourth at times when heavier cars with engines this small will need a change down to second. There are many long and often steep hills near where I live. The Micra was perfectly happy climbing them without the downchanges that become a habit in some small crossovers and SUVs. You don't get too much lean in corners either, something which came as a pleasant surprise.
Who knew any Micra could be as much fun as this one? Sure the steering isn't as sharp as that of a Fiesta but there's little in the way of sloppiness and for a 3,999mm long car with a short wheelbase, 17-inch wheels and lowered suspension, it rides perfectly well.
I have a personal theory about why the latest shape Micra may not be as popular as the older ones and it's to do with the way it looks. Might Nissan Europe have made a decision to try to bring down the average age of those who buy it? Where previous generations have been very curvy, this one is all angles, concealed back door handles, fin-like tail lights and generally way less vanilla. I like it a lot and am amazed that it doesn't sell better than it does. Not that numbers are bad, just not as good as they could be. According to Jato Dynamics, H1 sales in Europe numbered 36,642, a drop of 24.1 per cent compared to 48,281 for the first half of 2018.
Its hard to find much to complain about inside the car. Everything is fairly generic in its design and looks with white air vents and a black headliner distinguishing the N-Sport from other Micras. Nissan has done something unusual with surfacing: padded Alcantara is embedded into the surface of the dashboard. This lends the N-Sport something of a premium look and feel, which I wasn't expecting. Pricing seems fair too, the press vehicle being listed at GBP19,005. That includes equipment which others charge you for or don't offer, such a reversing monitor, front console storage, electrically folding heated mirrors and 17-inch wheels (through which you can see drum brakes at the back).
The new Micra N-Sport is available with two other powertrain choices, these being a 100PS IG-T three-cylinder or a 90PS 1.5-litre diesel. The first of those replaced the former 90PS 900cc engine as part of changes announced at the start of the year. There is one other option, that being the 71PS three-cylinder petrol for cheaper trim levels.
Summary
As good as this car is, it isn't quite in the same class as the Fiesta and Polo, not that the 117PS N-Sport is a long way off their standards when it comes to dynamics. In fairness to Nissan, that's never been what any Micra has been about. Low cost of ownership and faultless reliability are the model's trademarks. Now there's a dash of style too.
The imminent arrival of the long overdue second generation Juke might also boost Micra sales as people see the smaller hatchback alongside it. With these two models in the B segment, Nissan Europe will soon have a strong chance of clawing back market share. That's down by 10.56% year to date in Britain but only 1.92% in July which bettered the overall market – looks as though the Micra is already helping.