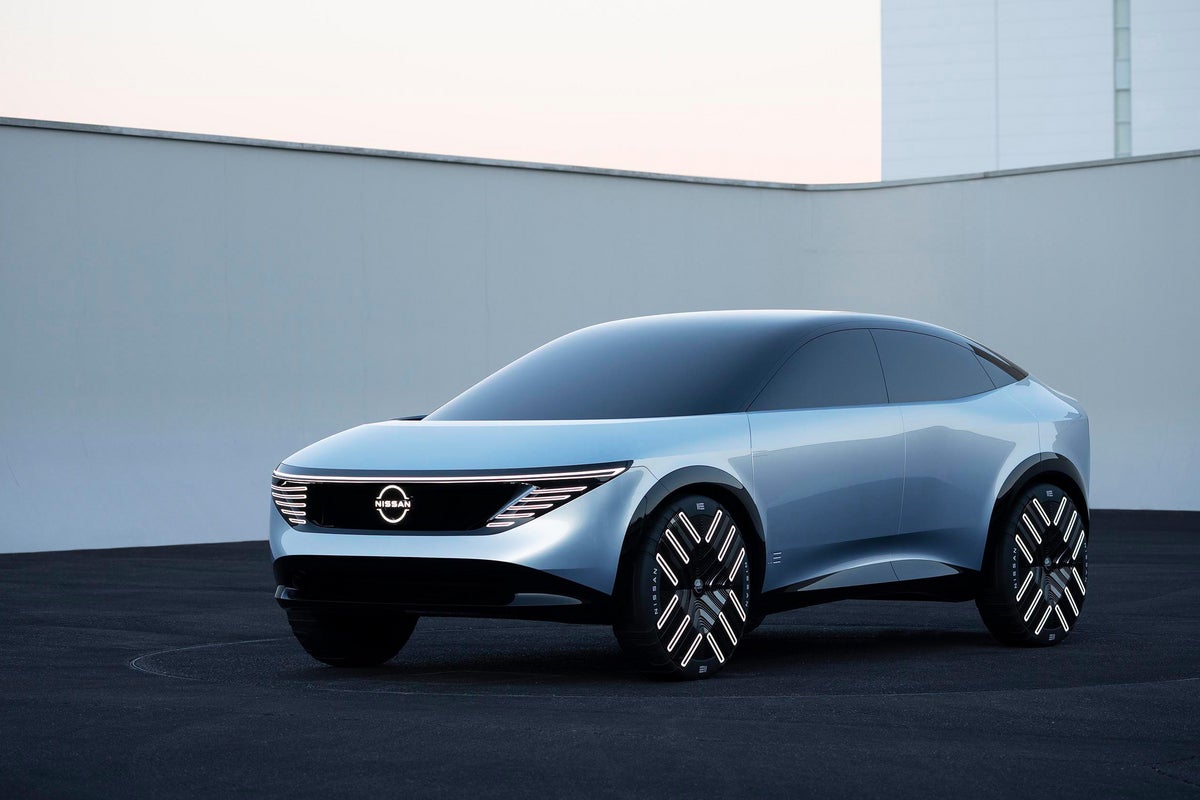 Slowly, Nissan Motor is returning to form after several trying years. As with its Infiniti division, the main focus now that it's profitable again is getting so many overdue new models launched. This report looks at what's coming soon, and later in the 2020s.
Cars
The Sakura, Nissan's smallest EV, is part of NMKV, the Nissan-Mitsubishi Motors Kei models joint venture. The maximum range is only 180 km, power and torque are 47 kW and 195 Nm and the battery's capacity is a mere 20 kWh.
This 3.4 m long hatchback was revealed in May as was its Mitsubishi eK X EV equivalent. Each is based on a special electric architecture called Kei-EV. Both are built at a Mitsubishi factory.
A facelifted Sakura – along with a new battery – should arrive in 2026 and a second generation in 2029.
Renault will build an electric replacement for the Nissan Micra, it was confirmed in January. The car will be manufactured at what Renault calls 'ElectriCity', a collective name for three retooled manufacturing plants in northern France: Douai, Maubeuge, and Ruitz. Timing isn't yet official but Nissan's Guillaume Cartier stated in a recent (June) interview that it would be "2024-2025″.
Due for a replacement in 2025 and a facelift in the coming weeks, the Sylphy is easily Nissan's most successful model in the world's largest market for new vehicles. In North America, the Sentra name has long been used for this C segment/Compact model.
A seventh generation Altima might be the electric model which Nissan Motor America stated in February 2022 that it would build alongside a related Infiniti at its Canton plant in Mississippi from 2025. What becomes of today's built-in-China Nissan Teana, a slightly altered Altima, isn't yet known.
Pick-ups
China's Zhengzhou Nissan joint venture announced initial details of the Ruiqi 7 in March, sales commencing two months later.
This four-door pick-up is a modified version of the Navara but is more luxurious than the Nissan original. There are both petrol and diesel turbocharged four-cylinder engines.
The replacement for the Navara/Frontier will use an evolution of the Mitsubishi L200/Triton platform. Given that the current model was last facelifted in October 2020, the next generation will likely have been delayed until late 2023.
Nissan's pick-up strategy for the US and Canada echoes that of Toyota's: most of the rest of the world has a slightly shorter pick-up/ute/bakkie (Hilux/NP300 or Navara/Fontier) but the equivalent for North America is its own design and on a different platform and life cycle (Tacoma/Frontier). Some believe that Nissan will not sell the new generation model in European countries.
For what becomes of the brand's largest pick-up, the Titan, see the link to PLDB at the end of this report.
Crossovers & SUVs
Until the Qashqai e-Power is launched in all markets, the Juke Hybrid is Nissan's newest petrol-electric SUV. This is a genuine hybrid, not an e-Power model, in that the petrol engine drives the wheels rather than acting solely as a back-up power source. The powertrain is very similar to what propels the Renault Captur E-Tech Hybrid.
The 1.6-litre four-cylinder ICE produces 69 kW and 148 Nm of torque, supported by a motor with outputs of 15 kW and 205 Nm. There is also a 15 kW high voltage starter/generator, inverter, 1.2 kWh water-cooled battery and automatic transmission. Boot space is down by 68 litres to 354 l compared to the petrol-only Juke due to the battery encroaching into it.
To reduce friction, the gearbox uses dog clutches instead of synchroniser rings to shift the 4 'ICE' ratios and 2 'EV' ones. All starts are electric, and the car's two motors are used in combination to synchronise the gears. The Juke Hybrid will run in EV mode up to 55 km/h.
Nissan is scheduled to facelift the Hybrid and other versions of the Juke in late 2023 and replace it in 2027.
A new electric vehicle which uses the R-N-M Alliance's CMF-EV platform was announced by Nissan for its Sunderland factory in July 2021. There were no other details but Just Auto discovered that, despite some vague working in the media statement, it won't be for another Alliance brand but for Nissan.
The Leaf is due to be built at the north east England plant until 2024 so this model – a Leaf SUV – will be the replacement. Nissan will evolve it into a crossover or SUV, it was stated in October 2021.
The Chill-Out concept, shown in a November 2021 presentation and pictured above, is believed to be the basis of the Leaf's successor.
Once a huge seller for Nissan Europe, the Qashqai has become a shadow of its former self. Not that there is anything inherently wrong with the new generation model; more that it took the parent company so long to launch it.
Next comes the variant which has been needed for a while, the e-Power. Driven at all times by a 140 kW (190 PS) and 330 Nm motor, the Qashqai e-Power is charged – via an inverter – by a 115 kW (158 PS) and 250 Nm 1.5-litre variable compression three-cylinder turbocharged back-up range extending engine. The e-Power is front-wheel drive only and cannot be plugged in.
In Europe at least, there's also a mild hybrid 'DiG-T' 1.3-litre petrol engine available with a choice of two power outputs. These are 103 kW (140 PS) and 240 Nm with manual transmission and front-wheel drive or 116 kW (160 PS) and 260 Nm for manual-FWD or an extra 10 Nm for the FWD-CVT and AWD-CVT alternative. Mild hybrids have 12V not 48V electrics for reasons of cost, Nissan says.
All versions of the Qashqai should be facelifted in early 2025 and replaced in 2028.
The Ariya, a 4.6 m long electric crossover, has been delayed (by Covid, mainly) and announced anew so many times it's almost difficult to believe that the global roll-out is still happening.
Revealed in Japan in 2020, it didn't become available there (the first market) until early 2022 and only then in limited edition form. Sales officially commenced on 12 May. Vehicles for Europe and China are due to arrive soon, the same applying for North America.
There is a choice of 65 kWh or 90 kWh (nominal) battery packs (useble capacities: 63 kWh or 87 kWh) and multiple power outputs, depending on the market:
FWD
65 kWh battery: 160 kW (217 PS) and 300 Nm
90 kWh battery: 178 kW (242 PS) and 300 Nm
AWD
65 kWh battery: 205 kW (278 PS) and 560 Nm
90 kWh battery: 225 kW (306 PS) and 600 Nm
90 kWh battery: 250 kW (340 PS) and 560 Nm
90 kWh 'Performance' battery: 290 kW (394 PS) and 600 Nm
Tochigi, north of Tokyo, is the main plant but build will also take place in China. We should expect a seven to eight-year production life, which means a facelift would be due in 2025 and the second generation in 2028/2029.
The Y63 series Patrol (Armada in North America) is long overdue and should finally appear during 2023. The platform will be new and the 5.6-litre V8 is unlikely to be carried over. Instead, a turbocharged V6 should be standard. Nissan Shatai's Kyushu factory will build this big ladder frame chassis 4×4.
There is a strong chance that this generation model will be fitted later in its life with a hybrid powertrain, and it may even eventually be available as an EV.
Reports for many other manufacturers' future models are grouped in the OEM product strategy summaries section of Just Auto.
Future platform intelligence
More detail on past, current and forthcoming models can be found in PLDB, the future vehicles database which is part of GlobalData's Automotive Intelligence Center.
This report is the sixth in a series for the Renault-Nissan Alliance's divisions and brands. First came a feature on Renault, followed by Alpine, Dacia and Mitsubishi, and then Venucia plus Infiniti.