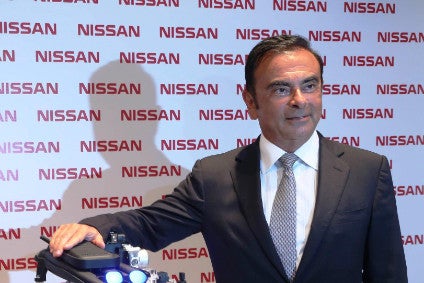 Nissan Motor expects its global alliance with Mitsubishi Motors will yield some early synergies in South-east Asia, a region in which it has struggled to keep pace with Japanese rivals Toyota and Honda.
Nissan acquired a 34% in Mitsubishi last October, when the company was hurting from the fuel-economy scandal which sent its domestic sales sharply lower and decimated earnings.
At the time of the acquisition, Carlos Ghosn, CEO of Renault-Nissan and head of the partnership with Mitsubishi, outlined far-reaching global synergies between the brands that would help bridge the competitive gap with its main global rivals.
After all, Renault-Nissan-Mitsubishi is now the largest vehicle manufacturing group globally, on a sales volume basis, so the opportunities are significant.
Mr Ghosn said he aims to eliminate most operational duplication across the group in the next 3-4 years, from shared development of key underlying technologies, component standardisation, platform sharing and product/production line sharing where it makes sense. They brands will also combine outsourcing partners – from component suppliersto logistics and other services.
The group's CEO hopes that synergies between the brands will generate JPY50bn (US$450m) in cost savings in the 2017-18 financial year, rising to JPY100bn the following year. He expects the enlarged group will look radically different by 2020, by which time significant capacity and platform/product sharing will have taken place.
These savings will help the group face the considerable global challenges of the future, as demand switches to low- and zero-emission fuels, connected vehicles and complex autonomous and driver-assist technologies.
In South-east Asia, Nissan and Mitsubishi have been swept aside in the last five years by the success of Toyota-Daihatsu and Honda, with their aggressive and very successful new model programmes.
In Indonesia, South-east Asia's largest vehicle market, Nissan-Mitsubishi Motors' combined market share, including light commercial vehicles, shrank from 13.6% in 2012 to 9.7% last year. In the same period, Toyota-Daihatsu's share has increased from 51% to almost 54% while Honda's share has shot up from 6.2% to 18.8%.
In Thailand, the combined Nissan-Mitsubishi share fell from 16.7% to 12.7% in this period, while Toyota's share increased from 30.9% to 31.8% and Honda's from 11.3% to 14.0%.
In Malaysia, Mitsubishi and Nissan have held their ground, with their combined share of sales rising from 7.7% in 2012 to 8.6% in 2016, but this is in a market in which its traditionally dominant market leader Protonhas seen its sales fall by almost half. Honda's market share increased from 5.6% to 15.8% in this period, while Toyota's fall from 16.8% to 10.9% was more than made up by strong growth at Perodua -a joint venture with its subsidiary Daihatsu.
Nissan and Mitsubishi have significant overcapacity in Thailand and Indonesia and both brands need to intensify their new product programmes significantly to gain ground on Toyota and Honda. They also need to get their product design right and build brand equity to attract buyers from their biggest rivals.
Nissan is looking to generate some instant synergies from the newly-built Mitsubishi plant in Indonesia, which was completed at the end of April. The facility has an initial production capacity of 160,000 units per year and will produce a new compact seven-seaterMPV, as well as the Pajero Sport SUV and Colt L300 light commercial vehicle.
Nissan is also looking to immediately strengthen its line-up in Indonesia's largest vehicle segment by selling the new MPV under its own badge. These models are expected to be launched ahead of the Indonesia International Motor Show in August.
At the beginning of April PT Nissan Motor Indonesia appointed a Mitsubishi executive, Eiichi Koito, as its CEO. Previously he was global head of Mitsubishi's Motors global after sales and has significant experience of the South-east Asian markets.
Other early synergies are being generated also in vehicle distribution across the region, including international shipping of vehicles and parts, domestic parts deliveries to assembly plants and deliveries of vehicles to dealers.
In time, the two brands will combine their pickup truck programmes in Thailand, as well as small and compact car production, SUVs and light commercial vehicles across the region.
South-east Asia will be an early test for the new Renault-Nissan-Mitsubishi global alliance and will no doubt provide a useful blueprint for the group's global integration.
See also: Ghosn targets big synergies in MMC deal