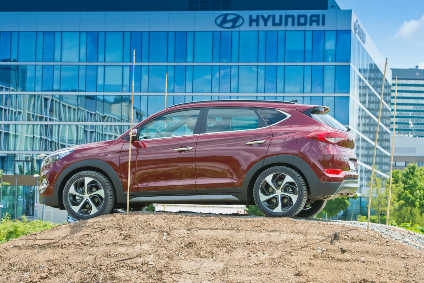 How often do we hear of GM being humbled by Hyundai? That's what's been happening in Australia in recent weeks, as the Korean brand has overtaken Holden to claim third position. Much of the reason is the new Tucson.
With calendar year sales of 102,004, Hyundai got to within 1,000 units of Australia's traditional number two brand in 2015. SUVs are big business down here and GM's product, the Captiva, is simply too old to be a competitor to the hugely popular Mazda CX-5 and, more recently, Hyundai Tucson.
The i30 is the Korean make's best seller in the Aussie market with 4,313 registered so far in 2016. Yet despite having been available for only a short time, the Tucson, which replaced the ix35, has already chalked up 3,914 deliveries, placing it eight units ahead of the CX-5 and in the process making it the number one SUV.
Hyundai has a good reputation with the locals, thanks to keen pricing and a strong dealer network. Shorter product cycles than Holden and Ford, and sometimes Toyota, has been another factor in the brand's steadily-rising rate of success. Using the ix35 as a guide, the latest Tucson will likely have a six-year life cycle, whereas the Holden Captiva is coming up for ten years of production.
The Tucson's styling is better resolved than that of the old ix35 and this is undoubtedly more than a small part of why the car is selling so strongly. Hyundai Motor Group's head of Design Peter Schreyer is clearly guiding and overseeing a team of exterior and interior stylists, insistent that Hyundais must appear elegant rather than quirky. Just look at what he did for KIA. We can probably also expect a lot of input to future Genesis models from Schreyer.
This C-SUV might have strong looks but there are still details which could be improved. Like the worst GM cars, there is the most infuriatingly loud and insistent bonging from the Tucson the moment you open the driver's door, and this continues if you fail to close it before pressing the start button. Yes, you'd get used to it. But crucially, this doesn't happen in a Volkswagen Tiguan does it?
As a family car, the Tucson is hard to beat. The rear windows are deep and fully retract, seating positions are spot on for adults and teens alike and there is if anything almost too much headroom. A pity then that the hard plastic on the backs of the front seats will be a pain for anyone with long legs. A smaller niggle is door pockets which aren't overly generous in terms of the size of drinks bottles that fit, but against that, the cubby box between the front seats is both deep and wide.
The driver's door pull is a beautifully designed chasm into which you can drop both your garage door blipper and the ignition key. Thanks to a soft lining, neither will rattle. The headliner also has a premium-feeling finish but Hyundai could perhaps spend a little bit more on dashboard and door trims as there's a lot of hard, dark grey surfaces.The design itself is pleasing, though.
The as-tested car was a diesel and came with automatic transmission which for me is the best combination. In Europe, there's a new 104kW 1.7-litre diesel with HMG's own seven-speed double clutch transmission, and this has a CO2 average of 129g/km. In Australia, the market is more about power and torque though economy of course matters, but the formula for taxation is not based upon emissions of carbon dioxide.
Off road credentials are important in the Australian market, so Hyundai has made sure this vehicle is marketed as an SUV rather than a crossover. The Tucson comes with hill descent control and you can lock the 4×4 system's axles via an electric switch situated handily just behind the (electronic) parking brake.
The all-wheel drive system was developed by both HMG and Magna Powertrain. That driver-selectable lock function allows a differentiated torque split between front and rear wheels, for either off-road or just extremely slippery road conditions. Active Cornering Control, which automatically transfers torque to the wheels with the most traction, is part of the package. This, Hyundai claims, reduces understeer and improves cornering performance by braking the inside rear wheel and delivering more torque to the outside rear wheel. In effect, you get torque-vectoring and yes, push the car hard and it's definitely in a different class to its predecessor, on road. And off road too.
Being a fresh design, all the latest convenience features can be found as either standard or optional in this car, including the always handy gesture boot opening and closing. And at just less than 1.1m across, this must surely be the widest boot in the class. It has a capacity of 513 litres which can be increased to as much as 1,503 litres. I forgot to mention earlier that compared to the ix35m, the replacement is longer, lower and wider.
Hyundai says this model was the first for a new Group architecture and while as yet there has been no word about plug-in, hybrid or fuel cell variants of the Tucson, each of these will almost certainly be introduced in the next few years.
The platform of this HL series model is claimed to give this vehicle 30% better torsional rigidity compared to the ix35 and much of that is due to more high strength steel in the basic structure.
Hyundai builds the HL Tucson in two South Korean facilities. The previous model was manufactured in the OEM's home market only at one of its Ulsan factories. A different Ulsan plant (the same one which makes the Elantra) had 50,000 units of its annual capacity allocated to the new SUV. Production also now takes place in China. This, by the Beijing Hyundai joint venture, commenced in July 2015 not too long after the first cars were built in Korea. One of HMIL's Chennai plants will add CKD assembly of the Tucson during the second half of 2016 and these kits will be sourced from Ulsan. Europe's model of course comes from Nošovice in the Czech Republic. Anápolis (Brazil) is likely to gain build of the latest model – the previous two generations are still available there – within the next 12 months.
As a global model, the Tucson is fast becoming one of Hyundai's most important products, with US sales especially strong (12,554 during the first two months) and 100,000 deliveries forecast for 2016 across the European region. Australia might be by comparison a modestly sized market but there is a lot of growth potential here and overtaking General Motors Holden is a major achievement for the brand.