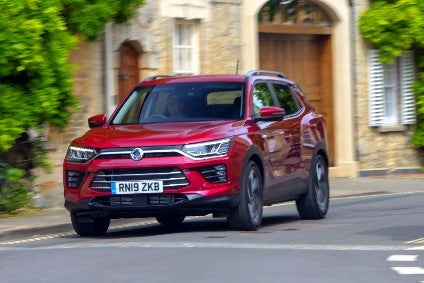 SsangYong has all the ingredients for success in the UK. It has a lineup full of SUVs, a long heritage building off-road vehicles, and a value proposition that undercuts many similarly sized rivals, backed by a seven-year warranty.
Despite this, SsangYong has only ever been a bit player in the UK – mustering around 4,000 sales per year. However, that hasn't dampened the quiet confidence of SsangYong UK's Managing Director Nick Laird at the launch of the fourth-generation Korando. His goal is straightforward – use this new mid-size SUV to drive UK sales up to 10,000 units per year.
The new Korando is a significant departure from its predecessor. Where the third-generation model was conservatively styled and somewhat forgettable, the new version makes a bold statement with angular headlights, a faux 'shark-fin' C-pillar and deep sculpting on its flanks giving it a taut, sporty look. Let's find out if the changes are more than just skin deep…
Butch looks but is it too little, too late?
Looks are, of course, subjective but few would deny the new Korando is a marked improvement over the old model. The piercing headlights of the new model are joined by a chrome strip punctuated by the SsangYong badge. This motif is repeated at the back between the LED brakelights – the C-shaped lighting signatures here are a nice touch too.
Also gone is the curved roofline and softer front-end features of the old Korando. The new version is angular with a more chiseled lower front bumper. Its roofline is noticeably flatter giving the impression that the fourth-generation model is much larger than the old one despite being only 40mm longer. The sculpted sheet metal down the Korando's sides do a lot to modernise the car, bestowing it with muscular rear haunches and disguising its height.
The only problem for the Korando is that some of its rivals have been fielding eye-catching SUVs for longer. The Hyundai Tucson makes a bold statement with its sizeable six-sided grille, the Mazda CX-5 brings sports car styling to the table, while the Volkswagen Tiguan and Seat Ateca appeal to buyers after understated good looks. The new Korando is handsome but might not look unique enough to draw buyers away from established rivals.
Interior noticeably improved for the new model
Settling in behind the wheel of the new car, you're struck by the marked improvement in design compared to the old Korando. Where its predecessor felt like a car from a budget brand with scratchy plastics and a forgettable design, the new model features a more coherent design with piano black inserts and an ergonomic control layout. Build quality is good with no squeaks or rattles on the move while material quality is on par with rivals in this segment with soft-touch plastics used tactically throughout the cabin.
Pleasingly, despite the large screen, SsangYong has stuck with physical controls for the HVAC system, making it easy to change temperature without taking your eyes off the road. The 4WD control is similarly intuitive with a straightforward choice of normal, sport or winter modes, along with the ability to lock the front and rear axles together for off-road driving.
Back to the screen, mid-range Ventura and Pioneer models get a decent eight-inch touchscreen with fairly limited functionality. However, it comes as standard with Apple CarPlay and Android Auto – we were only able to try the former, which worked flawlessly as we navigated around Oxfordshire. Top-spec Ultimate models get a nine-inch touchscreen with sat-nav built in but it's not really worth the extra cost over the smaller unit.
On the other hand, Ultimate models replace the physical dials behind the wheel with a 10.25-inch screen. While this doesn't noticeably improve the driving experience, it does do quite a lot to smarten the overall look of the cabin. The screen can be set to replicate a pair of traditional dials, or can replicate the sat-nav feed making it easier to view route guidance with just a quick glance.
SsangYong confirmed that the Korando will remain a five seater, with seven-seat duties handled by the larger Rexton. The Korando's five seats are spacious with plenty of room for adults in all positions. The boot is similarly large and its wide opening makes it easy to load awkwardly shaped objects. A two-level boot floor is available from Ventura trim upwards.
Firm ride but good body control
We were handed the keys to two Korandos – one a top-spec Ultimate with four-wheel drive, and the other in Pioneer trim with two-wheel drive. Driving through the astonishingly beautiful Oxfordshire countryside surrounding Blenheim Palace allowed us to try the Korando on a range of tight, tricky roads and faster motorway sections.
All models we tried were fitted with a 1.6-litre four-cylinder turbodiesel engine making 136hp mated to an Aisin-supplied six-speed torque-converter automatic transmission. From December 2019, the Korando will also be offered with a new 1.5-litre turbocharged gasoline engine making 163hp – capitalising on the growing share of gasoline units as diesel becomes less popular in the wake of the 2015 emissions cheating scandal.
Over the cracked and undulating roads of our test route, the Korando demonstrated impressive body control with large impacts being deftly absorbed with no harshness during compression or rebound. That firmness does, however, translate to a slight jittering over rough road surfaces that can be constantly felt through the seat base. This tendency was noticeably improved when we swapped into the Pioneer-spec Korando thanks to its smaller 17-inch alloy wheels – Ultimate models come with 19-inch diamond-cut wheels.
Aural refinement was a mixed bag. Wind and suspension noises were very well suppressed, especially around the windscreen and mirrors – common complaints in some Korando rivals – but this does serve to highlight the relatively prominent tyre noise that can drone over certain surfaces. The diesel engine, too, was rather noisy under acceleration although the automatic transmission did its best to keep revs low when cruising about.
Around corners, the Korando's firmness helps it feel planted, giving you the confidence to drive it reasonably quickly. The steering is accurate with only a hint of vagueness around the dead-ahead point – although we felt a slightly faster rack might have matched the Korando's sporty ride quality better. Unsurprisingly, those in search of 'steering feel' will be left cold by the Korando, but the family buyers it's aimed at are unlikely to care.
Despite the diesel's grumbly nature, it has just enough power to help the Korando keep up with traffic. The six-speed Aisin automatic transmission in four-wheel-drive models shifts smoothly but can be a little indecisive when accelerating – being unsure whether to shift down or stay in gear and use the engine's torque. It often opts for the former, heralding a burst of clattery diesel engine noise. Nevertheless, those who tow regularly will appreciate this powertrain's maximum two-tonne towing capacity.
Surprisingly, stepping into the two-wheel drive Pioneer model improved the driving experience noticeably. The indecision we found in the four-wheel drive's transmission didn't seem to affect the two-wheel drive model anywhere near as badly – it generally chose the right gear at the right time, pulled out of junctions with more authority, and even felt a little bit quicker in most scenarios. If you don't need to tow with your Korando, we'd strongly recommend selecting the two-wheel-drive version for its lower purchase price and fuel costs.
Verdict: SsangYong Korando
If you're a buyer in the mid-size SUV market, you're not going to struggle for choice – nearly all mainstream brands field an offering in this segment. So, for the fourth-generation Korando to make an impact and push SsangYong to its 10,000-unit-per-year target, it has to set itself apart from the sea of similar rivals.
In isolation, the Korando is a good SUV – it's pleasant to drive, offers all the equipment family buyers need and has plenty of cabin space. The problem is, when compared to rivals from Hyundai, VW, Toyota or Nissan, the Korando doesn't really excel in any one category enough to set itself apart.
However, once you consider the SsangYong's relatively low purchase price, those disparities start to disappear. It undercuts a like-for-like KIA Sportage by around £2,000 and the slightly smaller VW Tiguan by between £3,000 and £4,000. Factoring in the Korando's impressive value for money makes it easier to recommend to anyone in search of a spacious family SUV with standard features typically found on much more expensive vehicles.