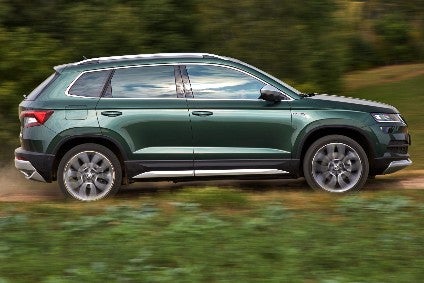 July will mark the second anniversary of Karoq production so to maintain the sales momentum, Škoda continues to add variants to the range. The most recent one is the Scout, which unlike competitors such as the Peugeot 3008, offers all-wheel drive.
The Czech brand had been flying high for a long time but there was something of a crash back to earth late last year as the Chinese market contracted. Škoda seemed to fare worse than many makes although more recently, fresh models have begun to improve the situation in what is the company's most important market.
Karoq outsells Kodiaq
Looking at the most recent quarter at a worldwide level, Škoda delivered 307,600 vehicles to customers compared to 316,700 during the previous year's level. There has been a change in the pecking order of the top three best sellers, with the Octavia remaining in first place (1 January to 31 March: 92,500 vehicles) but the Karoq enjoying a major sales surge. Deliveries of this SUV reached 35,800 units, representing a more than fifty percent surge compared to Q1, 2018. This model also overtook the Kodiaq (35,700, 6.1%) to become the brand's best selling SUV.
As has been well documented, Nissan Europe has been the main victim of intense competition in SUVs: the huge decline of the Juke isn't the division's only major casualty,;the Qashqai too is in trouble. Volkswagen AG has been the main beneficiary of buyers' change in allegiance, with Volkswagen, SEAT and Škoda each benefiting greatly.
The Karoq, which is 4,382mm long and therefore aimed directly at the Qashqai, succeeded the much-loved and equally popular albeit slightly smaller Yeti. It seems a shame that the well-known name was ditched but you never know, it might come back one day on another vehicle, just as Superb and before it Octavia, were revived.
Czech plants hitting capacity
Such has been demand for the Karoq that Škoda had to add production at a second European plant not too long after the market launch. Originally built solely at Kvasiny, in January 2018, build was added at another Czech facility, this time the company's main factory adjacent to its headquarters in Mladá Boleslav. China's SAIC Volkswagen joint venture also manufactures this model, production at Ningbo also commencing in January last year. This was followed by a fourth factory, this time in Germany, from the end of 2018. The addition of the SUV at the former Karmann works has been a temporary measure though, while Mladá Boleslav had its paintshop updated.
What makes a Scout a Scout?
The Scout was announced last July but the public debut didn't take place until the Paris motor show. This model grade isn't restricted to crossovers and SUVs, with the Octavia also available with the same package of modifications. In the case of the Karoq, that means a slightly more purposeful look thanks to some grey plastic which widens the wheel wells, unique bumpers, 19-inch grey and silver alloy rims and of course, all-wheel drive which comes with Snow and Off-road mode settings.
There are two engine choices in the UK market and each has an output of 150PS. For those who prefer petrol, it's the well known 1.5-litre turbo which comes as standard with a DSG twin-clutch transmission and costs GBP30,650. The car I tried had the diesel alternative and a six-speed manual gearbox. This is priced at GBP31,290 or GBP32,590 with DSG. The WLTP Combined economy is 44.1-42.8mpg, the CO2 average is 134g/km, top speed is claimed to be 134mph and 0-62mph takes 8.9 seconds. As seems to be the norm with WLTP numbers, what owners can expect to see would appear to be a little bit better if my experience is typical.
Does Škoda's pricing seem a touch on the high side? Perhaps, yet the Scout delivers a lot for the money, including heated seats, a first rate SatNav system (via an eight-inch screen), cruise control with speed limiter, heated and electrically folding mirrors, electric boot operation, LED headlights, height adjustment on the passenger seat, a large glass roof which opens, a reversing camera and door bins that will easily accommodate 1.5-litre bottles.
The Scout also has the usual handy Škoda touches such as an ice scraper in the fuel filler door and an LED torch plus a series of sturdy hooks for carrying supermarket bags in the boot. If you're expecting a spare tyre for your more than thirty thousand pounds you're out of luck though: that's a GBP150 option.
FWD only versus FWD/AWD
The Volkswagen Group's decision to give its C and D segment crossovers and SUVs all-wheel drive capability seems an inspired one. Groupe PSA might be doing well with the 3008 and 5008 and, to a lesser extent, the Citroën C5 Aircross in many European countries but many buyers want or need the flexibility of AWD. A PHEV Peugeot 3008 is coming, equipped with an electric rear axle so it will be interesting to see how strong the uptake of this high-priced derivative will be. Now though, Volkswagen, SEAT and Škoda all have an advantage over the European number two OEM in what are expanding segments, the Karoq Scout being the latest example of that.
What's next for the Karoq?
Sources indicate that Škoda is planning to keep expanding its range of RS (vRS in the UK) vehicles. Which means there could be a Karoq derivative as soon as this year. Will it follow the Kodiaq RS in only offering a diesel powertrain?
In 2020, the range will be expanded in a different direction with the addition of a fully electric Karoq. At the moment, the BEV has been confirmed only for China where it will be manufactured by SAIC Volkswagen but there is no strong reason why such a model couldn't also be built in Europe.
As for the second generation generation Karoq, this will not be built in the same main factory as the current one, Volkswagen announced in November 2018. It should be instead manufactured in a new plant which the Group plans to have erected in Turkey. This model is due in 2025 which is three to four years after the current Karoq has a facelift.