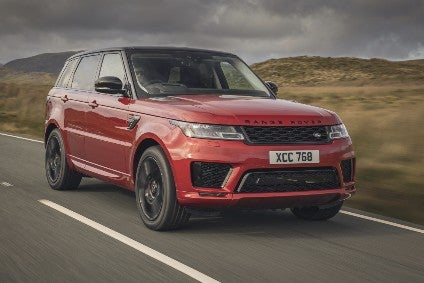 Some cars become longer-lasting than expected and even seem to have more appeal in their latter years. Examples include the Renault Zoe, Tesla Model S, BMW i3, Porsche Boxster/Cayman, Dodge Charger/Challenger and a certain Land Rover which has been masterfully updated several times since production started in May 2013. Even if no variant can touch the peerless SVR, the latest HST powered by JLR's new straight-six diesel is a cracking all-rounder.
HST trim used to mean supercharged V6 petrol and availability limited to certain markets but that all changed in 2019 with the arrival of JLR's own in-line six-cylinder mild hybrid engine. Now there's also a 3.0-litre diesel alternative for relevant countries.
As was noted in my review of the HST petrol and discussion of its then-new engine, this model grade brings a black-painted roof as well as much glossy black trim, including grille and fog lamp bezels plus carbon fibre bonnet and front wing vents. The same finish is applied to a set of enormous (21 or optional 22-inch) wheels inside which are visible red brake callipers. The five-seater test vehicle ran 21-inch rims and had a giant spare tyre under the boot floor, something I commend Land Rover for specifying.
Dynamics
There's not a lot of the engine to see as a cross-brace and big plastic cover get in the way, but if you do crane your neck a little, it's possible to get some glimpses of the block which is mounted fairly low. That explains why the HST feels so securely planted when driven to see where the limits are. Supple is the air suspension's natural setting and that's not meant to be criticism.
Land Rover wants this model grade to be sportier than the luxury-default alternatives and in that it has succeeded. The steering's as sublime as all examples of L494 have been since this shape arrived in mid-2013 and as I said at the start of this review, the RRS has only seemed to improve upon what was a very high standard back then.
One of the things which makes the HST that extra bit more secure and entertaining is the standard-fit electronic active differential, and there's torque vectoring under braking too. For anyone wanting to take their high-priced SUV off-road, this model grade's four-wheel drive system also comes with a twin-speed transfer box.
Other powertrain choices
Along with the Ingenium straight-six petrols and diesels, there's also a four-cylinder (petrol) alternative in two forms, the second of which serves as the ICE for the plug-in hybrid. Here's a round-up of the 2021 model year choices:
Diesel
D250 – 183 kW (249 PS) & 600 Nm 3.0-litre six-cylinder turbo MHEV; HSE or HSE Silver model grades
D300 – 221 kW (300 PS) & 650 Nm 3.0-litre six-cylinder turbo MHEV; HSE Silver, HSE Dynamic, HSE Dynamic Black or Autobiography Dynamic
D350 – 258 kW (350 PS) & 700 Nm 3.0-litre six-cylinder turbo MHEV; HST
Petrol
P300 – 221 kW (300 PS) & 400 Nm 2.0-litre four-cylinder turbo (not for the UK)
P400 – 294 kW (400 PS) & 550 Nm, 3.0-litre six-cylinder turbo; HSE, HSE Dynamic or HST
P400e – 297 kW (404 PS) & 640 Nm 2.0-litre four-cylinder turbo PHEV; HSE Silver, HSE Dynamic, HSE Dynamic Black or Autobiography Dynamic
P525 – 386 kW (525 PS) & 625 Nm 5.0-litre supercharged V8 (not for the UK)
P575 – 423 kW (575 PS) & 700 Nm 5.0-litre supercharged V8; SVR or SVR Carbon Edition
Conclusion
Is the MY21 Range Rover Sport better than an X5/X6 or Cayenne/Cayenne Coupé? If not, it's a very close second to whichever of those the targeted buyers like the looks of most, and that's probably what makes or breaks a sale in each case.
I also like different things about the Q7/Q8, XC90 and GLE-Class/GLE Coupé but even though the Land Rover is older, the recent interior give it a more luxurious ambience than the Audis, Volvo and Benzes. The quick-to-navigate tech updates also prove that there's nothing old-school about the eight-year old RRS.
What's next for the Range Rover Sport?
Series production of the third generation Range Rover Sport should commence in England in the fourth quarter although the ongoing microchips supply issue could mean that becomes 2022.
L461 will use MLA, the same modified version of JLR's PLA/D7u architecture as the fifth generation Range Rover. That model (L460) is due for launch in Q3 so if the new RR arrives on time, RRS mark 3 should be in production at the same Solihull factory six months later.
The MY2021 Land Rover Range Rover Sport line-up starts at GBP64,685 with the D350 HST costing from GBP85,995. Top speed is 140 mph (225 km/h), 0-62 mph takes 6.9 seconds, WLTP CO2 emissions are 238-254 g/km and Combined economy is 31.2-29.2 mpg.
Land Rover is clearly having some success with this model grade, having just created an Evoque HST. As well as a 221 kW (300 PS) 2.0-litre turbocharged petrol engine, there's a giant glass roof bordered by gloss black-painted metal and a matching finish for some special 20-inch alloys, among other specific touches. If anything it manages to look even cooler than the RRS HST and is priced from GBP50,440.