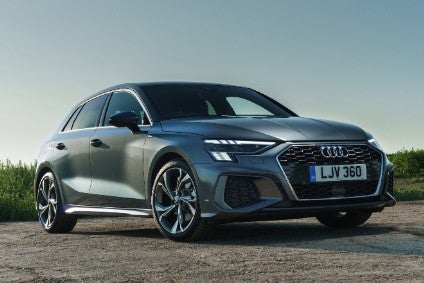 One recent trend in the UK car market is the rise of a certain Mercedes-Benz car. Even though it was the country's best seller last month and number five overall, the A-Class needs to watch its back. That's because courtesy of the new A3, Audi beat not only Mercedes but BMW too, becoming the top premium brand in October.
Not just in Britain but in many other countries, 2019 and the first half of this year were difficult for Audi. The company had been accustomed to the status of being an equal in a three-way challenge, at least in Europe and China.
The brand performs well in the USA too; but not as well as BMW, Benz, Lexus or Tesla. Now, as the marque's vast array of models saturates segments, Audi is back. And while the C-premium hatchback and saloon class is a small one in North America, in our region, it's the opposite.
The car in front is an Audi
While ACEA's EU+UK+EFTA data for the year to the end of October show Škoda well ahead of the four-rings brand within the Volkswagen Group (526,540 compared to Audi's 491,926), the premium brand leapt ahead in the most recent month: 60,796 (+19.4% YoY) versus 60,003 (-1.5%). Audi even beat Toyota (59,634) and Ford of Europe (59,211).
In the battle of the three German premium makes, last month Mercedes was in the lead with 75,492 deliveries. Meanwhile BMW was pushed down to third with sales of 60,518 even if it remains well ahead of Audi over the ten months (539,141).
Market share for Audi was 5.4% in October, a substantial rise from the 4.2% achieved during the same month in 2019. Back then there were major supply issues with many models due to emissions compliance testing delays. Year to date, the brand from Ingolstadt holds a 5.1% share (BMW: 5.6%; Mercedes: 6.2%) and the October rise will be welcome news within the headquarters of the Volkswagen Group's mass-premium make.
UK number one in October
Britain has long been one of this marque's best markets. The 11,453 vehicles delivered to buyers in October was a tremendous result – up 51.5% to a ten-month total of 91,888. Despite the recent advance, Mercedes stays in the lead, its 10,888 October total trailing Audi's but the three-pointed star's YtD number is 95,581. As for BMW, the equivalent tally is 95,438, so Mercedes-Benz might not necessarily end 2020 on top.
Three body styles
The old A3 was hardly out of date yet as October's 2,523 sales attests, the new one is already a big success. That number was also good enough to get the car into the top ten. There's no cabriolet with the latest generation, nor is there a three-door, the range consisting of the Sportback and Saloon. That applies in almost all markets, China being an exception: for the first time there is to be an extended wheelbase four-door. The A3 L, to be built in Foshan by FAW-Volkswagen, makes its debut later this week at Auto Guangzhou.
The latest generation, 4,343 mm long Sportback was revealed online in March after a planned premiere at the Geneva motor show had to be cancelled. The hatchback is three centimetres longer than the car it replaced. The Sedan/Saloon is even lengthier, at 4,495 mm, with the L, which won't come to Britain, measuring 4,554 mm. That's still far more compact than even the standard wheelbase A4 (4,726 mm) saloon.
Production at Ingolstadt was stopped almost as soon as it began back in March as all of the Volkswagen Group's European plants were taken offline from the middle of that month. Now though, a second ramp-up is well behind the main plant and as recent sales numbers show, the pace of deliveries is gathering speed.
Audi uses two digits to designate relative power outputs for both ICE and electric models. Initially, there were only '30' and '35' versions of the Sportback and Sedan but these have been joined by the recently announced '40', a PHEV:
Diesel, petrol & PHEV
30 TFSI, 81 kW (110 PS) 1.0-litre petrol (not for Britain)
30 TDI, 85 kW (116 PS) 2.0-litre diesel
35 TDI, 110 kW (150 PS) 2.0-litre diesel
35 TFSI & 35 TFSI MHEV, 110 kW (150 PS) 1.5-litre petrol (mild hybrid has identical outputs but very slightly better fuel consumption and C02 emissions)
40 TFSI e, 110 kW (150 PS) 1.4-litre petrol plus 80 kW motor, combined outputs of 150 kW (204 PS) and 350 Nm (258 lb-ft)
Driving the 35 diesel was a welcome opportunity to enjoy the oodles of torque which this version of the Volkswagen Group's 1,968 cc TDI comes with. At 360 Nm (266 lb ft), it pips the motor-assisted petrol plug-in hybrid and even better, the maximum is developed at 1,600-2,750 rpm. Adding to the feeling of having abundant muscle that doesn't need to be strained, the driver only needs to spin the engine to between 3,000 and 4,200 revs for those 110 kW to be delivered.
AWD for S3 but not A3 – yet
Unusually for an Audi with lots of torque, the fastest diesel doesn't come with all-wheel drive, at least not yet. The S tronic seven-speed dual clutch gearbox does its best to keep all that energy flowing as seamlessly as possible.
Compared to an older version of the 2.0-litre TDI which powered the VW California I drove earlier in November, the newer-spec unit in the A3 is quieter and has an additional 20 Nm. Considering how much lighter the Sportback is than the tall, high-drag camper-van, it's no wonder that the Audi is brisk too.
The dynamics reminded me of the Golf, with SEAT's latest Leon being better than both (all three share the MQB A/B Evo architecture). The Focus continues to be the best choice for keen drivers, even if some would argue that the BMW 1 Series is as good as if not better than Ford of Europe's hatchback and estate range.
Sharp lines
Audi has made major changes to the layout of the new model's dashboard and centre console when compared to the generation three A3. If you're really picky, things which are typical of a Group-wide cost minimising programme can be found.
There's lots of soft plastics ahead of the driver and passenger and some good pieces of design such as dashboard-wide stitching to break up the expanse of dark surfaces. The first time your hand grips the door pull to shut it though, the feeling evaporates as the thick handle doesn't seem in keeping with what should be on a car costing thirty thousand pounds. How about some dimpled vinyl to cover that tough plastic?
The A3's external appearance is as angular as its inside surfaces and the effect is pleasing, particularly at the front where the wrap-around lights have great detailing including a pistol shape when illuminated. A lowish-roofline doesn't seem to compromise either boot space or back seat headroom for that matter and anyone who drives the old A3 Sportback will immediately notice that the new car looks more elegant.
Even better sales to come in '21?
That this new Audi is enticing more people towards the brand is no minor achievement when the alternatives are as good as the Golf, 1 Series, A-Class and possibly even a crossover or two such as the XC40. It won't take UK segment leadership in 2020 but if A-Class sales falter for any reason in 2021 and the ID.3 lures lots of customers away from the Golf, the A3 could spring a sales surprise.
The Audi A3 Sportback 35 TDI 150 PS S line S tronic costs from GBP30,725. Options fitted to the test car included Matrix LED lights (GBP675), heated front seats (GBP330) and a Bang & Olufsen 3D premium sound system (GBP760). CO2 is 128 g/km, 0-62 mph takes 8.4 seconds, top speed is 139 mph (224 km/h) and Combined consumption is 57.6 mpg (WLTP).