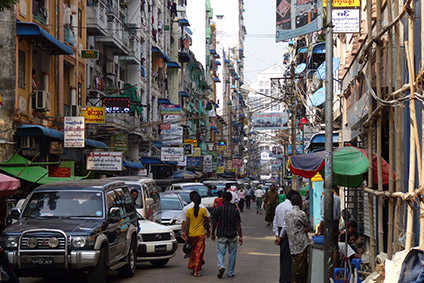 Myanmar's ten-year flirtation with democracy came to a sudden halt last week when the country's military unexpectedly seized power from the democratically-elected National League for Democracy (NLD) party led by Nobel Peace Prize laureate Aung San Suu Kyi. This will undoubtedly bring a new period of heightened policy uncertainty for the economy, while consumer confidence and household incomes are also likely to be affected.
Myanmar is one of southeast Asia's poorest countries, compounded by decades of economic isolation due to ongoing sanctions imposed largely by the West in response to the military regime's brutal human rights record.
In early 2011, for the first time in fifty years, the country's first democratically-elected (nominally) civilian government was allowed to take power after the military-backed Union Solidarity and Development Party won the 2010 general election. While the armed forces retained control over the new legislature, a programme of reforms meant to free up significant parts of the economy from military control got underway aimed at attracting much needed foreign investment in the country.
The new government also freed thousands of political prisoners, including Aung San Suu Kyi which had been under house arrest for 15 of the previous 21 years. The country looked to have begun a new chapter, prompting the West to loosen sanctions, leading to a significant rise in inward investment and driving a period of stronger economic growth.
In 2011, Myanmar's new vehicle market was largely non-existent. The country mainly relied mainly on imported used vehicles to fulfil its road transportation needs, and still does. They were mostly shipped in from Japan, despite the country being a left-hand drive market.
Vehicle ownership was estimated at less than nine units per 1,000 inhabitants in 2012, comprising mostly used imports, in a country of around 45 million people and a per capita income of around US$1,300 per year. Buyers were also required to show proof they had enough foreign currency to cover their purchases.
As the political and investment climate improved, global vehicle manufacturers rushed in to establish new sales and distribution operations in what was widely seen as a new emerging market. Domestic vehicle demand was also lifted by the government's old-car replacement programme, introduced in 2011 and designed to encourage the replacement of old cars with newer ones. This continued to benefit mainly benefit used imports, however.
The country's largest vehicle producer is Suzuki Motor, which originally established an SKD assembly plant in 1999 to produce light commercial vehicles. But production was limited and very sporadic throughout most of the 2000s due to a lack of foreign currency, and thus a lack purchasing power, in the country. The Japanese manufacturer currently accounted for almost two-thirds of new vehicle sales in the country and is scheduled to begin operations at a new plant in September.
Nissan established a plant to assemble the Sunny compact car in the country in 2015 through its Malaysian distributor Tan Chong. There are also a number of Chinese vehicle assemblers in the country, supplying mainly commercial vehicles.
Immediately after news of the coup emerged on Monday, the two Japanese automakers halted operations to ensure employee safety. Denso, Toyota's components subsidiary, also said it would halt local manufacturing while it assesses the situation.
Toyota, which was scheduled to begin Hilux pickup truck assembly this month at a newly built-plant near Yangon, early last week said the operational start-up may be delayed until the situation becomes clearer.
As it became increasingly apparent that the coup would not be immediately followed by a brutal military crackdown as was the case in previous occasions, Japanese automakers soon restarted operations – towards the end of last week.
As it became increasingly apparent that the coup would not be immediately followed by a brutal military crackdown as was the case in previous occasions, Japanese automakers soon restarted operations – towards the end of last week. But they will no doubt be asking themselves when, if at all, the country will fulfil its ambitions of becoming a significant vehicle market commensurate with the size of its population.
New vehicle sales were already under pressure last year due to falling business due to the global COVID-19 pandemic, with overall volumes falling by over 24% to 16,400 units in 2020 after jumping by over 50% to a record 21,700 units in 2019.
Last week's military coup will no doubt put additional pressure on the Myanmar's struggling economy, with many western leaders threatening renewed sanctions on the country's new leaders. Although the military reportedly promised to return the country to civilian rule within a year, the impact of the coup on business and consumer confidence will be significant, while potential investors will no doubt review their plans. Ultimately, it will likely bring Myanmar much closer to its northern neighbour China.