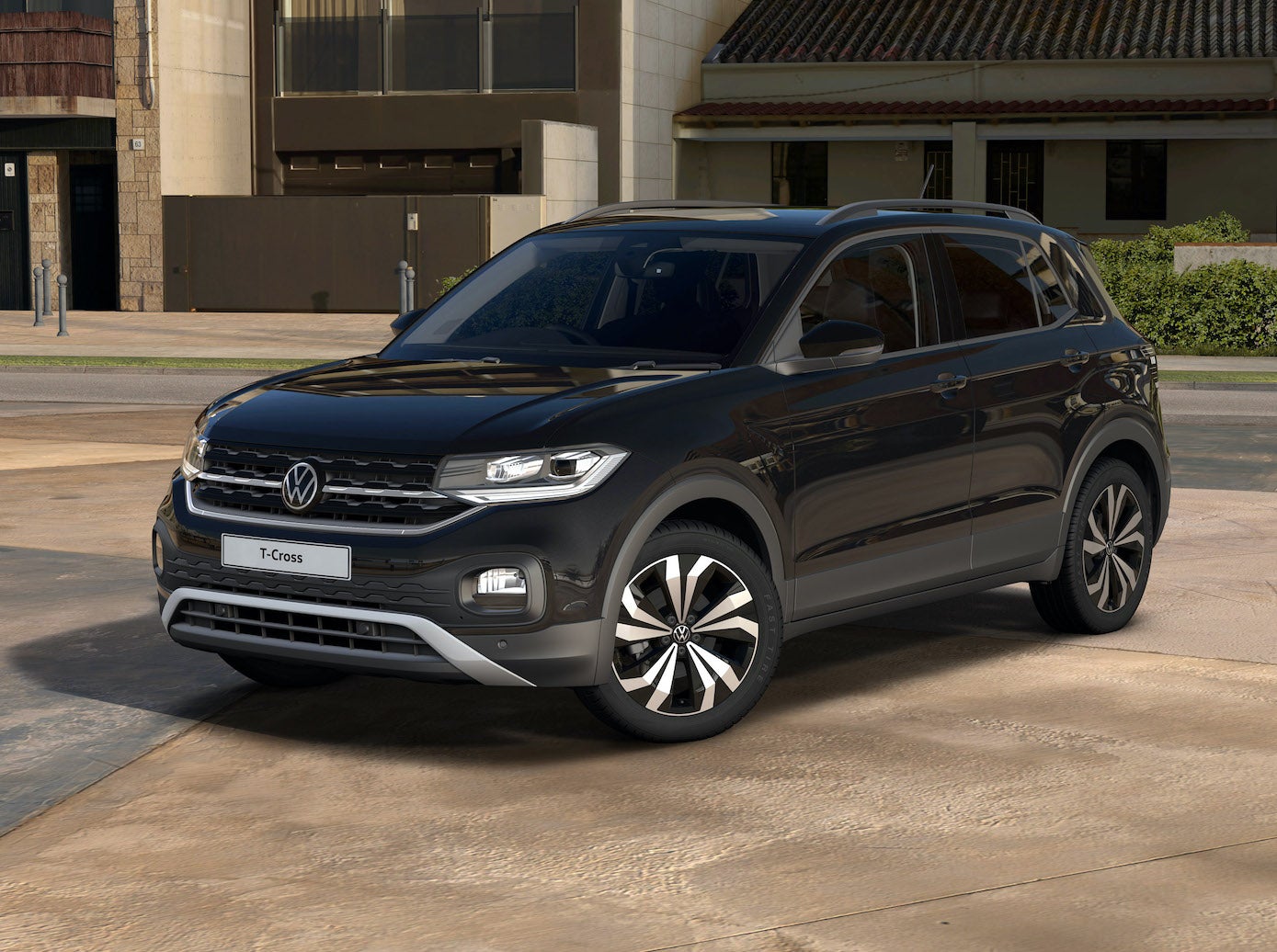 The T-Cross has a good presence in the B-SUV segment but it's nowhere near as dominant as two of its larger brothers in their respective size classes.
VW: dominant in C & D
This year continues to be one of ups and downs yet 106,000 examples of the T-Roc were delivered Europe-wide in the first half. Close to the same number of Tiguans were also retailed during the same period, so it's been a great 2021 for VW (for profits too).
In fact, so successful are the brand's C-SUV and D-SUV models that only the Golf (125,793), Peugeot 208 (113,149), Clio (109,720) and Corsa (107,879) performed better overall in H1.
The pursuit of Peugeot
The vast number of B segment SUVs and crossovers means it's a different story for the T-Cross. Not that it isn't a very good seller, mind. The class leader in H1 was the Peugeot 2008/e-2008 (106,310), followed by the Dacia Sandero/Stepway (95,180), Renault Captur (92,620), Ford Puma (83,052) and then the little front-wheel drive Volkswagen (70,643).
Drawing attention to the lack of AWD isn't a criticism, just a fact. Looking at those models which outsold it proves that people really aren't fussed about having a small crossover with drive to the back axle too.
It would be fairly easy for the smallest VW crossover to be lost in a segment that's bursting with talent. And in the circa 4m-long class, novelty alone can decide who's in fashion and who's not.
How Stellantis' models perform confirms the appeal of fresh or relatively so vehicles. Even with newly available electrified powertrain and the advantages of AWD, 'only' 38,160 Jeep Renegades were sold in H1. That's actually a terrific result considering the age of the vehicle. Look though at how many examples of the 2008 – it's only about 18 months old – were delivered.
T-Cross: a baby Tiggy?
What would make anyone want to buy a T-Cross? Quite a lot of things. The looks are very Volkswagen, at least the pre-ID era Volkswagen, and in fact it's a fair bit different to the curvier T-Roc. To my eyes, the 'Cross is a mini-Tiguan and that's a compliment.
Due to it being one of many VWs in development at a time when the mothership was setting aside tens of billions for TDI-gate, a lot a penny-pinching surely took place. When the early versions arrived in the final quarter of 2018 (2019 for the UK) that suspicion was confirmed. Also, this model which was designed not only for Europe but China, Brazil and India too.
Dials delight
What you see when opening any door is a functional interior as opposed to something like the previous Golf where near-premium was the look.
Old-style VWs can be so much better than many new ones. For example, the Amarok is a personal favourite for many reasons, including mercifully little intrusive or time-wasting technology.
Oh what a joy in the T-Cross to have a volume knob for the music plus twist-dials for the HVAC system's fan speed, temperature and direction of air. I also celebrate handbrakes and keys so there is a lot to love here.
A view please
A reversing camera is Volkswagen taking the old-tech approach too far though: for twenty-plus thousand pounds, beeps aren't good enough. So yes, sometimes the Golf, ID.3 and ID.4's interior features are an improvement on older-style Vee Double Yous.
The Polo – more or less a lower-riding T-Cross hatchback – has much the same look and feel as the no-gimmicks T-Cross. A mere coincidence that the VW hatchback is selling up a storm lately and was the UK's number one vehicle in July?
More for model year 2022
A few years in, Volkswagen has been tweaking things a little, the worst of the multi-billion losses from the diesel scandal lies are in the past, and there is money again for nice things.
The press test vehicle seemed to have more standard equipment, materials felt less bargain basement and the general aura of pre-Mark 8 Golf was everywhere.
That isn't my imagination either. VW has been tweaking the T-Cross, giving more features to what the UK importer says are MY2022 cars. Examples include electrically folding and heated mirrors, as well as a multifunction steering wheel. Certain options add much appeal too, including a fantastic Beats audio system (GBP445) and a proper spare tyre (GBP115).
The move to offer something more while keeping pricing competitive comes just ahead of Volkswagen adding another small crossover.
Touareg, Tiguan, T-Roc, T-Cross…Tiago
The just-announced Taigo has been around elsewhere for just over a year but with a different name. The 'Nivus' is for South America while the new-for-Europe twin sticks with our region's T-something labels.
Compared to the T-Cross, the Taigo is a little longer and sleeker – think of it compared to the original as how the equally new (but of course larger) Audi Q5 Sportback relates to the Q5.
The addition of this fresh coupé-crossover should help Volkswagen to partially counter a lack of electrification in the 4.1-4.3 m long small-and-tall vehicles class. The pair also mean even better capacity utilisation at Landaben/Navarra.
The Pamplona factory produces the Polo too, these three models all being based on MQB A0. Which is why the T-Cross and its brothers do not offer all-wheel drive.
Black Edition
After a week with VW's new Black Edition, the dinky crossover had charmed me once more. I've driven a few examples of the T-Cross and also attended the original UK media preview.
The black-out treatment suits the car and made it look pricier than it is. Mine had a six-speed manual gearbox and the 110 PS and 200 Nm version of the Volkswagen Group's 999 cc three-cylinder petrol turbo. It will return up to an official 57 mpg and for me, it was 50.1.
With a 0-62 mph time of 10.8 seconds and a 117 mph top speed, the Black Edition isn't especially fast yet it doesn't need to be. You can have a fair bit of fun as body roll appears fairly early forcing a slowing of progress. And yet the steering's pretty precise, while there isn't enough torque going through those front tyres to cause much wheelspin or pushback anyway.
Thumbs up?
Even if the Ford Puma remains best-in-class for keen drivers, the T-Cross is by no means second rate. It has a LOT of appeal for the rising number of people discovering that lots of new-tech is great only when it improves the ownership experience. This new Black Edition will therefore likely do well.
The VW T-Cross costs from GBP20,950 (SE trim) with the as-tested Black Edition priced from GBP21,495.