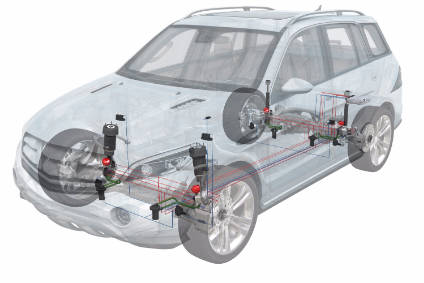 A clear trend in the shock absorber sector is integrating more and more electronics. Electronic dampers adjust instantly to ensure ride comfort and firm vehicle control. Tenneco Inc is among those leading players in the electronic suspension market. At a recent company event, the supplier updated us on its product portfolio and scope.
Given that a conventional passive suspension system features a fixed damper setting, there has always been a compromise between comfort and handling performance. Yet electronically controlled suspension systems that continuously adjust the damper settings to suit the road conditions eliminate that trade-off, providing the driver with greater levels of comfort and control.
Hence it is not surprising to see how such intelligent suspension systems are expected to grow from 2 percent to more than 15 percent of the light vehicle market by 2025, with adoption led by global automakers. The key drivers include increasing consumer expectations around vehicle comfort, safety, stability and control. Demand for fuel economy and associated vehicle weight reduction strategies is also fuelling the market.
Monroe Intelligent Suspension
Tenneco markets its ride control products under the Monroe brand name. Monroe ride control products include shock absorbers, struts, springs and advanced suspension systems.  Its Monroe Intelligent Suspension (MIS) portfolio includes a base product, known as Dual Mode followed by four continuously variable semi-active and fully active suspension solutions designed for every driver, road and car.
The supplier's Dual Mode adaptive suspension technology offers subcompact and compact car drivers a default comfort drive or a sportier ride by pressing a button. This technology is fitted to the new Ford Focus RS "and there are others in the pipeline at the entry level," said Rudi Schurmans, executive director global engineering, Tenneco Ride Performance.
Launched way back in 2002, the supplier's CVSAe solution – designed for premium compact and mid-size cars – continuously senses the road and driving conditions to adjust the four dampers in real time for a more comfortable and controlled ride. Since then, Tenneco has sold some six million units to ten automakers, the most recent fitment being on the Renault Talisman and Infiniti Q50. Take rates for its CVSAe are said to be increasing as the technology becomes packaged with other systems like air suspension.
Also forming part of the MIS portfolio is the CVSA2 for luxury cars. This semi-active damper comes equipped with two independent externally mounted electro-hydraulic valves, unlike the single active valve per damper found in the CVSAe. The net result is a more refined ride with enhanced control of comfort and vehicle handling.
Next up is the CVSA2/Kinetic semi-active damping solution that adds a novel roll-control system to the CVSA architecture. This system consists of hydraulic lines between the CVSA2 dampers, replacing the mechanical anti-roll bars. The driver can adjust and set the roll stiffness to suit.
For the next generation of premium cars in the E and F segment, Tenneco's solution comes in the form of its so-called ACOCAR.  This fully-active suspension system provides the ultimate in comfort for premium luxury cars. "We have been preaching about ACOCAR for the past ten years but it will appear soon," said Schurmans.
Scalable suspension architecture
Tenneco says its CVSA2, CVSA2/Kinetic and ACOCAR are scalable. By using Tenneco's scalable architecture concept, platforms already equipped with CVSA2 can be upgraded to CVSA2/Kinteic or ACOCAR as an option. These three solutions share the same damper design, main components, vehicle interfaces, electronics, control strategies and production processes.
"Scalable suspension responds to the increasing need for differentiation as car manufacturers seek to offer a wide variety of different driving experiences on multiple car types within a single vehicle platform," said Schurmans.
Raising awareness of advanced suspension systems
Although ride control products are not as visible as certain other auto technologies, awareness by the end-consumer is growing thanks to a number of Tenneco initiatives, including social media and advertising.
"We are trying to connect with the end user by using different media to explain what the suspension can actually do," said Ian Ellaby, manager, research and development, Tenneco Automotive Europe. "[The suspension] is a black box for many consumers who are not always aware of what it can deliver. So while end-consumers are not asking directly asking for [advanced suspension technologies], they are asking car manufacturers for qualities that we can deliver."
Autonomous cars and suspension systems
There is of course a lot of noise nowadays about autonomous driving. We all know that the driverless car is coming but what does this mean for the suspension system? Ellaby believes that cameras will play a greater role in active suspension systems. "The technology is there but [involves] different technologies for different systems, depending on whether you want to set the car up from a distance or identify an object that your wheel is about to go over. There are some systems on the market that can already control the suspension with vision but they have some limitations." Ellaby adds that Tenneco is working with some vision system companies to see which systems are suitable. "It is not that we want to apply the vision systems but we want to be able to integrate with them. So we are developing algorithms of control of our active systems that will then bolt into information coming from, let's say, a supervision vision ECU. These are really on the edge of becoming a reality. There is a lot of research going on now."
Shock facts
Our visit included a tour of the Monroe Engineering & Technology Centre (METC) in Sint-Truiden, 45 miles east of Brussels. Built in 1995, METC is home to 165 engineers and technicians busy carrying out suspension system research, development and testing.
A few minutes' drive from the METC is Tenneco's largest shock absorber factory in Europe.  This sprawling facility produces some 32,000 shock absorbers per day. Approximately 95 percent of its output is shipped to the likes of VW, Audi, Ford, Daimler, Chrysler, Renault Trucks, Volvo Trucks, Scania and DAF. The rest is distributed through the replacement market.
The Sint-Truiden shock plant is one of seven Tenneco Ride Performance factories in the European region. The others are located in Czech Republic (Hodkovice), UK (Birmingham), Germany (Hanover), Poland (Gliwice), Spain (Ermua) and South Africa (Port Elizabeth) which is also managed by the European region. These factories collectively produced 27.5 million shock absorbers last year.