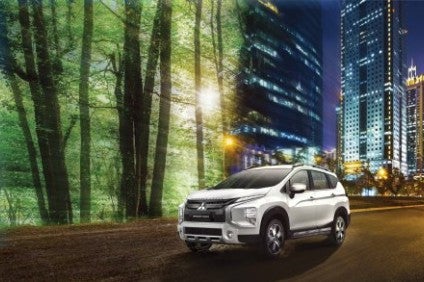 Mitsubishi Motors last week announced a new far-reaching three-year business plan, referred to as 'Small but Beautiful', which reflects the harsh market conditions and challenges that have come about as a result of the COVID-19 global pandemic.
The plan was announced along with the release of a predictably dismal set of financial results for the first quarter of the current fiscal year, the April-June 2020 period, which was easily at the low end of the range of what has been reported by other global car companies.
Mitsubishi's global net sales fell by over 57% year on year to JPY229.5bn (US$2.17bn ) in the quarter, while it made an operating loss of JPY53.3bn (US$504m) compared with a small profit of JPY3.9bn a year earlier. Global vehicle production fell by close to 66% year on year to 106,820 units, reflecting its heavy exposure to markets in south east Asia which were largely under lockdown in this period. Domestic production fell by over 67% to 48,525 units, while overseas output dropped by more than 64% to 58,295 units.
The poor first quarter prompted the company to revise its full fiscal year (FY2020) forecasts, with consolidated revenues now expected to fall by almost 35% to JPY1,480bn and an operating loss of JPY140bn. To achieve even these downwardly revised forecasts and allow its business to recover, the company announced some deep cuts to its operations designed to reduce fixed costs by at least 20% over the next three years compared with FY2019.
The company's plan to close its Pajero Manufacturing subsidiary in Japan was leaked well ahead of the official announcement last week. The 130,000 units/year Pajero SUV facility in Sakahogi will cease production in the first half of 2021, with production and personnel to be transferred to its Okazaki plant. The move is expected to cut costs by around JPY100bn (US$933m) per year.
The company shocked its UK and European distributors when it announced plans to 'freeze' all new model launches in Europe from this year to help cut marketing costs. Its passenger vehicle sales in this region fell by 31.5% to 45,520 units in the first half of 2020 for a 1% market share. The company said it will continue to sell existing models and provide aftermarket services across the region, but many fear it may be planning to exit this market altogether in the medium term.
The company said in a statement it is looking to "concentrate investment in core regions and technologies to enhance profitability". Its core regional markets will remain Japan and south east Asia, with a growing emphasis on other global emerging markets in Asia, Oceania, Africa and Latin America which it has described as its "second pillar markets after south east Asia". China will also remain a core market due to its size and growth potential, especially the new energy vehicle segments.
The company announced plans to invest JPY8bn in its Mizushima Plant in Kurashiki city, Okayama Prefecture, for the production of a range of battery powered kei-cars (mini-cars). The investment will cover production facilities for battery packs and expansion of the stamping, welding and final assembly facilities which it will share with its Alliance partner Nissan.
Mitsubishi plans to focus significant management resources in south-east Asia, its core regional market where it is targeting a regional market share of more than 11%. Here, it plans to have a broad range of locally produced, mass market hybrid, plug in hybrid and battery powered vehicles available from 2023 – covering the SUV, MPV and pickup-based vehicle segments.
It will work closely with its Alliance partner Nissan to tap into its electric vehicle expertise, share development and production costs, and maximise production volumes. Many Mitsubishi models produced in the ASEAN region will be badged Nissan and likely vice-versa. Nissan has already closed its two vehicle assembly plants in Indonesia and will rely mostly on Mitsubishi and its own plants in Thailand for its ASEAN product line-up.
Mitsubishi is understood to be planning self charging hybrid versions of the next generation Xpander MPV and the Xpander Cross SUV in the second half of 2022, which will be produced at the company's plant in Indonesia. They will also be sold under the Nissan badge and exported to an expanding number of developing markets around the world, including in Asia, Africa and Latin America. The current Xpander is available only with a 1.5-litre petrol engine.
The two brands will also share products and platforms in Thailand, including the next generation pickup trucks due to be launched in 2022 and replacements for the Mitsubishi Pajero and Nissan Terra in 2023. Mitsubishi also plans to launch a plug in hybrid version of its Outlander when the new compact SUV goes into production in Thailand in 2023 and Nissan-badged models are also expected.
Nissan is also expected to allow Mitsubishi to badge some of its forthcoming battery powered passenger cars planned for the ASEAN region and elsewhere.
Mitsubishi's new mid-term strategy brings it significantly closer to its larger partner Nissan in terms of technology, product and production sharing, especially in core markets such as Japan and south-east Asia. It also places Nissan at the centre of the Renault-Nissan-Mitsubishi three-way alliance, which will increase its influence significantly.