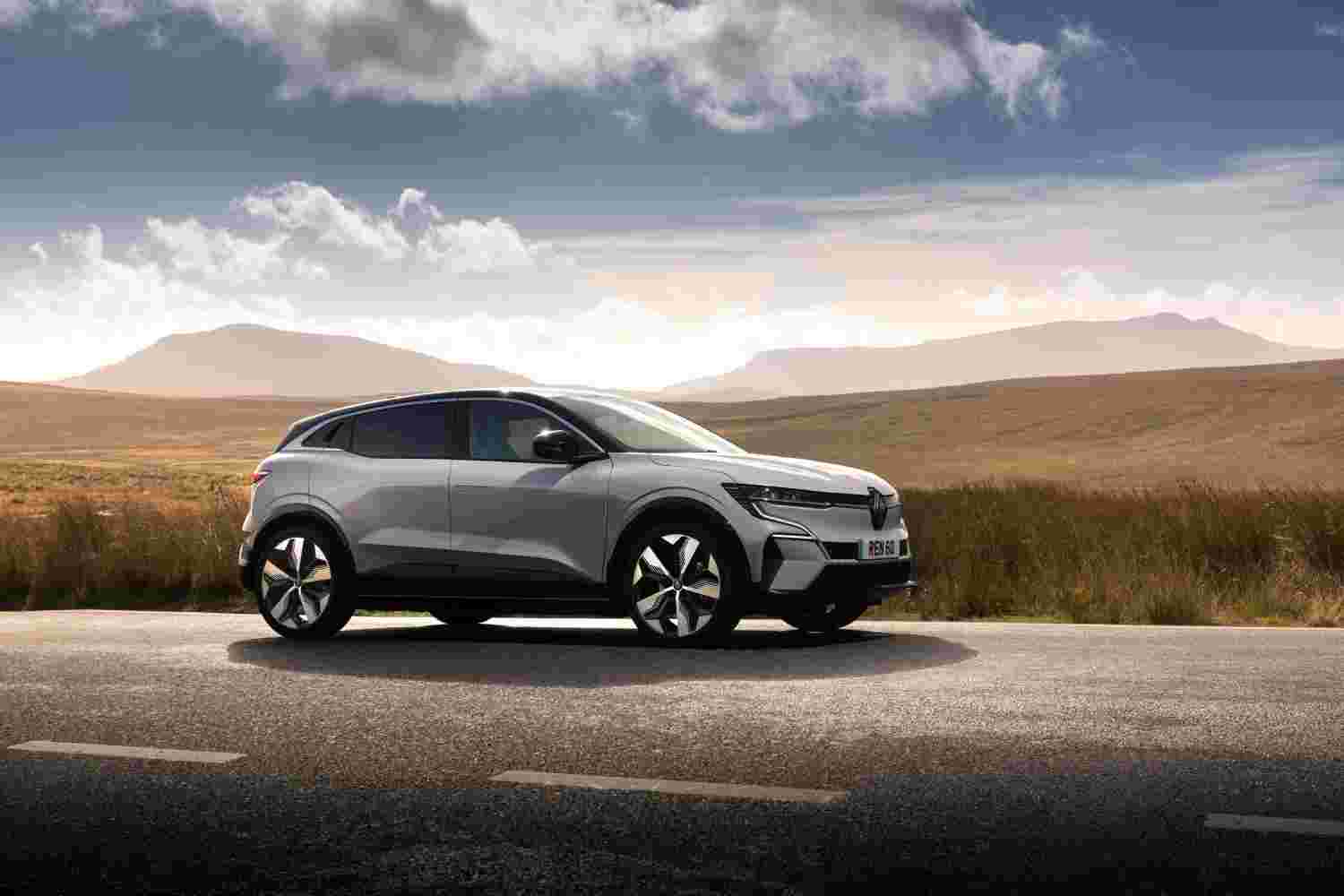 Electric cars sure have grown up. My memory of Renault's first effort, the Zoe, tried a decade or more ago at a press demo day where it was restricted to a slow, so called 'city route', is of a motorised tin can with flimsy thin panels (for light weight) and a pared-down interior with acres of painted metal. A fun to drive, nippy and easy to park runabout, though, and it's since found plenty of homes in various markets. The Megane, launched a couple of years or so ago, is a whole different ball game – larger, (much) longer range, solid in look and feel, nicely trimmed and a nice compromise between a C-segment hatchback and SUV.
It wasn't purpose built as an EV, though, unlike the Zoe, Alliance partner Nissan's Leaf and many other more recent arrivals. In some markets the Megane can be had with ICE powertrains but, here in the UK, it is offered only as a BEV and there are four trim levels ranging in price from GBP36,995 to GBP41,995. The review car was a second up from entry level 'Techno EV60 220hp optimum charge' priced at GBP39,495.
This is the first model to be 100% 'Made in ElectriCity', the Renault Group's industrial hub and claimed "European leader of EV vehicles" located in northern France. I didn't notice it, but the windscreen apparently incorporates a rooster silhouette to symbolise the vehicle's French origin and manufacturing.
The Megane E-Tech Electric was the first of the new Generation 2.0 EVs launched a decade after the Zoe. The car has an OpenR display and OpenR Link multimedia system developed with Google and based on Android Automotive OS. It was intriguing to climb in the first time and be invited to log into my Google account and, hey presto, there's the navigation map with all my favourites, home address, etc. Each user's profile can be linked to a personal Google account and you can access the catalogue of Google Play apps, and use Google's built-in voice assistant plus, once you are the owner, the My Renault app.
Approach with the key fob in your pocket – remembering Renault was first decades ago with Plip remote control locking – and the vehicle sets off a sequence where the headlamps light up starting in the middle, then moving out before fading to black on the daytime running lamps with the indicators on. At the rear, the light strip and lamps light up while the indicators flash. The welcome sequence finishes with two lights mounted on the wing mirrors projecting the new Renault logo on the ground. Get closer and the car unlocks and pops out the door handles to welcome you. They pop back into place after two minutes of remaining stationary, when the car begins to move forward, or when the doors are locked.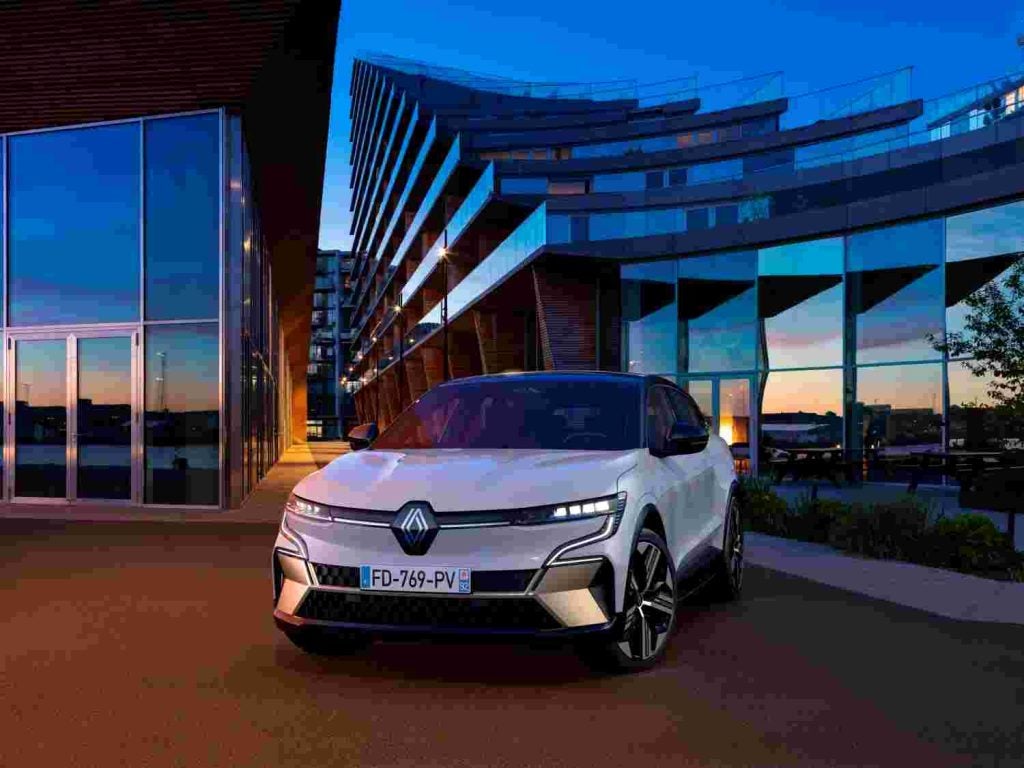 Sit in the driver's seat and the OpenR screen with dashboard displays and multimedia screen turns on displaying the logo and brand name. Ambient lighting illuminates the cockpit while the speakers play a welcoming sound. Kitsch but clever.
Like all new cars, it's 'green' and that's not just the emissions-free battery electric drivetrain, All upholstery is made out of 100% recycled materials – up to 2.2kg of it. A total of 27.2 kg of visible and invisible parts are made out recycled plastics and 95% of the vehicle will be recycled at the end of its life, Renault claims.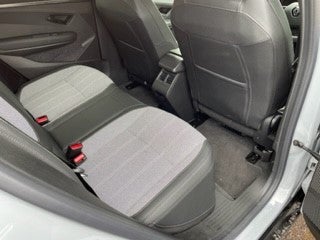 It's the first Renault built on the Alliance's CMF-EV platform dedicated to BEVs which makes it easier to manufacture, develop, and optimise performance of each brand's new generation models. The automaker says new technology and batteries with greater capacity allow it to increase the energy efficiency and range of an electric car while reducing its charging time. "The power and comfort when sitting behind the wheel are also greatly enhanced thanks to an overhaul of the chassis and steering systems and a lowered centre of gravity made possible thanks to the batteries mounted under the floor."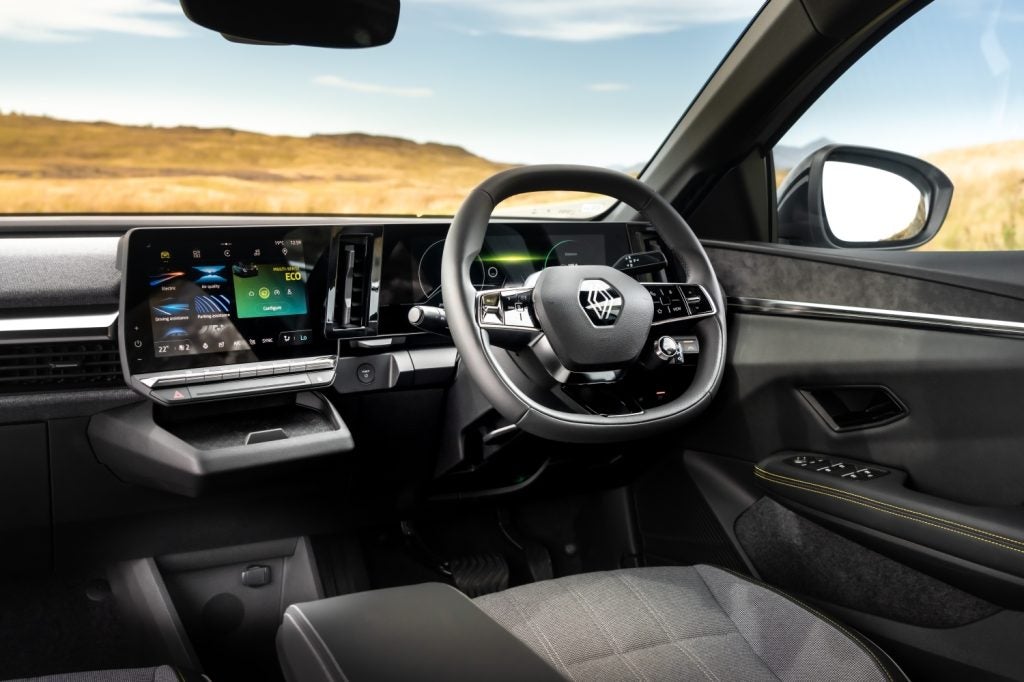 Interior space and comfort have been increased thanks to the absence of a drive-shaft tunnel, gear stick and control panel usually integrated on the centre console. On right hand drive cars, the transmission selector is on the right, BMW, Mercedes and BMW style. You press on the brake pedal before selecting a gear, of course, and push the end of the stalk for Park.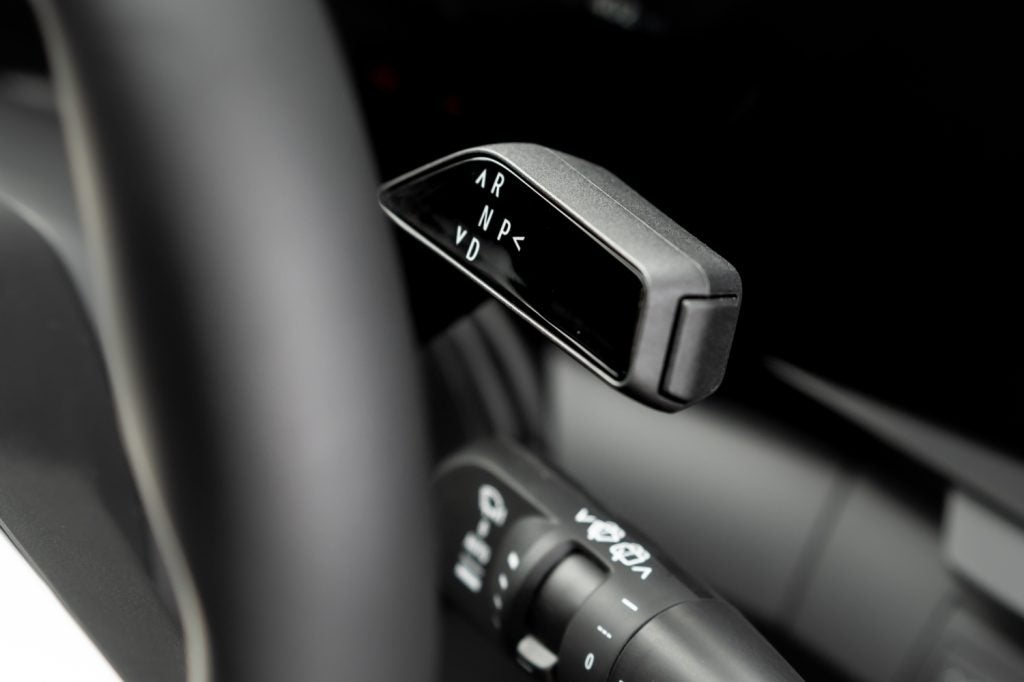 The new OpenR single screen made using reinforced glass combines a digital instrument panel and central console multimedia screen. A button on the steering wheel cycles the screen in front of the driver through three different layouts including a full width Audi style map. The centre screen can show three different items at once and I liked being able to access my Google apps without using Apple CarPlay so that other items built into the car like DAB radio could be accesseed simultaneously. Screen brightness and light reflectiveness have both been optimised to ensure good visibility even in full sunlight, enhanced by the anti-reflection coating so the traditional dashboard sun hood is no longer necessary.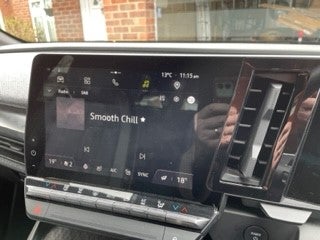 The OpenR screen has a display area claimed to be like no other: a 12.3-inch dashboard screen (1920 x 720 pixels, landscape) and 12-inch multimedia screen (1250 x 1562 pixels, portrait). The entry level model features a 9-inch multimedia screen (1250 x 834 pixels, landscape). It incorporates the latest-generation Qualcomm Snapdragon processor with 4K multiple display capabilities, and advanced connectivity with USB-C ports. The dashboard display can be customised like a cellphone display with five widgets (fuel use, tyre pressure, distance, eco-monitor, music) and eight colour schemes. There's no head-up display as all the features you might get in that are in the driver display.
Relying solely on Google did lead to a problem though when Maps could not find our way out of an unfamiliar part of a neighbouring town. After two circuits ending up where we started, one of the kids loaded up Apple Maps on her phone and we were soon on the right course and Google could take over again.
I liked a Birds Eye view which shows the brake lamps and indicators and also the stopping distance (in seconds) to any vehicle in front with the background colour changing according to distance.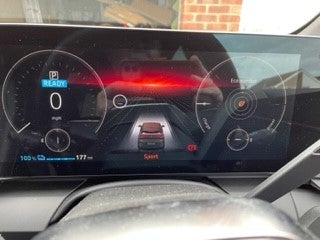 With no controls on a centre console, space between the two front seats houses a seven litre storage compartment. There are also two additional cup holders and three litres of storage located under the central armrest which can slide by 55mm for better comfort. The boot is 440 litres and charging cables have a 22-litre storage area accessible via a removable boot floor panel. Boot capacity can be increased with the rear seats folded down in a 60:30 format and the front passenger seat folded up.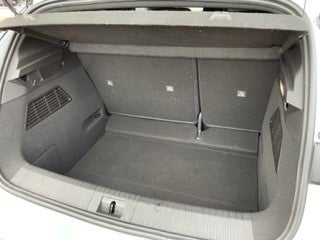 Gadget toters are catered for with USB-C ports and a 12V socket in front and two more USB-C ports behind the armrest for those in the back. The bottom of the multimedia screen houses a smartphone dock and the phone can be positioned horizontally, for inductive charging, or vertically to view its screen.
Mood lighting is full LED and, Renault says, based on the human body's natural 24-hour circadian cycles. There are light strips along the dashboard, door panels, and smartphone dock and it differs between day and night, changing colour every 30 minutes. Colours also change according to the chosen drive mode and the whole system can be customised with 48 colours.
Battery
A thinner battery pack (110mm) means the centre of gravity is 90mm lower than ICE versions of the Megane sold in other markets. The new 395kg battery is 40% smaller than the Zoe battery and uses new lithium-ion NMC (Nickel, Manganese, Cobalt) LG cells with more nickel and less cobalt for greater energy density, reaching 600 Wh/L, 20% more than the Zoe. The 60kWh battery for UK cars consists of 12 modules of 24 cells each, spread over two layers and has an eight year guarantee which will replace it free of charge should it deteriorate to less than 70% of nominal capacity. A new liquid cooling system makes the battery more compact and efficient thanks to die cast aluminium tubes.
Powertrain
A new electric motor delivering up to 160kW with 300Nm of torque and four levels of regenerative braking, is known technically as the "electrically excited synchronous motor" (EESM) with better power output compared to permanent magnet motors and doesn't require rare earth metals. The new motor is compact and weighs 145kg 10% less than the current Zoe motor despite a notable increase in power and torque. There are two versions – 96kW (130hp)/250Nm and 160kW (218hp)/300Nm and all UK versions get the more powerful version with a quoted WLTP range of 280 miles. Acceleration from 0 to 62mph is quoted as 7.4 seconds. Three levels of regenerative braking can be selected with steering wheel paddles but, annoyingly, have to be reselected after each start. The higher settings do put a few miles back 'in the tank'.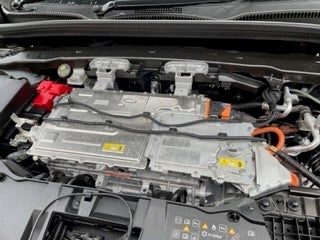 WLTP claim aside, the car at one point reckoned it had 180 miles at 100% charge but this varied a bit with use over a week. Delivered with 80% charge it took 4.5 hours using a domestic plug cable (a GBP245 extra) at a cost of about GBP3.50 to get to 100%. A later full charge produced a 196 mile range estimate and the car left my hands with 90% showing, estimated range of 156 miles and a three hour, eight minute estimate of charging time back to 100%. Most owners with room for it will install a faster home wallbox and high speed charging is available at public points.
Heat pump
Renault says the long range is thanks to a new, patented, three-part system: a new heat pump improves the battery's coefficient of performance by 30% compared to Zoe, with a new heating, ventilation, and air conditioning (HVAC) system; an intelligent system for managing energy lost by the batteries and powertrain, which reuses it to heat the cockpit; predictive charging management uses the route on the vehicle's navigation system to set the battery at the appropriate temperature as the car nears a planned charging point, making the best use of the charging point's capabilities for a faster, fuller charge.
This electric Megane is yet another example of how far EVs have advanced in the last decade. From barely 100 miles, range knocking on 300 miles is much more practical and there are no compromises in interior room, packaging, trim and equipment. It's fast and fun to drive and very comfortable and, though there's a premium over ICE, the cost of full electrification is not unreasonable.