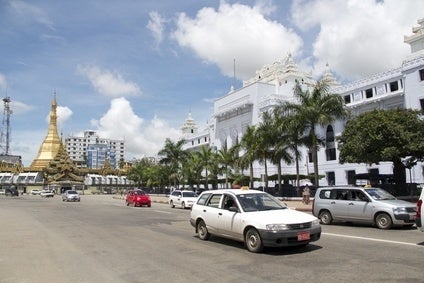 In this month's management briefing we take a look at selected emerging markets "beyond the BRICs". In this first instalment, analysts at LMC Automotive provide us with extracts from their latest study looking at the Asian market of Myanmar.
Overview
After decades of isolation from the West, Myanmar has emerged as one of the last remaining frontier economies of significance in Asia. Since the new civilian government took over from the military in 2011, a programme of reform has taken place that has freed much of the economy from military control.
From the point of view of the global automotive industry, this means that a new market is emerging with significant growth potential, albeit from limited levels at present. Since the government lifted restrictions on vehicle purchase in 2011, demand has risen from less than 4,000 units in 2009 to almost 130,000 in 2013.
However, much of this demand for vehicles is being met by reconditioned used imports, as the government prioritises the nation's burgeoning need for mobility. Of the total demand in 2013, fewer than 6,000 units will be new vehicles. But despite the current low base and the overwhelming competition from used imports, we expect new vehicle sales to increase at double-digit growth rates over the coming years. As more models are assembled locally, improved choice and cost competitiveness will see many buyers opt for new cars over used.
The country has a population estimated by the United Nations at around 50 million people and is rich in natural resources, including oil & gas, minerals, precious stones and timber. But vehicle ownership levels are among the lowest in Asia, at less than 9 vehicles per 1,000 inhabitants. This compares with 17 vehicles per 1,000 inhabitants in Vietnam last year, which is also considered a market in its infancy; while the more developed Philippine market has 33 vehicles per 1,000 heads of population and Indonesia 40 vehicles.
The potential for growth in the new vehicle market beyond 2018 is significant and will likely accelerate once the initial development stage of the economy moves forward. Current projections see the market more than tripling between 2018 and 2028.
Seeing this potential, global vehicle manufacturers began returning to Myanmar in the second half of 2012 and dealer and service networks are now starting to be rolled out across the country, starting with Tata Motors and Kia Motors. Suzuki Motor restarted assembly of its Carry light commercial vehicles in May 2013.
Nissan Motor has since announced a USD75 million investment in a new assembly plant just north of the commercial capital Yangon through its Malaysian distributor Tan Chong Motors. Other Japanese manufacturers are expected to follow from 2015.
All-important general elections are due to be held in 2015; it is critical that political stability is maintained during this process and that democratic reform continues. A smooth outcome to the elections will underpin global confidence in the political and economic reform process and is expected to unlock a new wave of foreign investment that will drive the next phase of economic development in the country.
| | |
| --- | --- |
| Myanmar at a glance | |
| | |
| Population in 2011 (estimated, millions) | 48.337 |
| Population density in 2011 (per square kilometre) | 71.4 |
| Capital city and population in 2011 (millions) | Nay Pyi Taw (1.1) |
| GDP per capita (current US$, 2011) | 1144 |
| Currency | Kyat (MMK) |
| Telephone subscribers, total (per 100 inhabitants, 2011) | 3.7 |
| Internet users (per 100 inhabitants, 2011) | 1 |
| | |
| | Source: UN |
Strong parc growth from low base
The number of registered vehicles in Myanmar, excluding motorcycles, tricycles and farm machinery such as the local Trawlergies, has grown strongly over the last twelve years, albeit from a very low base.
At the end of the last financial year, as of 31 March 2013, almost 444,000 road vehicles are estimated to have been in use in the country. This represents a 16% increase on the previous year and reflects mainly a sharp rise in used vehicles from imports from Japan. Other sources of new and used vehicle imports include mainland China and Thailand. Over the last twelve years, the parc has expanded by 76%, with growth accelerating in the last few years.
Despite the fact that Myanmar is a left-hand drive country, the vast majority of vehicles imported into the country since 2011 are right-hand drive units imported from Japan. This has significant implications for road safety and begs the question as to whether the government will switch traffic regulations.
With the country's population currently estimated at around 50 million, vehicle ownership is 8.8 units per 1,000 inhabitants. Continued strong influx of imports will likely expand the road vehicle parc to over 500,000 units by the end of the 2013-2014 financial year – equivalent to around 10 units per 1,000 inhabitants.
This is among the lowest in Asia's emerging economies and reflects the significant size of the country's rural population. Other forms of transport are more prevalent in rural areas (which are not included in these data), including Trawlergies, which are small two-wheeled tractors hooked up to semi-trailers. Motorcycle based light trucks and three-wheeled vehicles are also favoured in the poorer rural areas for cost reasons and because of poor road infrastructure.
For example, Myanmar's vehicle density is close to half that of Vietnam, which had around 17 vehicles per 1,000 inhabitants last year, while the Philippines had 33/1,000; Indonesia 40/1,000; Thailand 189/1,000 and Malaysia 358 vehicles for every 1,000 inhabitants.
New Vehicle Imports
New vehicle importers began to establish operations in 2012, encouraged by the sharp increase in used vehicle demand and the potential of Myanmar as a key investment destination, which would lift economic growth.
South Korea's Kia Motors and India's Tata Motors began selling new vehicles in the second half of 2012, and since then, other new vehicle manufacturers have established sales outlets.
Import duties have come down, from 50% to 30%, while import certificates are now available to all who can show adequate foreign exchange funds. Nevertheless, imported vehicles remain expensive, with custom duties and local taxes adding at least 100% to the CIF price of a vehicle.