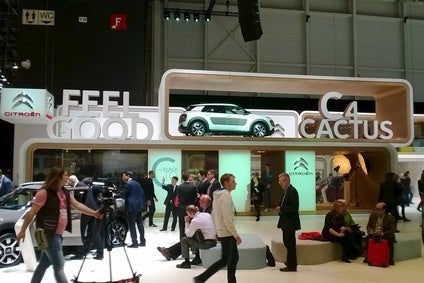 It's the annual event that quietly wakes Europe's auto industry into action after winter slumber. Now that it has come and gone, just-auto's future products editor, Glenn Brooks, reflects on the significant trends and vehicle world premieres at the 2014 Geneva Salon de l'Automobile.
The logical place to begin any overview of a European motor show is a look at what the number one regional player had on display as world premieres. Well, the news was more of what was missing: still no replacement for the aged Passat. The VW brand and indeed the Volkswagen Group found itself in the extraordinary situation of having not one new mainstream model premiering at Geneva. Instead, VW's show was all about a mid-life update for the Polo. The design team tasked with grafting a new face onto the car did well, and the South African-built PoloCross has been simultaneously refreshed.
The Golf GTE is a first class effort at making a good looking car which sometimes runs on batteries. I also would apply that to the Mercedes-Benz S 500 Plug-In Hybrid, Renault Zoe, and BMW's i3 and i8, but am I alone in thinking one of the reasons other EVs and PHEVs haven't (yet?) sold so well is just how odd some of them look inside and out? Some of you will want to include the i3 in that list but regardless of what anyone thinks of its styling, there's no doubting that BMW's first series production EV is selling well.
On the topic of oddities, the Ford stand had the facelifted Focus (but no Focus Electric) playing second fiddle to two Mustangs. Sure, they were glamorous drawcards but both the bright yellow hatchback and the more sombre-hued convertible sat inaccessible on raised turntables. These in turn were fenced off by glass panels. Even more curious was the new-to-Europe EcoSport. Curious in that there was no sign of it. Extraordinary, considering that the segment leading Juke was on display not too many metres away in facelifted and NISMO RS forms.
It gets stranger still: there was a second showing of the solar-charged C-MAX, one hybrid and two Vignale versions of the Mondeo (some interesting insights from Ford Europe boss Odell on Ford's Vignale brand strategy here) and the Edge concept from last year's LA show. The last of these might well be set for a big selling future in the US and Canada, but in Europe? Let's see what Paris brings in six months' time: the Valencia-made Mondeo will be there, and possibly the next Galaxy and S-MAX, though the minivans won't enter production until 2015. No doubt Ford's stand was changed for the public days but it was still an unusual approach to go heavy on the displays of future low-volume products and ignore some vital new ones.
Over at GM Europe, and despite a PR person telling me they doubted there would be a Chevy stand at Paris, the Corvette looked stunning, as did the new racing car. And the new Cadillac Escalade is of course enormous but – and this was a surprise – it looked properly premium, outside and in, when I had expected it to be too glitzy for Europeans. Opel had yet another upbeat show and having seen the Adam Rocks in the metal, I now get it. The Adam S is another intelligent move to get buyers to understand what this little car is. The Adam has been a slow burn but it's starting to catch on. Shame there's still no diesel or automatic but finally I can stop moaning about the lack of a six-speed manual: that comes as standard with the new 1.0 Ecotec engine. Will the Rocks be successful? If it is, expect to see other A segment crossover convertibles in 2015.
Unlike just about every other OEM's stand, the Opel one hadn't been recycled from previous European shows, but would it really be that hard to tone down ALL the yellow and black and bring in some Vauxhall red and silver for press days? As usual, there was but one car with a griffin on the grille, and it was an LHD Rocks with Vauxhall's one sandwich board sized sign pushed into a corner. When, one wonders, is someone in the RenCen going to pick up the phone to Russelsheim and bark instructions to champion the national brand of GM's largest European market? The Vauxhall Adam Rocks will have rightly had its badge swapped for a lightning blitz at end of the media days but why does Opel almost airbrush out what it should be promoting as its sister company?
You could have been excused for presuming that it was business as usual at PSA, rather than the first media event following the Peugeot family's loss of control after 200 years of trading. Every example of the 308 hatchback was wearing a Coty decal on its door and it's a worthy car of the year, this. The new SW has a huge boot but I'm sad enough to have compared volumes and thus learned that the Civic Tourer beats it, though not by much. The C segment estate market does seem to be doing OK too, despite the endless assault on it from crossovers and SUVs.
Peugeot's other main world premiere was the 108, which along with the Citroen C1 and Toyota Aygo, was shown only in four-door form. I use that description as the rear hatch is again made of glass. These three little cars clearly use a carryover architecture as you can easily spot things like the same single windscreen wiper, air vents and, I'm sorry to report, inadequate rear room. But if you want to put four adults in an A segment model, forget it – the leap to the 208 is large in many other ways too. Don't get me wrong, I like the 108/C1/Aygo but none matches the up!/Mii/Citigo for interior design and perceived quality, though the new Hyundai i10 gets close.
A hundred metres away at Citroen, the C4 Cactus was the big drawcard, along with the C1. The Cactus, if it sells, is going to make the person who pushed it through the product planning process something of a future golden fils or fille. It is obviously cheap to build and cost has been taken out wherever the trained eye looks. Rear windows merely clip out (but to be fair, the shape of the door means they wouldn't lower far, anyway), the drawcard airbumps on the doors are a talking point but having them in different colours costs extra, while the dashboard looks genuinely exotic in a good (premium) way as long as you're prepared to pay for all the funky new-tech extras. I think Citroen might have a winner on its hands with this model. By the way, who'd be a product planner at PSA when the new boss says fewer models are what's wanted, while an opportunity for a C1-based DS 1 is there for the taking?
While Dacia had a quiet Geneva, Renault's stand was overflowing with Twingos. The question we all wanted to know can now be answered: yes, there IS enough boot space despite there being an engine hanging out the back but in cars with the optional canvas roof, headroom is less than adequate and I'm only five foot ten. I also learned that there won't now be a plug-in Twingo, while its twin, the forfour electric drive, will appear, but not until 2015. The next fortwo will also be closely related to these cars.
I've asked this question before but do we still think of Fiat as one of the big boys? Yes we do, but only because it has become FCA since the last time I tapped out a European motor show review. The '2014' 500 is a missed opportunity and I'm sorry but some plastic chrome trim on the front end does not a facelift make. We presume Fiat is going to take its usual direction: what had once been a blockbuster model will likely be left unfreshed throughout a long lifecycle. Let's hope I'm wrong and that a new Cinquecento arrives in 2015 as may well happen, in which case the cost of a mid-life makeover will have been saved. A car which might have been premiering but didn't was the Fiat 500X, FCA choosing to reveal its Jeep Renegade brother first.
A pic of the Renegade, as well as its name, 'leaked' on the eve of the show and Twitter chirped loudly about its styling. Not in a nice way. Thankfully, like most people, when I got to it I thought 'well, it's no beauty but it's not as bad as that shot that was all over the web yesterday'. What must be holes in the front wings for US-spec side lights are unfortunate as it means in Europe, cheap looking orange reflectors have been inserted into them. But the cross-pattern tail lights are, by contrast, terrific pieces of design. The interior is also full of Fiat components, with the HVAC controls from the 500L, for example, easily identifiable.
As for Alfa Romeo, the 4C Spider was rumoured and it did indeed appear, if only as a concept. Further signs of the latest attempt to make this a premium priced brand were also in evidence with the mildly facelifted MiTo and Giuietta QV having their debuts. Sergio Marchionne managed to confuse everyone by on the one hand admitting that yes, the Alfa version of the next Mazda MX-5 would not now be made in Hiroshima, but by then alluding to some other vehicle which would. Nobody at Mazda seemed willing to discuss these goings on and it is extraordinary that such a thing would be announced when Alfa Job 1 at Mazda's Ujina plant was due to be fewer than 12 months away. Will the Mazda-made roadster become a Fiat or perhaps an Abarth? FCA promises some big future product announcements in May, so stay tuned until then.
Toyota Motor Europe showed the new Aygo, which has a striking X-pattern front end and so looks quite different to the C1 and 108, while Nissan Europe premiered the aforementioned facelifted Juke. And for those of us who weren't at the Brussels show in January, this was also our first close look at the new Qashqai. This brings me neatly to something else very much in evidence at Geneva: a fresh palette of colours, with a lurid yellow for the Juke and a strikingly beautiful blue/purple two of the best examples (I checked with Nissan and this 'ink blue' costs extra – a clever move). The orange which Renault launched the Clio with is now catching on, as is the metallic brown that you only used to see on the Peugeot 508 RXH, and Renault had a beautiful powder blue for the Twingo. Opel's take on British Racing Green is also starting to appear on other brands' cars, all of which means fewer white, silver and metallic blue cars. And matte grey seemed to go mainstream at this show too, probably replacing matte black which wasn't much in evidence anywhere, unlike just a year or two ago.
SsangYong's XVL concept apart, the Koreans had an uncharacteristically quiet Geneva, though considering the relentless onslaught of new and additional products in recent years, this was probably overdue. Hyundai will pull the covers off a new Sonata later in March, with its show debut to follow at New York in April. Kia Motors America (KMA) will also have a world premiere at the NYIAS: a new Sedona minivan. This one won't be offered in Europe as KME sees little potential demand for it. Look to the Paris show in September for the world premiere of another Kia, the next generation Sorento. This will use the same platform as the Hyundai Santa Fe. And not to overlook Korea's largest brand, its most important world premiere at the show was the Intrado, a fuel cell concept. It looked funky and, taking its lead from BMW's i3, much was made of the carbon chassis which sported large labels declaring 'Lotte Chemical, Hyosung'. Refreshing to see a supplier being celebrated.
Part Two of Glenn Brooks' Geneva 2014 highlights will follow later this month.
See also: just-auto's Geneva 2014 coverage