INTERVIEW: Ford of Europe's chief, Stephen Odell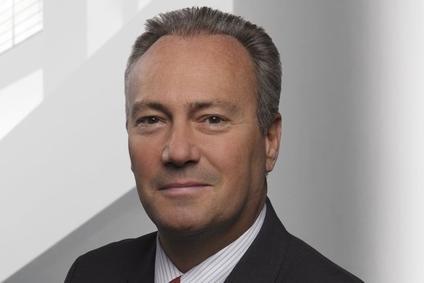 Stephen Odell
Ford has launched a revamped version of its Focus model in Geneva as part of a five-year product offensive promised under the 'Go Further' banner. Dave Leggett caught up with Ford of Europe's chief to hear more about the strategy to return the company's European operations to profitability by 2015.
When I meet Stephen Odell at the Ford stand late afternoon on the Geneva press day he's on good form, beaming and saying his goodbyes to the journalist who had the interview slot before me. We make our way with PR minder to a small 'back office' booth. Water and coffee swiftly arrives and I'm suddenly feeling human again (press day at Geneva is quite a workout, physically and mentally). Like many seasoned automotive executives, he's done his duty at Geneva quite a few times in the past. "This is my 23rd Geneva Show," he cheerfully volunteers.
Earlier in the day, he'd been on stage with Ford COO Mark Fields for the big Focus presentation. As a part of that, there was an impressive musical arrangement involving live orchestral contributions from around the world. The point of that was to play to the theme of enhanced connectivity in the "new" model. It was also entertaining.
But is Focus really 'new'? It certainly looks like the current Focus, Ford's biggest selling model globally. Isn't this more of a mid-cycle refresh (model debuted in 2010, expected full replacement in 2017)? I use the word 'facelift'.
Odell sticks to his guns. "I call it the new Focus," he says firmly. "If you look closely at the external panels, if you look at the interior, the connectivity, the ride and handling, the powertrains available...it really is a new car. I'm paid to say that, but other people who are far more objective than me are saying that, too. I think the response to the car will be very, very good."
This is something that I have heard before from manufacturers and there can almost be an implication that the previous generation car, similarly lauded when introduced, actually had significant weaknesses that have been quietly rectified with the revamp; a kind of flip side to 'look at our great new model'. We're talking relativities of course, but it's always interesting to explore 'continuous improvement' further.
The current Focus is a pretty good car, though, isn't it?
"Yes it is, but we did have feedback that the interior was busier than people wanted, a little too complex, and we have addressed that [Ford's SYNC 2 on new Focus features a high-resolution, 8-inch colour touch screen and advanced voice control that Ford claims gives easier access to audio, navigation, climate control and compatible cell phones].
"The new car employs more advanced technologies and is improved in lots of ways. We think we have moved it on significantly. This car defines Ford's values and our ongoing commitment to excellence."
There's no doubt that Ford is on something of a product charge. In September 2012, the company launched its 'Go Further' product offensive in Amsterdam and said it would transform Ford's business in Europe through the 'One Ford' strategy. The commitment made then was to accelerate product development and the introduction of advanced technologies across the ranges "rather than hunker down and wait for the recession to lift," as Odell puts it. The promise made then was for at least 25 new vehicles over the next five years. Ford says it has got as far as eleven, with ten more to come this year.
"We are already a very different company in Europe than we were eighteen months ago," Odell asserts. There has certainly been success on reducing losses in Europe and the aim is for the unit to be profitable by 2015.
"Because we are part of Ford global, we have been able to use the overall cycle plan and the menu of products and piggy-back on other things to have an accelerated product cadence. To have 25 vehicles that are all-new or substantial freshenings in five years is a real accelerant for us.
"And because of the new products we have been able to take inventory down and change our channel mix. We have got dealers asking us for product rather than us saying 'would you like some?' It's a different conversation. Our retail share across Europe went up 1% last year."
He says SUVs are the fastest growing market in Europe and that brings the opportunity for the company to reach out to higher revenue sectors. "Over the next five years, we plan to outpace industry growth with a full family of SUVs," he says. "It's started with the launch of the Ford EcoSport. In the mid-size segment, we are enjoying success with the Kuga (over 100,000 unit sales in Europe last year) and we are expanding our brand into larger upmarket SUVs." The Ford Edge is on its way to European showrooms. "Edge is a global success story and can act as a flagship SUV for our European customers who we think will be excited by it."
Ford also showed its Vignale Concept (based on the upcoming Mondeo) in Geneva. The Vignale sub-brand is a way for 'One Ford' to address premium, to stretch the brand upwards where margins are generally bigger. "It addresses the demand for a more tailored product and ownership experience," says Odell. The Mondeo Vignale will be the first of a series of vehicles to get the Vignale stamp. It's an intriguing one. If Ford still had its JLR and Volvo premium brands, it's perhaps a path that would not have been necessary, but 'One Ford' begs the question of how you get into higher margin premium territory.
"You have to have a way to get exterior and interior differentiation beyond, say, our Titanium spec, to enable people to spend that bit more for a more bespoke product. We are not saying that we are going after BMW or Mercedes, but we do believe that premium considerers would look at a Mondeo Vignale or an S-MAX Vignale. We have the Edge coming in as well, positioned higher up in the market. We believe at the top end [of the market], Vignale enables us to stretch our brand and portfolio without losing anything at the lower end."
At this point, after the talk of premium, I can't resist the perennial Lincoln question: could Lincoln ever work as a premium brand for Ford in Europe? "I think the plan we have with Vignale is thought through and doable. We do not want with Vignale to go nose-to-nose with the established premium brands. There is not a plan to bring Lincoln to Europe at this point...but one of the benefits of globalisation is that you can keep looking at all sorts of questions: would it make sense and how would you do it? So, it's not on the table at this point but I would never say never."
Could Ford's brand stretch even lower into the bargain or value segments? "No, I don't think you can stretch the Ford brand all the way down into value because you would then start to lose the core of what Ford is. But you can attack the upper end of value where it overlaps with mass brands and that is actually a thought process behind the next generation Ka, a B-sized vehicle that is value enabled."
Turning to electrification, Ford is planning some significant product launches in Europe over the next twelve months and Odell describes the strategy. "By the end of this year we will have the Focus all-electric, C-MAX Energi (which is a plug-in hybrid) and also a new generation Mondeo as a plug-in. We'll be able to offer the sort of electrification portfolio that people want, but it is still a very small part of the market in Europe, which is why we will engineer them and build them in the same plants where we build regular combustion engined vehicles. At this point it does not make scalable sense for us to have a dedicated plant. People [customers] are still questioning the payback period of that extra investment. Some people are nervous about range, charging capacity availability and so on. There's a lot to play out still, so I like our plan that is to be able to respond if necessary but we are not forced to dedicate a plant to it."
I ask about long-term segmentation trends in Europe. Are we going to see more downsizing, at the customer level, more people wanting smaller and more energy efficient cars? Odell has some interesting observations on recent history and believes that the move to smaller cars is sometimes over-hyped and there may be more going on underneath the raw data. "Certainly in the recession, some people downsized. But as they downsized, they wanted the same capability as they had with the larger car. Some of the movement was also helped by the scrappage incentives that were in place then that drove in people with a slimmer wallet. Europe has been forever a B and C [segment] market. There's a proliferation of body types now also in these segments, lots of new product, small SUVs and so on, so that has to be taken into consideration.
"And remember that a current Fiesta is as big as the old Escort was. The core of Europe is going to be B and C, for sure, that won't change." But what is and will be changing is what buyers of vehicles in those segments are being offered.
"It's a fragmenting market," concludes Odell. "We have to address that and use our scale to be able to fragment [the product offering] in a way that makes business sense. If you start off with a B and a C global platform then you are able to do that.
"And the brand has to support that strategy and the values we have. Take a Mustang or a Transit Connect or a Focus. My job is to get people to say that's a Ford Mustang or a Ford Transit Connect or a Ford Focus. The brand and how it is understood and perceived, how it is reflected in our products, is absolutely key to what we are trying to achieve as a business."
See also: GENEVA: 'One Ford' has kept us alive in Europe - Ford Europe chief
GENEVA: Ford notes 'downward pressures' for Russia on Ukraine crisis
Company analysis

Ford Group
Most popular news
---
Most popular insights
---
Oops! This article is copy protected.
Why can't I copy the text on this page?
The ability to copy articles is specially reserved for people who are part of a group membership.
How do I become a group member?
To find out how you and your team can copy and share articles and save money as part of a group membership call Shivani Hayer on
+44 (0)1527 573 732 or complete this form..