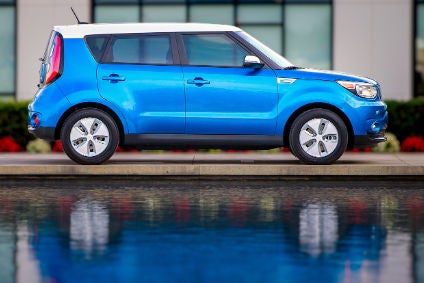 Does the arrival of the KIA Niro mean the end for the plug-in Soul? Not at all, especially in Europe where the market for EVS fell just short of 99,000 units in the first half of this year.
The Soul EV, launched in this region in late 2014, has been selling in small but rising numbers, with the latest statistics revealing the year-to-date total is 1,888. Granted, that's a long way behind the best performer of all EVs and PHEVs, the Renault Zoe (11,872) but it's not bad for a car that hasn't had much in the way of a concentrated advertising push.
If you're interested to know how other plug-ins and plug-in hybrids are doing, after the Zoe comes the Outlander PHEV (11,176), Nissan Leaf (10,927), Tesla Model S (6,834), VW Golf GTE (5,694), Volvo XC90 T8 (4,995), BMW i3 (4,886), VW Passat GTE (4,635), Mercedes-Benz C 350 e (4,305), VW e-Golf (3,904), Audi A3 e-tron (3,360), and then three more BMWs: X5 xDrive40e (2,572), 330e (2,333) and 225xe Active Tourer (2,012), followed by the Renault Kangoo ZE (1,950).
What's especially interesting about the above list is how few of those models are, like the Soul EV, relatively cheap cars. The market is clearly still yet to break out of the early phase where the most enthusiastic buyers are attracted mainly by the tax implications of running a so-called zero emissions vehicle.
There are a lot more rechargeable models on the market than most people realise, and the Soul EV's ranking in the sales chart proves that. It might not be setting the sales charts alight but it is outselling a few other PH/EVs such as the Volvo V60 D6 (1,614), Mercedes B 250 e (1,587), Porsche Cayenne S E-Hybrid (1,439) and Nissan e-NV200 / Evalia (1,416).
I won't repeat the whole Soul EV tech story, which was covered here back in 2014, but there have been some changes to the since then, with a charge port nozzle lock added and, in certain markets, two new exterior colours (black, and silver) to supplement the original blue and white two-tone finish.
Compared to the Zoe, the Soul feels bigger inside and indeed it is a larger car, closer in size to the Leaf rather than the Renault, which is based on the Clio. As in other Souls, you sit high and yet there is still ample headroom. It's obviously beautifully silent from a standing start and reaches 62mph in 12 seconds. That's perhaps a bit too slow for some but as with other EVs, you end up slowing down your normal way of driving and enjoy grabbing the 'free' kinetic energy from braking and seeing the gauge of remaining power rise slightly.
I found the boot to be more than adequate even though it loses 30 litres compared to Souls with a combustion engine. There is also a good amount of space for three people across the back seat and loads of headroom too. Given that the weight is a fairly hefty 1,560kg the 0-62mph time is understandable and that also explains why top speed is limited to 90mph and the real world range with A/C running is somewhere between 75 and 100 miles, despite the official number of 132 miles. For most buyers that's probably enough, though.
The car comes with two charging ports are standard, including a SAE J1772 port for Level 1 and Level 2 AC, and a CHAdeMO DC fast-charging port (480V). These are placed behind a sliding door located in the grille and this flips open when you press a button beside the steering wheel. Recharging takes 10-14 hours using a standard plug, five hours when plugged into a special wall box, while an 80-percent charge can be achieved from empty in 25 minutes with a DC fast charger.
The battery features a nickel-cobalt-manganese cathode, which helps increase capacity, and a graphite-based anode, which increases durability while reducing weight. Additionally, the cells use a gel electrolyte, and each cell contains ceramic separators to significantly improve thermal stability and safety.
The Soul EV uses Kia's third-generation regenerative braking system to capture up to 12 percent of the car's kinetic energy, which is fed back into the battery while the car is coasting and braking. You can choose between four different regeneration modes: 'Drive' or 'Brakes' in Eco-mode 'Off', and 'Drive' or 'Brakes' in Eco-mode 'On' (the Brakes setting with Eco-mode On producing the most regeneration). If like me you enjoy playing with this sort of tech, it will keep you amused on otherwise boring commuting or shopping trips as you compete with yourself to improve the range.
Future Kia EVs and PHEVs
As the total of a combined 98,788 electric and plug-in hybrid registrations shows, the European market for such models is likely to exceed 200,000 units this year, maybe even 250,000. The upgraded BMW i3 and the addition of recently added models such as the Tesla Model X plus others over the next two quarters will surely further invigorate sales.
Dave has driven the new Niro (launched as a petrol-electric hybrid) and tells me it's a convincing alternative to similarly sized crossovers and it's hard to imagine it not being popular especially once the PHEV variant is added later in the year.
The K5/Optima Hybrid and K5/Optima PHEV have just gone on sale in South Korea, the US and Canada and word is that China's DYK joint venture will add at least one of them to its locally-built range by 2017.
Other models Kia has up its sleeve are a major mid-life restyle for the Sorento in 2017 (it even changes model codes from UM to QM) which should also see the addition of a PHEV variant, and there should be a mid-cycle styling refresh for the Soul EV later in 2016 ahead of a new model in 2018.