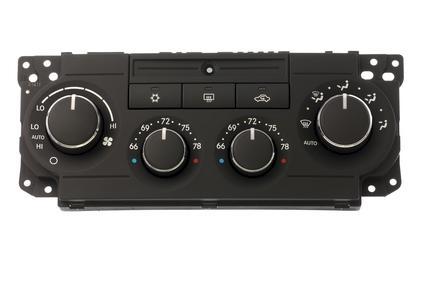 Continuing just-auto's series of research snapshots – pulled from its automotive research platform, QUBE – Matthew Beecham reviews some trends in the heating, ventilation and air conditioning (HVAC) market.
Blowing hot and cold
The trend in automotive air conditioning has moved from manually adjusted through to semi-automatic to fully automatic and now fully automatic dual zone for front seat passengers or even rear seat passengers. "It depends on which car segment you are looking at and that is mainly cost driven," an auto executive told us. "In the very low, lower cost segment cars you still see manual air conditioning. On the other hand, we know that many people are adjusting the air conditioning incorrectly, which means they are decreasing their fuel efficiency."
Multi-zone air-con
Nowadays, there is no shortage of cars featuring multi-zone air-con. For example, the Citroën DS5 comes equipped with a rich array of standard equipment in order to win customers, including automatic dual-zone while the Skoda Superb features three-zone climate control. 'New and improved' dual zone air-con is widespread, too. The dual zone air conditioning on the Mitsubishi L200 pickup is 30 percent quicker at cooling down the cabin space from 50 degrees to less than 20 degrees.
The introduction of multi-zone systems gives carmakers the opportunity to customise a system and offer additional comfort features. For example, the seven seat version of the Nissan e-NV200 comes equipped with additional rear air conditioning for the third row seat occupants.
Meanwhile, small cars are increasingly offered with air conditioning systems. For example, the Nano (equal to the sub-B segment in Europe), 'peoples' car from Tata has a basic air conditioning system adapted to fit into a much smaller package space than in traditional small cars.
Smaller and lightweight
Denso was the first to introduce a unit for compact vehicles which appeared in the Toyota iQ way back in 2008. This smaller unit has a volume approximately 20 percent less than conventional units. In designing the system, the specific needs of the iQ were taken into account and the air conditioning units were shaped to meet these needs. Downsizing of the HVAC module is an area of considerable R&D among the major suppliers of both systems and components.
Small lightweight compressor technology has been adopted by manufacturers of hybrid electric vehicles and full electric vehicles, too. Hanon Systems (until recently known as HVCC) has developed a heat pump system designed to reduce power consumption from heating electric vehicles. Unlike a conventional electric heater – which uses power supplied from the battery to heat the cabin – heat pumps draw heat from external air thereby reducing power consumption. This heat pump system also uses waste heat recycled from the vehicle's motor and inverter as an additional heat source. The net result reduces the vehicle's energy consumption and increases driving range on a single battery charge by around 20 percent.
Continuing the lightweighting theme, McLaren used the Geneva motor show earlier this year to launch its 675LT (which stands for Long Tail). It is based on the current 650S but is lighter by around 140kg thanks to a number of enhancements, mainly the use of carbon fibre body panels, lightweight engine, chassis and body structure parts. Although the air conditioning has been removed altogether, owners can specify it as a free option. The 675LT, incidentally, is being sold in the UK for a cool GBP259,500 which is £64,000 more than the 650S.
Cool ideas
Finding a novel niche, Chevrolet is introducing its so-called Active Phone Cooling in several North American market models equipped with an optional wireless charging system supplied by Visteon. It works by connecting an air vent from the car's HVAC system to a bin area where the phone lies flat for wireless charging, sending cool air to help lower the phone's temperature. Given that overheated smartphones drain battery life and slow processing speeds, keeping a phone chilled in this way may just help some owners keep their cool too.
A team of biochemical engineers based in Poland have built a prototype of a device which, they claim, will allow us to breathe cleaner air inside our cars. The device can remove the contamination that builds up over time in the air pipes and craggy corners of the HVAC system. Using a clever chemical process (otherwise known as photo catalysis of titanium dioxide to oxidise oxygen), the team reckon that their compact device can eliminate up to 98 percent of fungi and bacteria that can fester in a car's air vents.
As for what the future holds, Rinspeed is a source of inspiration. The Swiss-based company used this year's Geneva show to reveal its so-called Budii concept. Based on an almost unrecognisable BMW i3 electric car, it allows the owner – among lots of other useful things – to use a smart phone app to set the air-con temperature just minutes before they are due to start driving.
In the meantime, consumer demand for increased comfort levels combined with the vehicle manufacturers desire to differentiate their product through enhanced occupant comfort and interior air quality will continue to push up demand for HVAC systems in passenger cars. We see this trend gathering further momentum particularly in regions such as China and India where levels of disposable income continue to rise and demand for new cars with increased functionality increases.