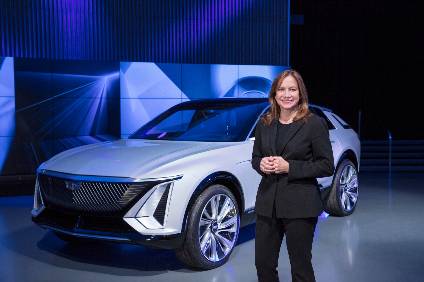 General Motors has set out its technology rollout plan for electrification, intelligent driving and connectivity in China at 'Tech Day' (held at the PATAC Design Dome in Shanghai and virtual presentations from the Warren Design Dome in Michigan), China's version of GM's EV Day held in March in Warren.
Gathered here are selected highlights from presentations and remarks by GM executives.
Mary Barra, Chairman and CEO, General Motors
"We are investing heavily in the technology and innovation that will help us realize our vision. From 2020 to 2025, we will allocate more than $20 billion in capital and engineering resources to our EV and AV programs."
"In China, we laid out Drive to 2030 – the advanced technology roadmap for our China vehicle portfolio – at the World Expo in Shanghai 10 years ago. As GM's largest market and a global center of innovation, China will play a very crucial role in making our vision a reality."
"With our joint venture partner SAIC, we are blending global insights and scale with local market expertise to redefine what is possible for our customers and for society."
"General Motors is pursuing an all-electric future. Our EV programs are fully on track, including work on the Cadillac LYRIQ luxury SUV you see behind me. We revealed it two weeks ago in the United States, and it also will be available in China."
Mark Reuss, President, General Motors
"The flexibility of our approach allows us to drive high volumes, in multiple segments for multiple brands — all off the same modular platform."
"For perspective, consider this: GM has more than 500 different internal combustion engine powertrain combinations in production. Our forthcoming EV portfolio can be supported by just 19 EV propulsion combinations, using our unique battery modules, drive units and power electronics."
"From one modular architecture, we have the ability to make vehicles around the world ranging from full-size trucks to SUVs and MPVs, to cars, and even self-driving vehicles like the Cruise Origin."
"Our architecture is flexible enough to offer vehicles globally that:
Can drive an estimated 400 miles on a charge in North America – and equivalent range in China
Can go 0-100 km/h in 3 seconds
Can have energy ranges from 50 to more than 200 Kilowatt-hours
Can run in FWD, RWD or AWD configurations
and can run from 175 kilowatts to 746 kilowatt
"We have crash evaluations that assess the unique characteristics of a high-voltage battery system. Our process includes shutting down and isolating the electrical system in the event of a crash or flood, to avoid shock risk."
Doug Parks, Executive Vice President, Global Product Development, Purchasing and Supply Chain, General Motors
"GM's leadership in automated driving and autonomous vehicle technology will help enable our vision of a world with zero crashes, zero emissions and zero congestion. The potential is enormous, especially in the largest and most congested cities, like Beijing and Los Angeles, where every crash avoided and every moment saved during commuting can dramatically improve peoples' quality of life."
"General Motors has a two-pronged approach and both offer transformative experiences in personal mobility:
One, the expansion and continuing evolution of personal driver assistance technology with Super Cruise,
And two, the development of self-driving ride-share technology through Cruise Automation.
"Super Cruise is a great example of automated driving initiatives. Unlike other driver assistance systems, it uses two advanced technology systems – a driver attention system and precision LiDAR map data. Customers love it. I love it."
"When launched in 2018, Super Cruise was an instant differentiator for Cadillac and contributed to the brand's increased perception as a technology-driven nameplate, and it transformed the highway driving experience for our customers."
"Customers globally have driven more than 10 million kilometres with Super Cruise and have it engaged about 50 percent of the time they're on the road."
"For 2021, we are introducing an enhanced version of Super Cruise in China and the US with new features including Lane Change On Demand, which allows for lane changes when the driver indicates one is desired, as well as richer map data and updates that make it easier and more intuitive to activate Super Cruise."
"Super Cruise new features are enabled by our new electrical architecture known as the Vehicle Intelligence Platform, or "VIP". VIP was introduced on the Cadillac CT5 and should be rolled out to most of GM's global line-up by 2023."
"With five times more data processing capability, VIP has the expanded capacity and bandwidth to support the evolution of Super Cruise, as well as the next-generation of active safety features, increased connectivity, smartphone-like over-the-air software updates and greater cybersecurity."
"Super Cruise's new VIP-supported features will be part of the system as it is introduced in North America on the 2021 CT4 and CT5 sedans, as well as the new Escalade.
"Cadillac remains our lead technology brand, we are also expanding Super Cruise to Chevrolet, Buick and other GM brands. In fact, we'll offer it on 22 vehicles around the world by 2023."
"The Cruise Origin, is a shared, all-electric and self-driving vehicle for urban centres. There is no steering wheel because there is no driver. Today, Cruise is testing its fleet of Chevrolet Bolt EV-based AVs on the streets of San Francisco. These vehicles are navigating left turns, double-parked cars, six-way intersections and more, in driving environments that are up to 47 times more complex than suburban areas."
Julian Blissett, President, GM China
"Since 2010, we have gradually brought all available electrification solutions to China, with the widest coverage in the industry, from HEVs and EREVs to PHEVs and BEVs. Our BEVs launched in China– Buick Velite 6 and Velite 7, and Chevrolet Menlo – in particular, represent GM's latest technologies. In the next five years, more than 40% of our new launches in China will be new energy vehicles."
"These NEVs will cover all major segments across our Cadillac, Buick and Chevrolet line-ups by leveraging GM's third-generation global EV platform and local programs tailor-made for China."
"The heart of GM's future EV portfolio – the Ultium battery system – will also come to China. It is designed for global markets but allows local flexibility, enabling us to leverage SAIC-GM's highly localized supply base."
"All of these NEVs [for China] will be manufactured in China, with almost all parts coming from suppliers in China."
"We are stepping up the development of ICV technologies specifically for China. Our first V2X-enabled vehicle, a Buick GL8, will be introduced later this year
"In 2022, 5G will be capable on all new Cadillac and most Buick and Chevrolet models going forward."
"The new 33-inch-diagonal advanced LED display, which debuted on the recently introduced Cadillac LYRIQ, represents our next-decade connected services in a nutshell. It displays all the highlights of GM's future offerings and previews the local technology development that will empower integrated solutions such as 5G and 5G-enabled V2X. Beginning in 2022, the new display will be deployed on all new Cadillac models in China, to be followed by Buick and Chevrolet launches."
Ken Morris, Vice President of Autonomous and Electric Vehicle Programs, General Motors
"We have engineered a complete global vehicle line-up of dedicated EVs, not shared with or converted from vehicles with traditional ICE propulsion systems."
"The modular vehicle platforms and the Ultium system were engineered together to create a leading-edge portfolio of EVs that cleverly combines vehicle and propulsion functionality. This allows us to minimize part count and use the propulsion system as part of the vehicle's structure. This enables much greater design flexibility which directly benefits our customers."
"The Ultium system is flexible and modular. It can be tailored to vehicle and customer needs by arranging common components like stacking blocks, allowing us to increase scale while providing the flexibility to build vehicles for different customers around the world."
"The key building blocks of our new EV architecture are large scale, high-energy cells that will be the common denominator of our entire electric line-up. Our battery options can vary from 50 to 200 kWh, enabling outstanding range on a full charge. Our battery packs are designed around the cells, which can be stacked in any shape, size or type to best suit the needs of all our customers. The Ultium system modules are flexible enough to accept multiple types of cells."
"Our Ultium module is unique in that it can contain either horizontally or vertically stacked cells for occupant comfort and vehicle needs. Stacking cells vertically helps us to build EV variants of large vehicles like trucks, SUVs and crossovers popular in North America. Stacking cells horizontally enables low-slung performance vehicles."
"Battery cells are combined into modules that are then formed into battery packs' structural enclosures, which double as part of the vehicle's essential structure. The stamped steel enclosures are optimized for low cost at high volume production while maintaining the highest level of pack energy density."
"The Ultium battery packs are flexible enough to contain multiple combinations of modules to custom tailor energy and range requirements. In our global portfolio bandwidth we can have single layers with 6, 8, 10 or 12 modules, or double the layers to as many as 24 modules for the energy and capability needs of large trucks and SUVs. The pack configurations allow for various vehicle attributes and most importantly, use the same cell repeatedly to leverage scale."
"Our Ultium drive unit strategy is similarly versatile, enabling front-, rear-, or all-wheel drive configurations. For those seeking the security of all-wheel drive but not craving full-on performance, our smaller e-assist rear drive unit engages the rear wheels only when required."
"Customers no longer expect electric vehicles to be different for difference sake. They are looking for more sophisticated, emotive designs."
"The Lyriq is simply beautiful. For wealthy customers, one of the most coveted luxuries is interior space. Here, the new battery architecture enables a more efficient package, and a more spacious, open interior. For example, the instrument panel is low, lean and wide, crowned by a large, curved free-form LCD screen which focuses the immersive interface."
"The architecture also enables a cantilevered console with an elegant, open storage space worthy of an expensive handbag – something many Cadillac customers have said is important to them. There are also beautiful details throughout. The rotary controller looks like it's made by a watchmaker or a jeweller. The speaker grill is layered in woodgrain with a pattern that's backlit, and laser etched. The lined drawer is finished like a fine jewellry case."
"The upcoming Celestiq will be our new flagship for Cadillac."
"Chevy is defined by a heritage of speed (think about Corvette) and power (think about trucks)."
"These two characteristics combine to create an emotional brand for our customers and, based on our new Ultium battery system, the team is designing electric vehicles for Chevrolet across virtually every segment to tap into that emotion."
"The move to electrification also presented an opportunity to introduce a new design theme for the Buick brand. With you are two new Buick EVs, designed in Shanghai. The new designs connect to Buick's storied design history, modernized for an electric future.
"The new look is marked by:
high lamps with a wing graphic shape,
a low-set grille, and
a body-mounted badge.
"It will also have a reinterpreted sculptural sharknose."
"We believe this modern face brings a dignified elegance to the new Buick portfolio."