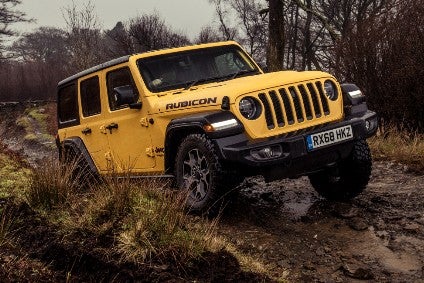 Fiat Chrysler UK finds itself in the fortuitous position of having a genuinely new model well ahead of Land Rover's L663 project, the next Defender. The arrival of the JL72 and JL74 Jeep Wranglers threatens JLR's hopes for future segment domination outside North America. 
The only thing which gave me a shock while attending the two-day UK market media launch of the Wrangler was the pricing. The least expensive 'Sahara' two-door starts at GBP44,865. You also need to pay a minimum of GBP46,865 for a mid-spec Overland variant if, like me, you believe blind spot monitoring and rear cross path detection is essential safety tech. No, they are not part of Sahara-spec.
The third trim level, Rubicon, costs from GBP46,865 but even adding a few options to this one or a four-door Overland can push the Wrangler towards the fifty thousand pounds mark. Blimey.
Perhaps now would be the right time to mention the existence of much painted metal trim on the inside? And lock barrels separately positioned in each front door away from the handles – remember those? Stay with me though, thankfully not much else says '1999 Fiat Punto'. In fact, it gets a lot of better.
Two engines, two 4WD systems, two bodies
The model range might be ambitiously priced but it is at least easy to understand. There are 12 variants, as Sahara, Overland and Rubicon model grades may each be ordered in two- or four-door body form. The doubling of those six comes from the choice of diesel or petrol power for each.
The 3.6-litre V6 available in the old shape Wrangler within the European region can still be ordered in North America and certain other places. For us though, there are instead two turbocharged four-cylinder engines. The diesel is a 2,143cc MultiJet II – which for reasons unknown FCA calls a 2.2 – and the group's latest 2.0-litre GME petrol which we know from the Alfas Giulia and Stelvio. Outputs are 147kW (200PS) plus 400Nm (295lb-ft), and 200kW (272PS) with 450Nm (332lb-ft) respectively. Each is linked to an eight-speed torque converter automatic gearbox. There is no manual alternative.
FCA terms the first of what are two 4×4 systems Command-Trac. This is fitted to Sahara and Overland Wranglers. The alternative is Rock-Trac and that is standard on Rubicon, the priciest but also most rugged looking and off-road capable trim. Not that any Wrangler isn't properly hard core when it comes to 4×4 abilities. Hill Descent control? Air suspension? Nah, not here. Both feature a full-time two-speed transfer case and in addition to a Neutral setting there are four driving modes:
2H (rear-wheel drive high range)
4H Auto (full-time active on-demand high range 4WD)
4H Part-Time (part-time high range 4WD)
4L (full-time 4WD low range)
Open air choices
Chrysler has always loved branding many of the features in its models and the Wrangler has more than most. In Europe, FCA doesn't use the TorqueFlite prefix which is what it calls the eight-speed automatic gearbox in North America. However, as well as the two names for the 4×4 systems which apply worldwide, there are also special labels for the various roof options. Given that buyers will want the Wrangler for its starry-spangly appeal, they will probably also be impressed rather than perplexed by 'Sky One-Touch powertop', 'Zipperless Premium Sunrider soft top' and 'Freedom Top'.
The last of the three roof choices is a removable, three-panel hard top. As the rain was coming at us from the sides as well as overhead during every minute of the five hours (there were proper roads as well as rocky trails) I spent in the Rubicon diesel, apologies for having no first hand review concerning the delights or otherwise of any of the sunriding, freedom-fueled, zipperless alternatives. Not even a one-touch test I'm afraid. Many in number are the unlatching handles overhead I can at least report. However the temptation to pull on any or all, thus possibly liberating the fibreglass panels to the will of the four winds, was not high.
Why the long wait for RHD?
We in the UK must surely be one of the last markets for the worldwide roll-out of the JL72 (Wrangler two-door in Britain/Wrangler in the USA) and JL74 (Wrangler four-door/Wrangler Unlimited). I asked FCA UK's MD – an ex Groupe PSA man incidentally – Arnaud Leclerc why the delay. He stated what we know to be the truth: Fiat Chrysler US has been barely able to keep up with demand from buyers in North America, let alone other regions. Knowing that even in America, this is not an inexpensive vehicle series, that's a very good problem to have. Pressing him for details of when we might see the plug-in hybrid, the reply came "maybe you will learn more at the Geneva show".
Goodyear, Twenty One Pilots, Halle Berry and Wrangler
If we can't buy the Pentastar V6-engined Wrangler in Britain, there's at least some balance in that the diesel isn't offered in the States. Like a few other famous US exports, Wranglers for all countries hail from Ohio. Build commenced at Toledo South during November 2017, the model having been revealed just days earlier at the LA auto show.
Ten million Pentastars
FCA US calls the 272 horsepower 2.0-litre four-cylinder its 'Hurricane' engine. This it makes at Trenton Powertrain. The 3.6-litre V6 is also built there, the Michigan plant having just celebrated the manufacture of 10 million engines in the Pentastar series, production having started back in 2010.
The Wrangler's engine line-up might be simple but things become complicated when it comes to 4×4 systems. Interested readers can learn all about things such as the Dana-supplied axles here.
Steel frame with Alcoa aluminium panels
The vehicle's frame was new for the JL series and this was developed with the knowledge that the body panels to be attached to it would be made from aluminium. These are supplied by Alcoa. The lightest overall weight was essential to meet not only the European Commission's next emissions regulations but (*possible) CAFE fuel economy standards too. *due to the ongoing spat between California and the Trump Administration over MY2021-2025 norms
FCA sensibly took its time with the manufacturing ramp-up, slowly bringing in certain variants. Which is why the Webasto electric soft-top was only added to the mix from May 2018 production. And speaking of open roof variants in general, there is one major change when compared to the JK's fold-down windscreen: the A pillars stay in place so that occupants are better protected in the event of the vehicle rolling.
Strong And Stable
Did you know (I didn't) that a Rubicon's digital tilt and pitch gauges can show a sideways lean of 21 degrees and still, all remains well? This happened whilst easing the Wrangler over some sharply angled and slippery-wet rocks on the way down what we in England call a mountain. Hmm. What to do? Best to stop, back up, steer and have another go from a different approach angle. Of creaks there were none, incidentally. Plus it was handy not to be forever remembered by the 4×4 specialist driving instructors as The Rubicon Roller. Phew. Making it two self-saves on the one day: not That Idiot Journalist Who Unclipped Roof Panels In A Gale either.
The driving event was half on slippery rocks and muddy trails in the Lake District and half on roads. There was no opportunity for high-speed testing though so I cannot give an informed opinion about 70mph and beyond noise levels or if the steering is less wobbly than in the old Wrangler. Certainly, the default is that typical sometimes-disconnected feel which is part and parcel of rugged 4x4s. A bit better than the SsangYong Rexton I would say and that ladder-frame 4×4 is a good'un. There was zero kick-back even during the most challenging moments going up and heading down the steep, rainy hills.
Aside from asking quietly but firmly would it perhaps be a good idea to stop as she watched the numbers rising on the tilt-o-meter, my passenger never once felt uncomfortable, nor did I after swapping seats. I also tried the back and it's roomy enough.
Hellayella, Bright White, Mojito
The boot is a good size, there is a lot of glossy-painted metal and the tailgate is hinged off the driver's (RHD) side of the vehicle. Once you swing this open – the spare tyre is attached and the reversing camera is there too – the glass window can be flipped up. This vehicle would feel completely different on a sunny day with the windscreen folded, windows down and roof panels removed. It would look cool too. There are ten colours including Sting Gray [sic] and Punk'n Metallic (as Emma Thompson said of her little lobster, "you were so…what is that word? Orange"). And it is very orange. Actually.
The sum-up
I wasn't sure that the Wrangler was going to be a model which would work too well in Britain. In fact, it works very well indeed. Driving the six hours back home from Lake Windermere (in a Vitara – review coming soon) there was much time to properly consider the handsome Jeep. Forget all the terms such as 'iconic' (when is someone going to ban that word from car launches?) seven-slot grilles, 'trapezoidal' wheelarches and the equally dreaded 'DNA'. Better to instead just point out what this vehicle is: a deadly serious attack on a segment which the Wrangler owns in the giant US market. Guess how many people bought one in 2018 (old and new shapes combined)? More than 240,000 in the US alone. This isn't a 4×4, it's a cash machine. Or should I say an ATM.
The UK is never going to be a big market for this model. And yet after what happened in the European region when Ford made the Mustang a great handling as well as great looking car: old ideas about suspect build quality, questionable roadholding at high speeds and poor reliability collapsed. So who knows?
The new Wrangler is all-American in the right ways and even the clumsy details such as an awkwardly placed handbrake which wasn't switched for right-hand drive are few. With prices that stretch from GBP44,865 to as high as GBP48,365, it's going to disappoint some who might have hoped for positioning around ten thousand pounds less, version for version. This vehicle could though, find favour with many who might not wish to keep waiting to hear when the long-promised and inevitably expensive Land Rover Defender will finally become available.
What's next?
The plug-in hybrid is expected to be added to the range in early 2020. While it isn't yet confirmed what engine the PHEV system will be based on, FCA does already have one and that's the Pentastar, as fitted to the plug-in version of the Chrysler Pacifica. So if the plug-in hybrid Wrangler turns out to run that rather than the 2.0-litre Hurricane, then Europe-based buyers will be able to have a 3.6-litre V6 after all. Having said that, a four-cylinder PHEV would make more sense for countries with pricey petrol.
As for how long the Wrangler will remain in production, it's hard to be certain. Both halves of FCA tend to build most models for way longer than the industry average. The old JK Wrangler was manufactured from September 2006 until the end of March 2018 (it remained in production for some months as JL was ramping up). Prior to that, what had been Chrysler manufactured the TJ series for a decade commencing in 1996. At a guess, there will possibly be a facelift for the 2023 model year in the US (calendar 2023 by the time it reaches Britain) and a successor is likely penciled in for perhaps the final quarter of 2027.
The as-tested 4,882mm long and 1,894mm wide Jeep Cherokee Rubicon four-door diesel costs from GBP48,365 has 'Rock-Trac' four-wheel drive including Dana locking axles front and rear and an electrically-disconnecting sway bar (for extreme off-roading). The stated top speed is 99mph, 0-62mph takes 10.3 seconds, Combined economy is 36.2mpg and CO2 emissions are 206g/km.